Wines of the week: 9 wonderful Welsh bottles
Move over English sparkling, Cymru has plenty of award-winners to offer too, from the island of Anglesey to the rolling hills of Monmouthshire, says Terry Kirby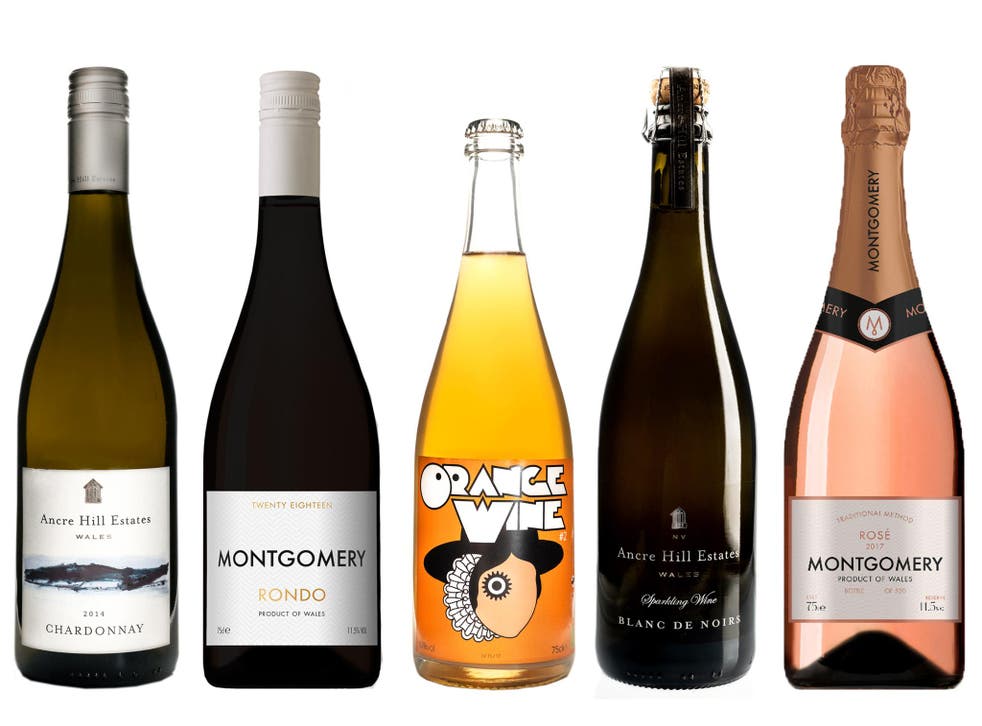 We all now know about English wine – and in particular sparkling wine – don't we? How a small and slightly amateurish cottage industry has grown and become justly recognised as producing wines of genuine quality, reaping numerous awards and attracting all kinds of investment.
But, despite the fact that the trade body is known as WineGB, the buzz has all been about English wine.
So what of Welsh wine? Yes, Welsh wine. While some, who don't know the country, might think of Wales as too mountainous, too wet, too full of sheep etc, the nation in fact has a small but growing and healthy wine industry. The pursuit first began in the 1870s and petered out, but was then revived in the 1970s.
And the industry is now sometimes supported by Welsh Assembly money – some argue the financial return on a vineyard is more than the same area devoted to livestock farming. Helpfully, the climate is inexorably set to match that of mainland European wine-producing areas such as the Loire.
There are now 28 active vineyards, from the island of Anglesey and in the shadow of Snowdon in the north, to the lush Vale of Glamorgan and the rolling hills of Monmouthshire in the south.
But first to the green hills of Powys in mid-Wales, near the English border, where you'll find Montgomery Vineyard, which dominated the recent Welsh Wine Awards.
Run by the Lennard family, at 900ft, the south-facing three-acre vineyard is believed to be the highest in the UK. The soils are mostly glacial and flinty, both qualities which give freshness and vivacity to their wines. Their Rose Sparkling 2017, which as with all their wines is actually made at the Halfpenny Green wine estate in Staffordshire, won the top accolade of the Best Wine in Wales and their wines also took the top rose, red and whites categories. The sparkler, a blend of pinot noir precoce (an early ripening variety) and seyval blanc is dry, clean, with lovely bright red fruit flavours which stands up there with the best of English sparkling roses.
The Rondo 2018 took the red wine trophy, and is a lovely, succulent, juicy red, which would appeal to lovers of beaujolais or lighter southern French reds and would be ideal with charcuterie and Mediterranean foods; try it chilled in warmer weather. While their Bacchus and Solaris 2018 took the top white award, my personal favourite of their wines is the Solaris 2018, which took silver – an amazingly vibrant, zesty, lively white, with lovely floral aromas but crisp and dry, grassy citrus flavours on the palate – the closest I've tasted to a home-grown version of sauvignon blanc, but with its own distinct identity.
Finding food on the front line of climate change

Show all 17
You can also find the 2017 vintages of all these three still wines at discoverdelicious.wales at £29 each, while dylanwad.com has the 2017 Solaris and Rondo as well as the rose, all priced at £18.80. The new award-winning 2018 wines should be available before Christmas and their wines are also available in a number of local shops and Welsh restaurants, including several Michelin-starred.
At the London Wine Fair back in May, I discovered the fragrant and juicy pinot noirs produced by Welsh Vineyard Association chair Robb Merchant, a former post office worker who, with his wife Nicola, bought a vineyard in near Abergavenny in Monmouthshire and learnt about winemaking at Plumpton College.
On a visit to White Castle vineyard, I've also tried their Sparkling White (£30, whitecastlevineyard.com), made with seyval blanc grapes grown on the south-facing vineyards. It's made in the traditional method by the Three Choirs Vineyard at Newent in Gloucestershire. It's lovely and vibrant and a fabulous celebration drink, which took bronze in the WWAs. Their Siegerrebe 2018 (£18.50 whitecastlevineyard.com) which also took bronze in the WWAs is a fragrant almost viognier style wine, with lots of floral, honeyed notes, but dry on the palate and perfect with all types of fish and shellfish. The White Castle still wines are also available at dylanwad.com priced between £18.80 and £25.80 and are in local shops and restaurants.
A few miles south, in the village of Rockfield, amid beautiful countryside around the Wye Valley and close to the legendary Rockfield Studios, where Queen's "Bohemian Rhapsody" was recorded, lies the Ancre Hill Estates vineyard. The site is organic, biodynamic, with a policy of minimal intervention, and is the creation of former businessman Richard Morris, his wife Joy and their four children. They planted their first vineyard in 2006 on lush south-facing, limestone soil slopes. The wines are vinified in Wales's only winery, made out of straw bales covered with lime mortar – yes, really – and with a grass roof, opened in 2015 by the Duchess of Cornwall.
Their wines are now sold locally and served, like those of Montgomery, in Michelin starred restaurants, including the legendary Le Manoir aux Quat'Saisons. This is Welsh – indeed British – winemaking taken to another level, with astonishing attention to detail, no filtration, no fining, and coupled with care for the environment.
And, despite being tucked away, they are determinedly on trend – their range includes zero dosage sparklers, an orange wine made from albarino, and a "pet-nat" sparkler, otherwise known as petillant naturel.
The Ancre Hill Blanc de Noirs (£34.50 dylanwad.com; £34.95 cheerswinemerchants.co.uk; £39.00 tanners-wines.co.uk) is bone dry, 100 per cent pinot noir, with complex, intriguing, flavours of citrus and brioche – an exceptional celebration wine. The skin contact Orange Wine (£29.95 farmdrop.com), made from albarino grapes, is packed with extraordinary rich, oxidised, almost cidery flavours and needs robust foods to match its power, while the Triomphe Pet Nat (£21.95 farmdrop.com) is very dry, lightly sparkling red, a lovely lunch or picnic wine. But they also make a pitch perfect, more conventional chardonnay, Ancre Hill Estates Chardonnay 2014 (£19.95 cheerswinemerchants.co.uk; £23.00 tanners-wines.co.uk). This chardonnay is oak barrel fermented, lees-aged with a fresh slightly creamy, lemony character that, for my money, matches some of the best of France. Other retail stockists are available on their website here.
Welsh vineyards have recognised, as many in England have done, that it's not simply about making good wine: that cellar door sales, restaurants, venue hire are all part of the package – at White Castle they have a shop and have restored a 16th-century Grade II* listed barn which will be available for party hire; at Ancre Hill, during the summer season, plates of Welsh charcuterie and cheeses can accompany a wine tasting.
Llanerch Vineyard, in the Vale of Glamorgan, has been in operation since the 1990s but fell into disrepair and was revived by local businessman and wine buff Ryan Davies only in 2010. The team has now created the UK's only vineyard hotel, which opened earlier this year with a highly rated restaurant, a cookery school and tours of its seven acres of vineyards, with six more acres planned.
Their "cariad" wines (Welsh for darling), mainly made from German varietals and hybrids at the Three Choirs Vineyard, are available as tasting flights in their bar and restaurant, but their gem is another seyval blanc sparkling wine, an effervescent, celebration bottle, with some lovely floral notes. Unfortunately, their wines are only available for sale at Llanerch itself, which as is as good a reason as any to visit this splendid part of the world.
Register for free to continue reading
Registration is a free and easy way to support our truly independent journalism
By registering, you will also enjoy limited access to Premium articles, exclusive newsletters, commenting, and virtual events with our leading journalists
Already have an account? sign in
Register for free to continue reading
Registration is a free and easy way to support our truly independent journalism
By registering, you will also enjoy limited access to Premium articles, exclusive newsletters, commenting, and virtual events with our leading journalists
Already have an account? sign in
Join our new commenting forum
Join thought-provoking conversations, follow other Independent readers and see their replies