Medieval 'wine windows' used in restaurants in Italy to maintain social distancing
Tradition dates back to the plague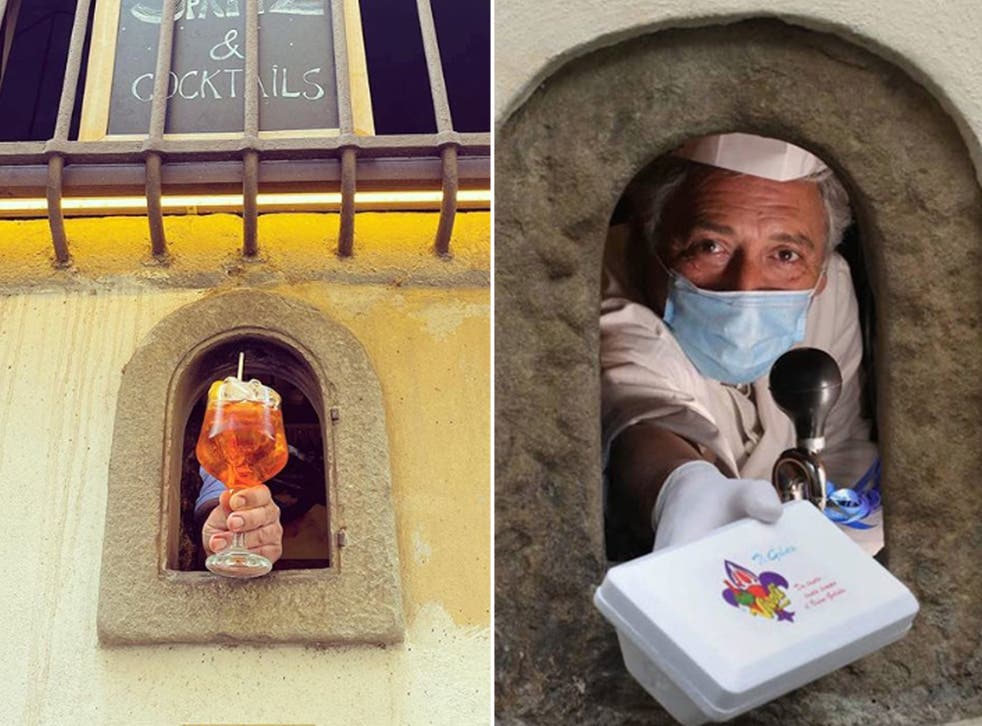 A number of restaurants in Florence, Italy has revived a tradition that dates back to the bubonic plague: wine windows.
The measure has been implemented at various eateries, including Osteria Delle Brache, in order to ensure that drinks can be served while maintaining social distancing.
And it's not just wine that the restaurants serve through the window; it also offers coffee, ice cream and Aperol Spritz cocktails.
According to Florentine scholar Francesco Rondinelli, wine windows were popular in the 1600s in Florence.
During the plague, wine producers would pass the flask of wine through the window to customers in order to prevent contagion.
As for payment, they would pass a metal pallet to the customer, who would fill it with coins, and then the wine producer would disinfect them with vinegar before collecting them.
The Wine Window Association writes: "Today, during our period of Covid-19 pandemic lockdown, the owners of the wine window in Via dell'Isola delle Stinche at the Vivoli ice cream parlor in Florence have reactivated their window for dispensing coffee and ice cream, although not wine.
"Two other nearby wine windows, that of the Osteria delle Brache in Piazza Peruzzi and that of Babae in Piazza Santo Spirito, have taken us back in time by being used for their original purpose—socially-distant wine selling."
The organisation also notes that the oldest description of the use of wine windows in Florence in a book published in 1634, as reported in the Italian newspaper La Repubblica.
"The description describes one of the most recent periods of The Plague in the city, which had afflicted European populations for centuries," it adds.
"Florence's wine windows turned out to be useful anticontagion devices for selling wine."
Register for free to continue reading
Registration is a free and easy way to support our truly independent journalism
By registering, you will also enjoy limited access to Premium articles, exclusive newsletters, commenting, and virtual events with our leading journalists
Already have an account? sign in
Register for free to continue reading
Registration is a free and easy way to support our truly independent journalism
By registering, you will also enjoy limited access to Premium articles, exclusive newsletters, commenting, and virtual events with our leading journalists
Already have an account? sign in
Join our new commenting forum
Join thought-provoking conversations, follow other Independent readers and see their replies