The Independent's journalism is supported by our readers. When you purchase through links on our site, we may earn commission.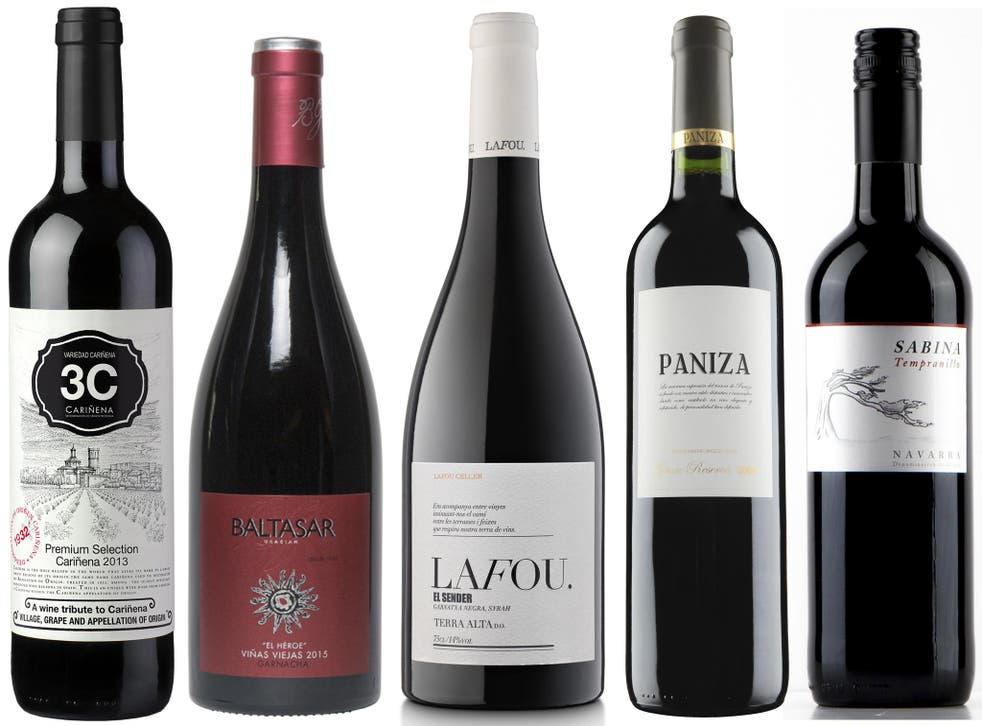 Wines of the week: Spanish reds that are waiting to be discovered
Terry Kirby looks beyond the country's blockbuster wines for versatile labels that won't put as much of a dent in the wallet
We all know our Spanish red wines right? It's rioja and, er, more oaky rioja, perhaps some other big ballsy reds from Ribero del Duero and those reds we drank on holiday but can't find here and that's about it, isn't it? Well, not quite. Outside of these blockbuster areas, but still in northern Spain, where the climate is more forgiving for red wines than the baking south, there are many lesser known red wines in a variety of styles and grapes, just waiting to be discovered…
First off is the outstanding El Sender La Fou Celler 2014 (£10.99 Waitrose; £14.99 frazierswine.co.uk) a blend of grenache and syrah from the mountainous Terra Alta region of Catalonia, whose wines have only recently come to wider attention. Lovely flavours of blackberries and blueberries together with hints of liquorice, balsamic and tar, make this very elegant and appealing and it would work very well with simpler roast meats or a tuna steak, possibly slightly chilled. If you like the meatier style of Beaujolais Villages wines, this should be just right for you.
A little bit chunkier and suited to more robust dishes is the Baltasar Gracian 'El Heroe' 2015 (£11.99 frazierswine.co.uk; £12.99 gustowines.co.uk) which hails from Calatayud in Aragon. Pure garnacha from high-altitude vines that are more than 50 years old, with the wine aged in oak for 10 months, gives a more concentrated, richer fruit flavour and a lingering finish. But again, altitude delivers appealing, balancing freshness.
Also in Aragon, the town of Carinena in the Zaragoza area takes its name from the carignan grape used to make the richly flavoured and spicy 3C Premium Selection 2013 (£7.50 thewinesociety.com); terrific value and a great every day wine, particularly for tapas dishes and chicken and chorizo paella. An equally attractive bargain from the Wine Society is the Sabina Tempranillo 2016, £5.50 thewinesociety.com) from the Navarra region to the north of Aragon, a juicy, fruity, easy drinking, medium-bodied little wine, ideal for parties.
Tempranillo is of course also the signature grape of Rioja, where oak and long-ageing transform the grape into wines of power and depth. But other parts of northern Spain can offer similar qualities at lower prices: if it's Rioja style you really want, try the Paniza Gran Reserva 2009 (£9.99 virginwines.co.uk) also from the Carinena area and which is mainly cabernet sauvignon, with some garnacha and a small amount of tempranillo, aged in oak for five years and packed with rich fruit, some spice and characteristic vanilla touches.
Register for free to continue reading
Registration is a free and easy way to support our truly independent journalism
By registering, you will also enjoy limited access to Premium articles, exclusive newsletters, commenting, and virtual events with our leading journalists
Already have an account? sign in
Register for free to continue reading
Registration is a free and easy way to support our truly independent journalism
By registering, you will also enjoy limited access to Premium articles, exclusive newsletters, commenting, and virtual events with our leading journalists
Already have an account? sign in
Join our new commenting forum
Join thought-provoking conversations, follow other Independent readers and see their replies