The Independent's journalism is supported by our readers. When you purchase through links on our site, we may earn commission.
Wines of the week: 8 from Washington State
Experience the best the Pacific Northwest has to offer with a zesty bottle from one of the US capital's 900 wineries, writes Terry Kirby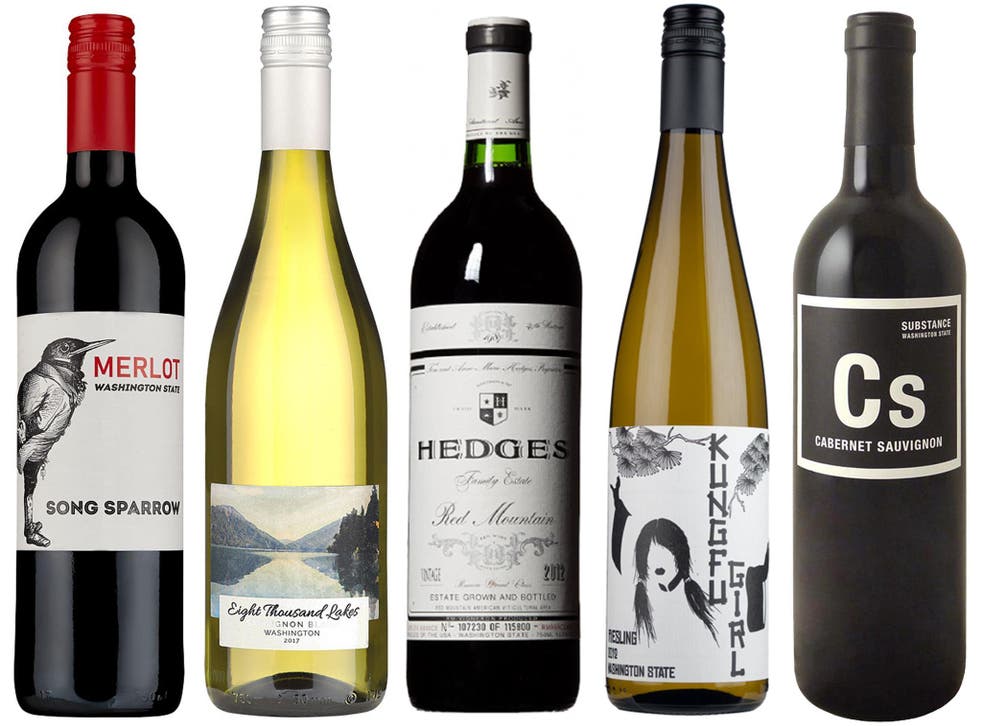 Fancy a change from all those reliable, but perhaps a bit familiar European wines? Or looking for alternatives to those in your face New World varietals? Well, there is one thriving and substantial wine region that remains relatively unfamiliar to UK consumers and you need to hunt around just a bit to find its wines on the high street or online: the Pacific Northwest of the United States.
The region comprises two adjoining states that have very different wine making scenes: Washington and Oregon.
Next week we will look at Oregon, but first, Washington, which is the second largest after California and the most rapidly growing wine area in America. It has more than 900 wineries producing bottles from a range of grapes. For reds, mostly cabernet sauvignon, merlot and cabernet franc and for whites, chardonnay, riesling and sauvignon blanc. The are produced in both high quality boutique wineries and more mass production operations.
Although it might feel quite remote, it is actually on the same latitude as wine producing parts of Europe and has massive potential for growth, given that serious wine making only really took off in the 1950s and 1960s.
The vast majority of production takes place in the extensive inland Columbia Valley, which is sheltered from the Pacific weather by the coastal mountain range and where high daytime temperatures and cooler nights encourage grape quality. And the wines are an eclectic mix that reflect the global dominance of classic European varietals, but also the origins of the many of the immigrants who first made their homes in the region and planted the first vines in the 19th century.
So, in order to expand our knowledge, what can we find out there? Well, as it happens, Majestic, that reliable high street chain, does have a couple of very good introductions to Washington wines. The Eight Thousand Lakes Sauvignon Blanc 2018 (£9.99 or £7.99 if bought as part of a mixed six bottle purchase; majestic.co.uk) is very different to either French or Kiwi sauvignons: it is restrained and subtle, with mealy, almost savoury but refreshing citrus flavours; an excellent, all purpose fridge door white.
And the Song Sparrow Merlot, 2016 (£10.99 or £8.99 if bought as part of mixed six bottle purchase, majestic.co.uk) may revive your interest in a grape which can be a little dull on its own but was the first to really gain favour in the region. This is smooth, but youthful and plummy, with lovely brambly and mocha fruit. It's one to uncork with a midweek pizza or pasta dish.
Back among the whites, riesling is a popular grape in Washington state and the Kung Fu Girl Riesling 2018 (£12.99 ministryofdrinks.co.uk; £13.95 ndjohn.co.uk) has a wacky label, zesty citrus and lychee flavours and refreshing clean minerality, just the right side of dry. A good match for seafood, particularly with Chinese or South East Asian spicing. The wine is made by Charles Smith, a former rock band tour manager turned winemaker, who is also responsible for the excellent Vino Pinot Grigio 2013 (£9.75; normally £12.00, until February 18, morrisons.com) another excellent seafood wine, it is more redolent of Alsatian pinot gris than rather bland pinot grigio and has slightly spicy, lychee and tropical fruit flavours.
Moving onto reds, Morrisons also has the same winemaker's CS Substance Cabernet Sauvignon 2015 (£12 normally £15 until February 18 morrisons.com) a typical beefy, ripe, spicy cabernet sauvignon for which you might pay a lot more elsewhere and a fine partner to substantial casseroles to see us through the rest of winter.
Cabernet sauvignon is probably what Washington mostly does best and there are some other serious options around, such as the big, beefy, concentrated Chateau Saint Michelle Cabernet Sauvignon 2016 (£16.50 greatwesternwine.co.uk) from reputedly Washington's oldest winery. At a glance, the bottle has quite a Bordeaux-style label and very claret-like cedar and vanilla flavours underpinning the brambly fruit; again a good casserole or baked pasta wine.
But if you have a bit more to spend for a special occasion and are looking for even more Bordeaux-style flavours at still less than Bordeaux prices, then check out the Red Mountain Hedges Family Estate 2013 (£35 robersonwine.com), a blend of several varieties, but dominated by cabernet and merlot; an elegant, well-made wine from probably the most prestigious wine growing area, Red Mountain, which really demonstrates what Washington can do.
Naturally, one for roast red meats and fine, hard cheeses. And if Bordeaux blends don't quite rock your boat and you are looking for something slightly more fragrant and succulent, then Washington can do the Loire as well: the Savage Grace Copeland Cabernet Franc 2017 (£20.95 cellardoorwines.co.uk) is juicy, succulent and shot through with minerality, but fulsome enough to match substantial foods.
So, a variety of styles and grapes to please different palates and different budgets, but next week in the neighbouring state of Oregon there one grape to rule them all: pinot noir.
Register for free to continue reading
Registration is a free and easy way to support our truly independent journalism
By registering, you will also enjoy limited access to Premium articles, exclusive newsletters, commenting, and virtual events with our leading journalists
Already have an account? sign in
Register for free to continue reading
Registration is a free and easy way to support our truly independent journalism
By registering, you will also enjoy limited access to Premium articles, exclusive newsletters, commenting, and virtual events with our leading journalists
Already have an account? sign in
Join our new commenting forum
Join thought-provoking conversations, follow other Independent readers and see their replies