Wines of the week
Eight more juicy reds for warm weather drinking
Terry Kirby returns to those reds that can benefit from a little chilling, this time to some lesser known grapes from around the world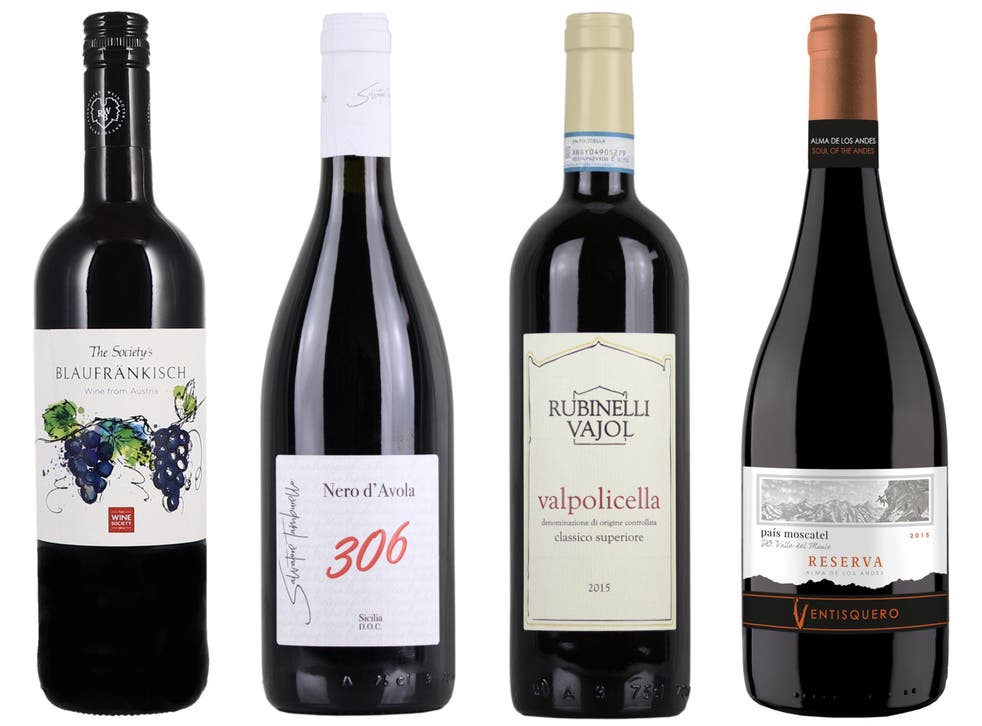 A few weeks ago I recommended some summer reds for chilling, given that big red wines often don't quite fit the bill in warmer weather, and that an hour in the fridge can really bring out the best in some lighter varieties.
And when it comes to such warm-weather reds, most of us turn to either pinot noirs from around the globe, of which there is a plentiful selection, or beaujolais villages wines, made with the gamay grape.
But there are other grapes and wines that sometimes don't get quite the same attention; that are equally good for drinking through summer and into early autumn, at cellar or fridge-door temperatures, and that are suitable for lighter dishes, barbecues and outdoor eating.
What we are looking for here are light and medium wines, meant to be drunk relatively young, that have some substance, some structure and depth, but also a refreshing quality and do not sit heavily on the palate. Equally, they must be suitable for lighter foods – these are not wines you might pair with a weighty meaty casserole, they are more suitable for grilled meats, lighter cheeses and vegetable dishes, or even some fish dishes.
In France, the cabernet franc grape is most known for being a supporting player in Bordeaux blends to give some freshness to merlot and cabernet sauvignon. But in the Loire, where cooler temperatures emphasise the freshness but also the silkiness of the grape, it really comes into its own in juicy, toothsome reds which can be drunk young, although some can be aged with brilliant result. Look for the Chinon and Samur appellations.
From a highly regarded producer, the Charles Joguet Les Silenes Chinon 2018 (£17.20 tanners-wines.co.uk) is a benchmark example of the style, with masses of clean, black-cherry fruit, a lovely purity of flavour and some enticing leathery and tobacco notes – and sometimes a little dark chocolate – which are characteristic of the grape. The appellation of Saint Nicolas de Bourgueil is much less well known, but also produces fabulous wines such the organic Domaine Yannick Amirault La Mine 2018 (£16.33 vinatis.co.uk) – more abundant bright and juicy red fruits and really good depth of flavour.
The nero d'avola grape in Sicily produces wines that are often best drunk young. From the organic, boutique winery of Salvatore Tamburello comes the exceptional Nero d'Avola 306 (£18.19 independent.wine) which has concentrated but lush and silky black-fruit flavours and real poise and elegance on the palate. Probably best drunk cool, rather than chilled and brilliant with lighter white meats or pasta. Valpolicella wines, from the Veneto area of mainland Italy used to be very popular in the UK despite a tendency to be a bit undistinguished. However, the Rubinnelli Vajol Valpolicella 2015 (£19.00 independent.wine), which is made from a corvina-dominated blend of local grapes, is in a totally different league. Again, a small boutique winery but a very different type of wine: light in colour and body, with dried cranberry and pomegranate flavours, a delicate touch of chocolate and a hint of pepper; really beguiling and interesting.
Now for some wines from much less well known grapes. The neglected bobal grape in Spain is enjoying a well earned revival and makes gorgeous, succulent wines when given due respect. From the Valencia region, the organic Altolandon Bobal Con Altura (£8.95 thewinesociety.com) is a brilliantly approachable glugger – fullish brambly fruit, but also notes of herbs and spices; one to be drunk out of tumblers in the garden on a warm night, with almost any Mediterranean foods.
The blaufrankisch grape originated in central Europe and is now grown in many pockets around the region as well as in the United States and Australia, although we see very little in the UK. What we do see mostly comes from Austria's Burgenland and a wonderful introduction to the grape is The Society's Blaufrankisch 2018 (£9.95 thewinesociety.com), made for the Wine Society by a highly reputable producer. It is plump and juicy, with gorgeous black-fruit flavours and a lovely freshness – if you like the villages cru wines of Beaujolais, this will definitely appeal.
Pais is another revived grape from Chile, which makes lovely, juicy reds, also very much in the lighter beaujolais mode, such as the Vina Ventisquero Pais Moscatel 2016 (£8.99 vinofandango.co.uk; £10.95 davywine.co.uk), where the pais has a small lift in fragrance from just 15 per cent muscat. And a decent chilling in the fridge will enhance the lovely raspberry and chocolate flavours.
Finally, something really exciting for English wine: the vast majority of English red wine making has been focused around getting the best out of pinot noir because it's a cool climate grape, it can grow well here on chalky soils – as it does in champagne country in France – and already makes brilliant sparklers. English still pinot – usually quite light and fragrant – can be pretty good, but no one has really attempted a more full-bodied
English wine although there are some experimental gamay plantings, which could prove interesting. But now along comes cabernet noir – a Swiss hybrid created in only 1991 by marrying cabernet sauvignon with an unknown disease-resistant variety. Some winemakers are excited because they think cabernet noir could be the UK's answer to cabernet franc – it has those fresh, juicy black-cherry and raspberry fruits, a little tannic structure and those deeper notes of tobacco, leather and perhaps chocolate and pepper.
So, voila, we have the fantastic Blackbook Winery Little Wonder (£19.00 heritagewinesuk.co.uk; £20.00 theenglishvine.co.uk), a limited-edition wine made by the Blackbook urban winery in Battersea, in south London, from grapes sourced from vineyards around the south of England. And it is gorgeous, a genuine revelation: almost the perfect, lightly chillable summer red, medium bodied, balanced, juicy and at 11.5 ABV, very moreish. Frankly, I could drink it all night...
Join our new commenting forum
Join thought-provoking conversations, follow other Independent readers and see their replies