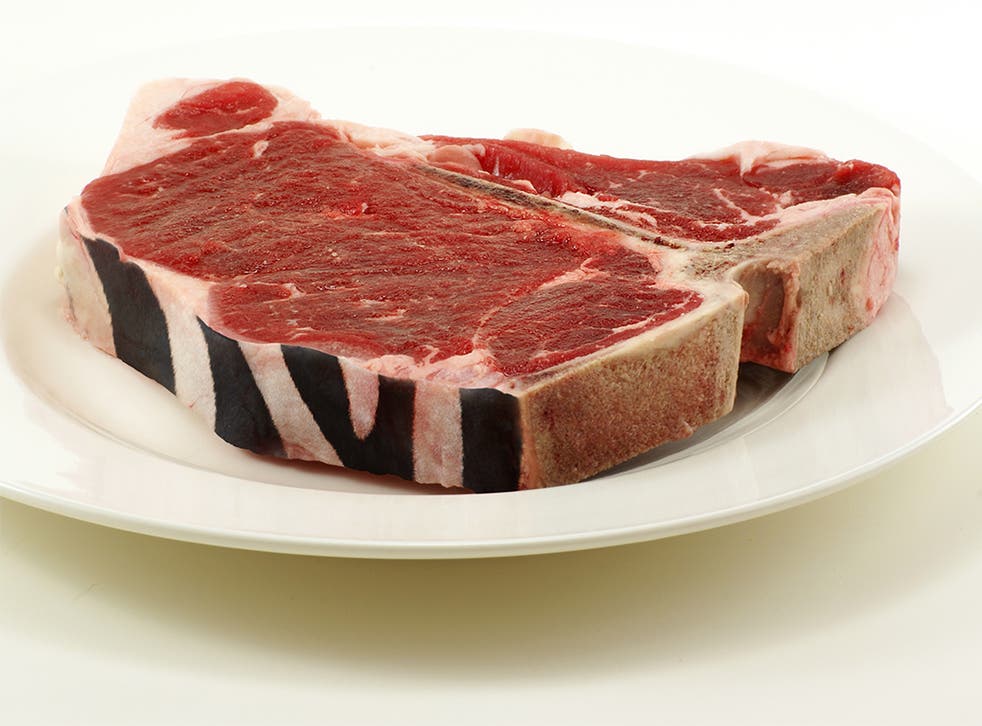 Zebra meat: Exotic and lean - but does it taste good?
The meat has just one tenth of the fat found in a same size beef steak
Fitness trends are cyclical. Everyone panics into getting fit soon after the Christmas bulge, before embarking on a second fitness binge in time for the formidable beach wear season. Veganism has done the rounds. Camel milk has had a recent revival. Kale is the new holy grail of everything - even breeding with the brussel sprout to produce new superfood the 'kalette' - and reality TV stars are launching must-have dietary supplements more often than they Instagram.
But now the call is for meat. Not just any meat. Bog standard lamb chops and pork sausages simply do not suffice anymore. A new trend might see us tucking in to a succulent slice of zebra steak, or maybe even springbok, bison or crunchy chermoula crickets.
UK fitness food site MuscleFood.com - a company who provide food to athletes including boxers Carl Froch and David Haye - have just added zebra steaks to their line-up of exotic delicacies due to its extremely low fat content.
With virtually no fat (0.5g per 100g), the meat has just one tenth of the fat found in a same size beef steak, and contains around one third less calories, with only 148 per steak compared to 230 in a rump steak.
With additional zinc to kick start your immune system and vitamin B12 to boost energy levels, it comes as no surprise that athletes including Great Britain Olympic sprinter Iwan Thomas have confessed their love for the Serengeti steak's high quality protein.
The "sweeter than beef" meat with a "subtle game flavour" is cut from the hindquarter of the Burchell zebra breed in South Africa – the only breed that can be legally farmed for meat.
Darren Beale, founder of MuscleFood.com said: "These zebra steaks offer a real taste of the Serengeti and if they're good enough for lions to feast on then why not us humans too?"
The success of the company's horsemeat range of burgers, meatballs and mince has spurned the popularity of its stylish South African cousin.
Beale said: "Our customers are adventurous when it comes to trying new things so we decided to introduce the ultimate low fat high protein meat – zebra."
The company's move towards the exotic is not as new as you may think. Myfitnesspal and other calorie counting apps already list zebra meat on their food stores, and Raging Bull Meats on Finchley Road recently reopened as a South African butchers selling a safari's worth of meat - both fresh and dried.
Last year supermarket chain Lidl divided shoppers when it launched kangaroo steaks as part of its luxury range Archipelago restaurant in London boasts an eclectic selection of unusual delicacies. From crispy zebra "jerky" and boerewors, to sweet-chilli smoked python carpaccio, to crocodile wrapped in vine leaves, the menu offers up a dream for any discerning carnivores.
But our adventurous palettes have left health officials divided, especially after the horsemeat scandal which found that unbeknownst to us those tasty Findus lasagnes and Tesco burgers were packed illegally with horsemeat that was sourced from dodgy farms as far afield as Rotterdam.
It is not illegal to sell meat that isn't sourced in the UK providing that it meets certain standards set out by the Food Standard Agency (FSA) – so don't worry, London Zoo won't become a breeding pad and subsequent slaughter house for exotic species. All meat must adhere to the required standards for labelling, die at an approved slaughterhouse and pass health inspections.
Providing all the legal requirements are met – what are the chances of this new superfood setting up home - just like the 'exotic' banana did over 100 years ago - and becoming a popular British staple?
For fitness – maybe. For steak and chips – it's doubtful. Regardless of the meat's health benefits, because of the low fat content its robust texture means that you have to chew yourself to fitness in order to digest it. It is best cut into thin strips and fried over a high heat for a very short period of time, or perhaps casseroled for a tasty zebra hotpot. But if you want to indulge in a steak, then you're best off buying a beef steak.
Join our new commenting forum
Join thought-provoking conversations, follow other Independent readers and see their replies