Lifestyle feature
'I would think - best not eat then': Why putting exercise labels on food could impact people with eating disorders
As the government looks at introducing calories on restaurant menus, Sophie Gallagher speaks to people who live in fear of such a system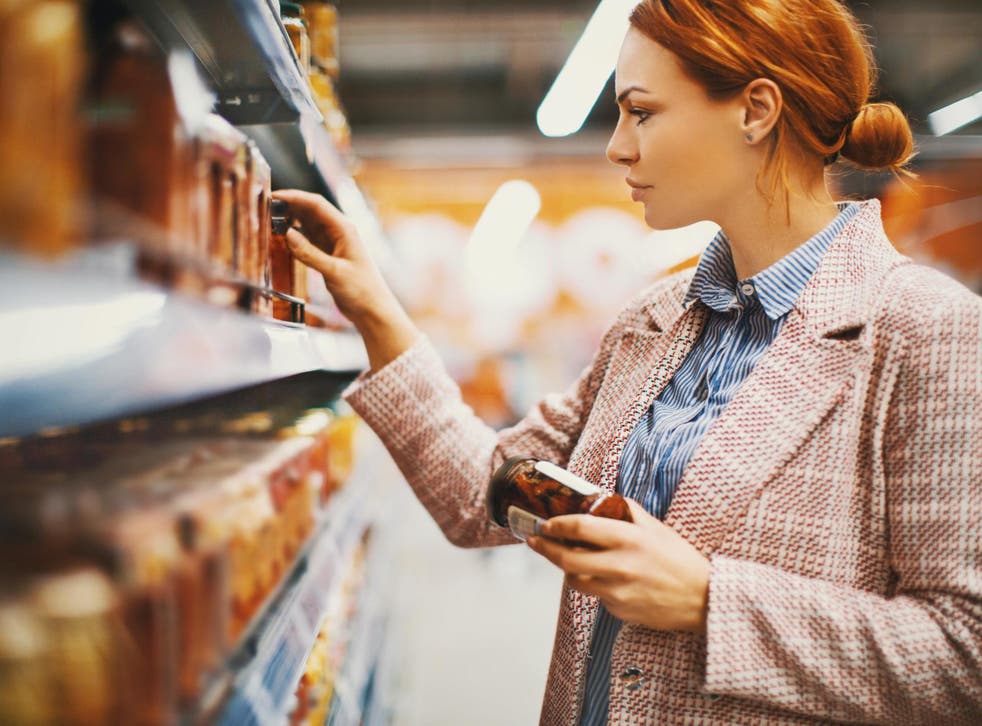 This article was originally published in December 2019.
Boris Johnson has introduced a new government strategy to fight obesity by urging the public to "lose a little bit of weight".
It comes as Downing Street prepares to ban junk food adverts before the watershed. The plan will also reportedly see the end to buy-one-get-one-free deals and adding the number of calories to restaurant menus.
Previously research from scientists at Loughborough University found replacing the "traffic light" nutritional system on food produce with information on how much exercise would be required to burn off the items' calories may help the obesity crisis in the UK.
The team found, through analysis of 15 major studies on food labelling, that participants ate, on average, 65 fewer calories per meal, when exercise-based labels were introduced. The labels proposed might, for example, see a fizzy drink containing 138 calories show a person walking for 26 minutes or running for 13 minutes. "There is a clear signal that it might be useful," says the study's lead author, Professor Amanda Daley.
But the proposals faced criticism from eating disorder charities and people with a history of disordered eating.
Government data shows 28.7 per cent of adults in England are currently obese — defined as having a BMI (body mass index) of 30 or above — and a further 35.6 per cent are medically overweight. But while researchers think this new system would be good for tackling obesity, for those dealing with forms of disordered eating such as anorexia nervosa or bulimia, this new system could potentially risk making things worse, say charities.
Tom Quinn, director of external affairs at Beat, the UK's leading eating disorder charity, tells The Independent: "Although we recognise the importance of reducing obesity, labelling food in this way risks being incredibly triggering for those suffering from or vulnerable to eating disorders.
Unhealthy appetite: Is 'Fatsploitation' fuelling the obesity crisis?

Show all 5
"We know that many people with eating disorders struggle with excessive exercising, so being told exactly how much exercise it would take to burn off particular foods risks exacerbating their symptoms."
Hope, 29, from London, who developed anorexia when she was just 13 years old, tells The Independent if she had seen the labels in a shop she would have felt "panicked and anxious" because part of her anorexia was learning the calories and corresponding exercise needed to burn this off.
"A huge part of my illness was wrapped up in over-exercising. I would definitely be impacted by this. I know I would. I was obsessed with exercise and it was something I [felt] I had to do all the time. It nearly killed me."
Similarly Rebecca from Chelmsford, Essex, who was diagnosed with anorexia in 2008, says the proposal is "extremely problematic". "As someone who has suffered with an eating disorder, of course you're going to look at the labels and think, 'right, if I'm going to eat that I'm going to need to run for 90 minutes. Best not eat then'.
"I can imagine standing for hours in the supermarket fighting an internal battle because of these labels and ending up in tearful fights with family as a result", she says. "Yet again, concerns over obesity are being prioritised over concerns over our mental health."
The 31-year-old says this is an even worse proposal than previous suggestions to put calories on all restaurant menus, which many high-street chains and some fast food outlets, like McDonald's, have already adopted. "Calories on restaurant menus are bad enough but at least you can avoid those if you need to," she says. "But not many people have the luxury of being able to avoid the supermarket."
Labelling fast food menus with calorie information has been shown to have some positive impact on reducing customer purchases, a 2019 study from Harvard University found. Published in the British Medical Journal, the research found calorie labelling was linked to an instant decrease of 60 calories per transaction.
But Rebecca says exercise labels might also be a problem for people with obesity, saying that: "Obese people are effectively being told they're weak and silly for not running for 90 minutes after eating a sandwich. I doubt the sandwich is the problem," she says, referencing the other causes of obesity, which the NHS says can include comfort eating, bad habits learned from families, genetic and medical reasons, or other environmental factors.
Government data shows prevalence of excess weight is 11 percentage points higher in the most economically deprived areas of England, than in the least deprived areas.
Jodie, 24, from Hertfordshire, who has also been diagnosed with anorexia, says she found herself falling into old habits when she read about the proposals. "I found myself immediately, and almost on some kind of eating disorder autopilot, scrolling down the articles to read the numbers, to see if I had been 'getting it right' or if I needed to 'do more'. I then switched to anger as I realised what just the article alone had triggered for me," she says.
"It fueled my 'anorexic thoughts' and reinforced the belief that I need to 'earn' my food, that I don't have 'permission' to eat and this results in further restriction and compulsive exercise."
Jodie says during the height of her anorexia she found shopping a continuous struggle and would take hours to buy a single product, researching calories beforehand and always trying to buy things with 1 fewer calorie than another comparable food.
"The supermarkets became a library for my eating disorder, walking in there to browse the products. I cannot even begin to describe the detrimental effect and the damage that will occur as a result of exercise labelling on food products."
Duncan Stephenson, deputy chief executive of the Royal Society for Public Health, a charity working on improving public health, welcomes the idea of exercise-based labelling in light of the current "obesity crisis" in the UK. Stephenson says the charity's own work showed such exercise-based labelling both made consumers think twice about their purchases, and motivated them to think about exercising.
But Deanne Jade, founder of the National Centre for Eating Disorders, who treats obese patients and others with eating disorders like anorexia, says she still worries about the accuracy of such labels when used on a mass scale. "It could be incorrect or misleading. How much energy you burn doing different things depending on your personal physiology", she explains. "Nothing is standard".
"A little knowledge can be a dangerous thing in the hands of people who cannot fit such information into a wider context of wisdom," she elaborates. "In some people it could lead to excessive calorie counting and also compensatory behaviour and anxiety.
"On balance, I don't think it is helpful to put this knowledge on the part of tickets."
Quinn, from Beat, agrees: "Policy makers looking to incorporate this change need to consider the impact that it may have on people's mental health."
If you have been affected by any of the issues mentioned in this article, you can contact the following organisations for support: the BEAT helpline on 0808 801 0677​ or Mind on 0300 123 3393​.
Join our new commenting forum
Join thought-provoking conversations, follow other Independent readers and see their replies