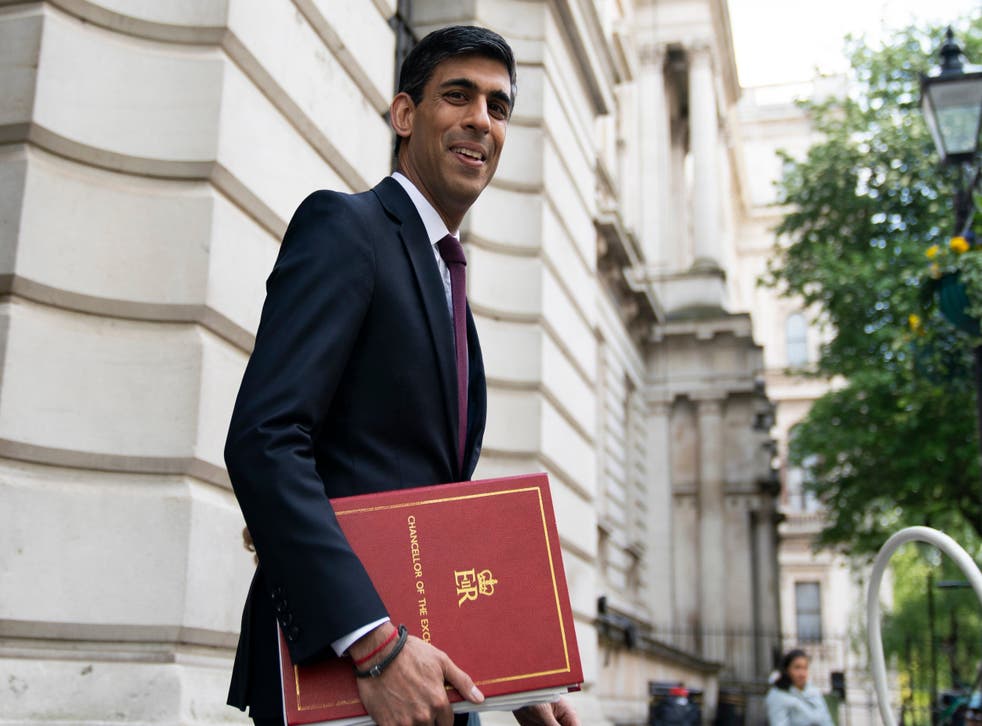 Furlough scheme: What do the changes mean for UK workers?
The chancellor announced details of an extension on Tuesday
Helen Coffey
Tuesday 12 May 2020 13:30 Comments
The job retention scheme, whereby employers can furlough staff during the coronavirus lockdown, is one of the UK's government's biggest ever financial interventions.
The scheme, unveiled by chancellor Rishi Sunak on 23 March, pays furloughed workers 80 per cent of their wages (up to £2,500 per month), enabling them to keep their jobs and stay afloat even while not working.
However, Sunak announced a number of changes to the scheme on Tuesday 12 May which will affect the estimated 7.5 million people currently furloughed in the UK.
Although, he confirmed, there will be "no changes whatsoever" to the current arrangements until the end of July.
Will the government reduce my pay?
It had been suggested that the government could wind down the percentage payment from 80 per cent to 60, or even 40, to reduce the cost of the scheme, estimated to be around £40bn over the next three months.
Treasury Committee chair Mel Stride previously told MPs: "I just wanted to focus for a minute on how we might unwind the furlough scheme most productively and effectively.
"I think the first thing is that we should look at a tapering away of that particular measure from 80 per cent down to 60 per cent and 40 per cent and so on to smooth our exit."
But in Sunak's speech he said there is no plan to reduce the 80 per cent – only that businesses will be asked to start paying a share of the cost.
"I want to assure people today of one thing that won't change – workers will, through the combined efforts of government and employers, continue to receive the same level of overall support as they do now," he said.
This isn't the first time the government has told employers they are responsible for "topping up" wages.
Since the beginning of the scheme the Treasury has said that if employers want employees to be receiving their full pay packet (rather than just the 80 per cent provided by the government) they should be willing to put their hands into their own pockets.
"I think it is particularly important that employers should contribute something to the cost of furlough beyond the end of June," said Stride.
"I say that because there will be many employers out there who currently have members of staff on furlough and are not having to pay them to be on furlough, and actually have no intention in the medium term at least of bringing them back into businesses."
At present, employers can choose to top up furloughed workers' pay by contributing 20 per cent, so that staff are receiving their full wages. However, there is no legal obligation for them to do so.
According to Citizens Advice, although 80 per cent (or less) of a worker's regular pay might be below minimum wage, this isn't against the law because they're not working. Those who are struggling to get by may be able to claim some benefits, even if they're currently furloughed.
Are there any other changes to the scheme?
It was announced on Tuesday that the scheme will now run till October – it had previously been billed to end in July.
There had also been speculation that the scheme could become more flexible. At present, staff can only be furloughed full time, meaning that they don't work at all.
Businesses had been campaigning to change this to allow employers to furlough staff part time instead, so that the government pays a percentage of their salary only for the hours they're not working.
On Tuesday Sunak said additional flexibility will be built into the scheme to allow a part-time return to work over the summer but precise details of how this will work are to be released at the end of May.
Silence for key workers who lost lives to coronavirus

Show all 30
The Federation of Small Businesses (FSB) has been campaigning for this change.
"The vast majority of small employers have furloughed staff and they're telling us loud and clear that the ability to do so on a part-time basis as we move towards recovery will be key to keeping their operations afloat," said FSB chief Mike Cherry.
How many people are currently on furlough?
Sunak said that more than 7.5 million people in the UK are currently on furlough to a cost of £10bn and counting.
There has also been a surge in claims for universal credit for those who have found themselves out of work – ministers have said the government has processed some 2 million universal credit claims since lockdown was first imposed in March.
Register for free to continue reading
Registration is a free and easy way to support our truly independent journalism
By registering, you will also enjoy limited access to Premium articles, exclusive newsletters, commenting, and virtual events with our leading journalists
Already have an account? sign in
Join our new commenting forum
Join thought-provoking conversations, follow other Independent readers and see their replies