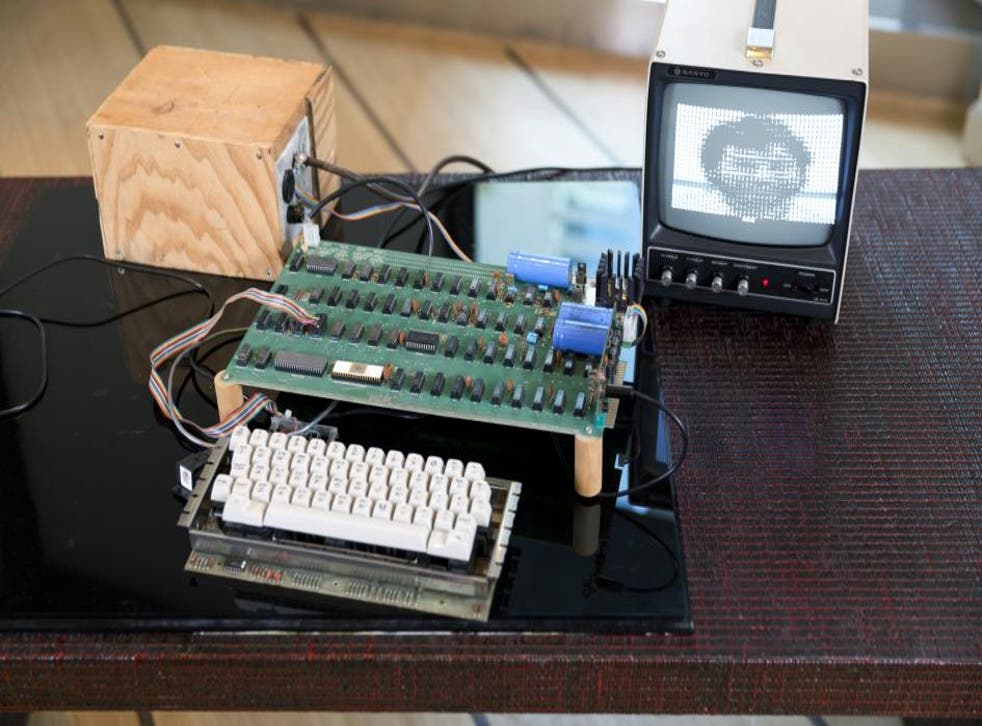 Apple-1 computer built by Steve Jobs and Steve Wozniak sells for more than £560,000
The Apple-1 offered intrepid computer users from 1976 just 4kb of RAM - 2,000,000 times less than a standard MacBook today
James Vincent
Thursday 23 October 2014 09:00 Comments
Of all the computers that Apple has ever made there's only one that Steve Jobs had to sell his car to finance, and yesterday it sold for a staggering $905,000 (£563,904) at auction.
The Apple-1, as the machine is known, is one of fifty hand-assembled by Apple co-founder Steve Wozniak in Jobs' family garage in 1976. It was the first pre-assembled computer ever made (they usually came as kits) and is credited by many tech historians as kick-starting the PC revolution.
As one of the handful of Apple-1s left in good working order the model was expected to sell for between $300,000 and $500,000, but was bought for nearly double this by The Henry Ford organization.
The president of the foundation Patricia Mooradian called the computer "a key artefact in the foundation of the digital revolution" and plans to display it in its museum in Dearborn, Michigan.
"Similar to what Henry Ford did with the Model T, Steve Wozniak and Steve Jobs put technology directly in the hands of the people with the creation of the Apple-1, completely altering the way we work and live," said Mooradian.
The original Apple-1 computers were sold to San Francisco electronics retailer Byte Shop and were put on sale for $666.66 apiece. Wozniak reportedly chose the price for two reasons: it was a mark-up of a third on the parts' cost and because he "liked repeating digits".
The computer was sold as part of Bonhams auction house's "History of Science" sales, with other items up for grabs including a letter from Charles Darwin "discussing the details of the reproductive act amongst barnacles", and original window from the Manhattan Project and one of the first ever electric keyboards (below).
Register for free to continue reading
Registration is a free and easy way to support our truly independent journalism
By registering, you will also enjoy limited access to Premium articles, exclusive newsletters, commenting, and virtual events with our leading journalists
Already have an account? sign in
Join our new commenting forum
Join thought-provoking conversations, follow other Independent readers and see their replies