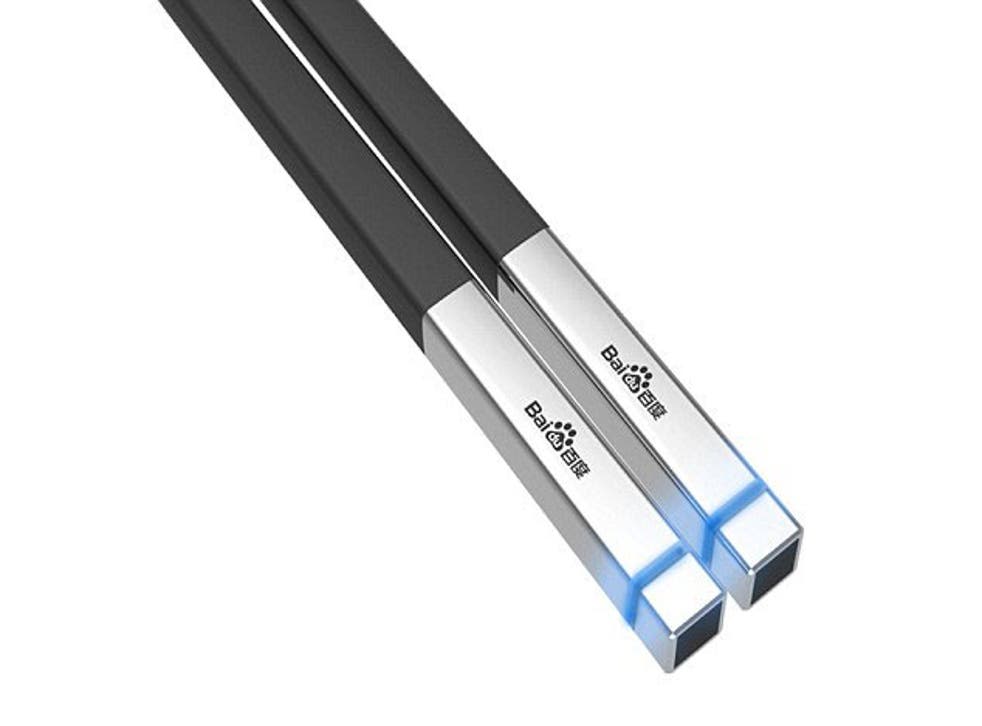 Baidu - the 'Chinese Google' - unveil 'smart chopsticks' that detect contaminated food
A prototype device was unveiled by search giant Baidu in Beijing this week, with CEO Robin Li promising that future models would also measure calories
Chinese internet giant Baidu has unveiled a pair of 'smart chopsticks' that can detect contaminants in food and report back to smartphone and desktop apps.
The compapny (often known as 'China's Google') says the prototype device is currently designed to detect temperature and whether food was produced using 'gutter oil' – reused cooking oil that's potentially toxic – but that future models could also flag up contaminated water and measure salt levels.
When a concept video of the chopsticks was first posted on YouTube in April (below) many thought that they were an April Fools' joke, but for Chinese citizens the problem of food contamination is very real.
In 2008 tainted baby milk killed at least three infants and caused thousands more to fall seriously ill, while in July this year five men were arrested for selling "rotten" meat to clients including McDonalds, KFC and Starbucks.
More bizarre scare stories abound, including a report of blue, glow-in-the-dark pork and the recent arrest of chef for painting goose feet with "inedible pigment" to make them look more attractive to domestic tourists.
All this worry could create a lucrative market for Baidu's smart chopsticks, with Quartz noting that the food safety testing industry in China has grown rapidly in recent years and was estimated to be worth 4.4 billion yuan (£435 million) in 2013.
Baidu CEO Robin Li introduced the chopsticks (or Kuaisou) at the company's annual technology conference, describing the product as "a new way to sense the world."
"In the future, via Baidu Kuaisou, you'll be able to know the origin of oil and water and other foods–whether they've gone bad and what sort of nutrition they contain," Mr Li was reported as saying by the Wall Street Journal.
A video demonstration of the unit suggests that the base module could also contain a pocket-sized spectrometer used detect foods by checking them against an internal catalogue.
But while Chinese consumers are worrying about potential contaminants in their dishes, their Western counterparts have more prosaic concerns: dieting.
The most popular piece of smart cutlery in the US is the Bluetooth-connected HAPIfork. It doesn't detect what food users are eating but instead vibrates to train them to munch slower; a tactic that studies have shown leads to feeling fuller sooner, and thus losing weight.
Join our new commenting forum
Join thought-provoking conversations, follow other Independent readers and see their replies