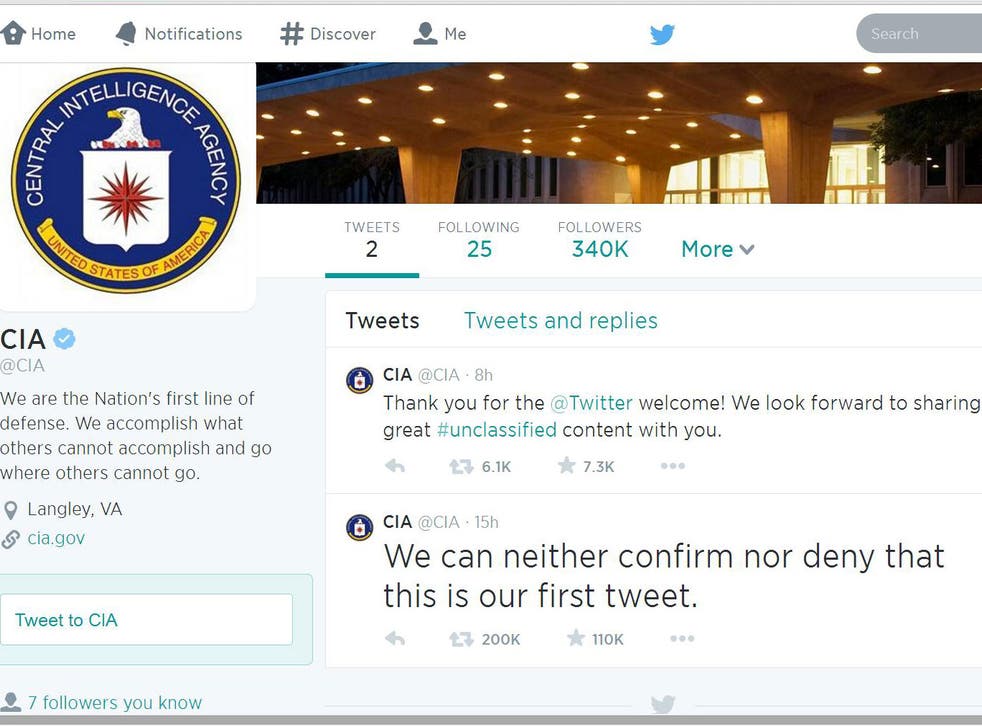 CIA joins Twitter, and opens with charm offensive
Irony of 'following' the intelligence service was not lost on the Twitterverse
Lizzie Dearden
Saturday 07 June 2014 15:21 Comments
The CIA has made a surprisingly light-hearted foray into social media with a new Twitter account.
The unexpected move led many to suspect that @CIA was yet another parody account, especially after its post reading: "We can neither confirm nor deny that this is our first tweet."
But it seems that spies have a covert sense of humour after all and will be sharing "unclassified" content.
Within hours, it had been re-tweeted nearly 200,000 times and the account had more than 330,000 followers.
Ironically, the CIA was initially only "following" 25 other accounts.
"You guys have been following me before Twitter," one tweet joked.
The US global intelligence agency confirmed its presence on Friday.
"By expanding to these platforms, CIA will be able to more directly engage with the public and provide information on CIA's mission, history, and other developments," said the director, John Brennan.
"We have important insights to share, and we want to make sure that unclassified information about the Agency is more accessible to the American public that we serve, consistent with our national security mission."
News, statements and career information will be published alongside historical nuggets from the CIA's museum and facts.
The CIA's cryptic Twitter bio reads: "We are the Nation's first line of defence. We accomplish what others cannot accomplish and go where others cannot go."
It had to contact Twitter to get the coveted @CIA handle, which was being used by someone impersonating the agency.
It also opened a Facebook account on 1 June, which has so far set a more sombre tone with posts about memorials for the 70th anniversary of D-Day.
The UK's own secret service, MI5 and MI6, have not made any move to mirror their counterparts across the pond.
Maybe that's because of comments like these…
Register for free to continue reading
Registration is a free and easy way to support our truly independent journalism
By registering, you will also enjoy limited access to Premium articles, exclusive newsletters, commenting, and virtual events with our leading journalists
Already have an account? sign in
Join our new commenting forum
Join thought-provoking conversations, follow other Independent readers and see their replies