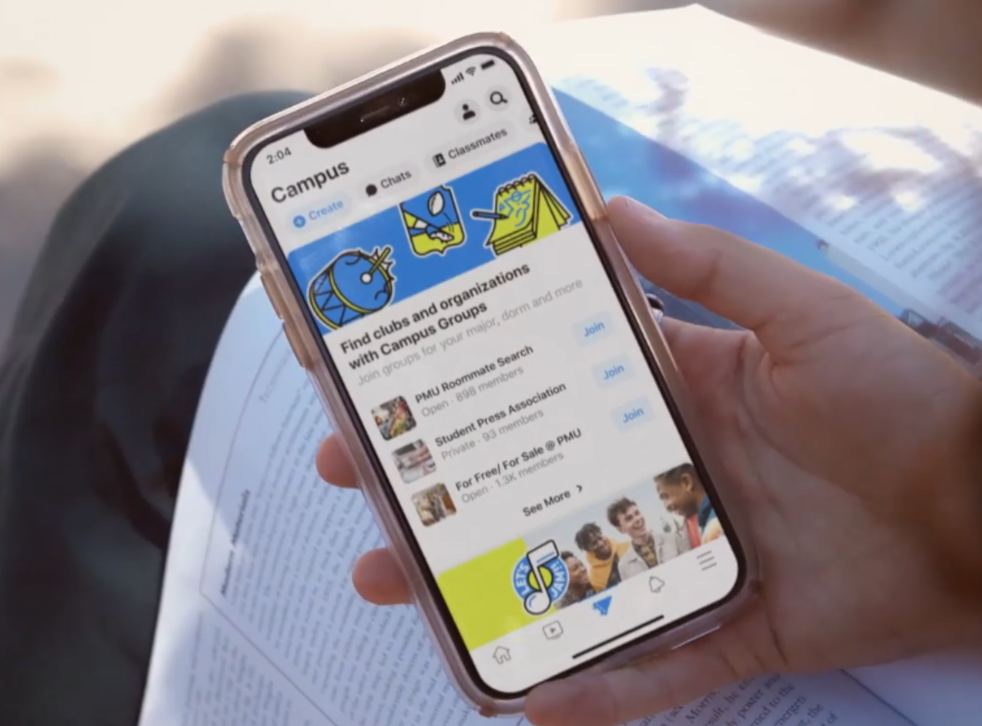 Facebook goes back to its beginnings with launch of tool exclusively for college students
The section requires a college email to access, offering exclusive groups and chats
Adam Smith
Thursday 10 September 2020 17:36 Comments
Leer en Español
Facebook has launched "Facebook Campus", a space on its main app designed to better let students connect with one another.
Many students are set to start university courses in the midst of the coronavirus pandemic, with many usually in-person events expected to take place over video calls. 
"In the early days, Facebook was a college-only network, and now we're returning to our roots with Facebook Campus", the company says in a blog post. 
A Facebook Campus profile is different from the main Facebook profile; on Campus, students only need to input their college email and graduation year.
Their college email (@.edu) will be used to verify the student's Campus profile, and is used as a part of a "classmates directory to make it easy to find and meet new people".
Students can input their major, classes, hometown, and minor, although these are optional.
The social media giant also says that students can use the Campus profile to set up groups and events unique to their college.
Campus events and groups are not able to be made public, as those on the standard Facebook platform are.
There is also a chatting function in Campus, but it is separate from Facebook's messenger service. Instead, users find a particular group and can choose to join the conversation.
If a user is blocked on Facebook, they will also remain blocked on Campus.
Campus is rolling out to 30 universities in the US, including Brown, Georgia State, Lincoln, Florida International, and more.
Notably Harvard, where Facebook was first developed by CEO Mark Zuckerberg, will not have access to Campus.
Much like Facebook's other products, data generated by Campus will be used to improve its advertising technology, but Campus itself does not show adverts according to Techcrunch.
The announcement comes as Facebook is losing ground to other social apps such as YouTube and Snapchat.
A survey from 2018 shows that only half of teenagers in the US use Facebook, compared to 69 per cent who say they use Snapchat and 85 per cent who use YouTube.
Instagram, which is owned by Facebook, is used by 72 per cent of US teenagers, but there appears to be no integration between it and Campus apart from linking their Instagram and Facebook profiles, as you can with the standard Facebook profile.
"We wanted to create a product where it was easy for classmates to meet each other, foster new relationships and also easily start conversations," said Facebook Campus Product Manager Charmaine Hung.
"With COVID-19, we see that many students aren't returning to campus in the fall. Now, classes are being held online and students are trying to react to this new normal of what it's like to connect to clubs and organizations that you care about, when you're not together,"
Hung also said that Campus has not been tested prior to the announcement today, with the launch being considered as a pilot, although the company did conduct roundtables with universities and students when building the function.
Register for free to continue reading
Registration is a free and easy way to support our truly independent journalism
By registering, you will also enjoy limited access to Premium articles, exclusive newsletters, commenting, and virtual events with our leading journalists
Already have an account? sign in
Join our new commenting forum
Join thought-provoking conversations, follow other Independent readers and see their replies