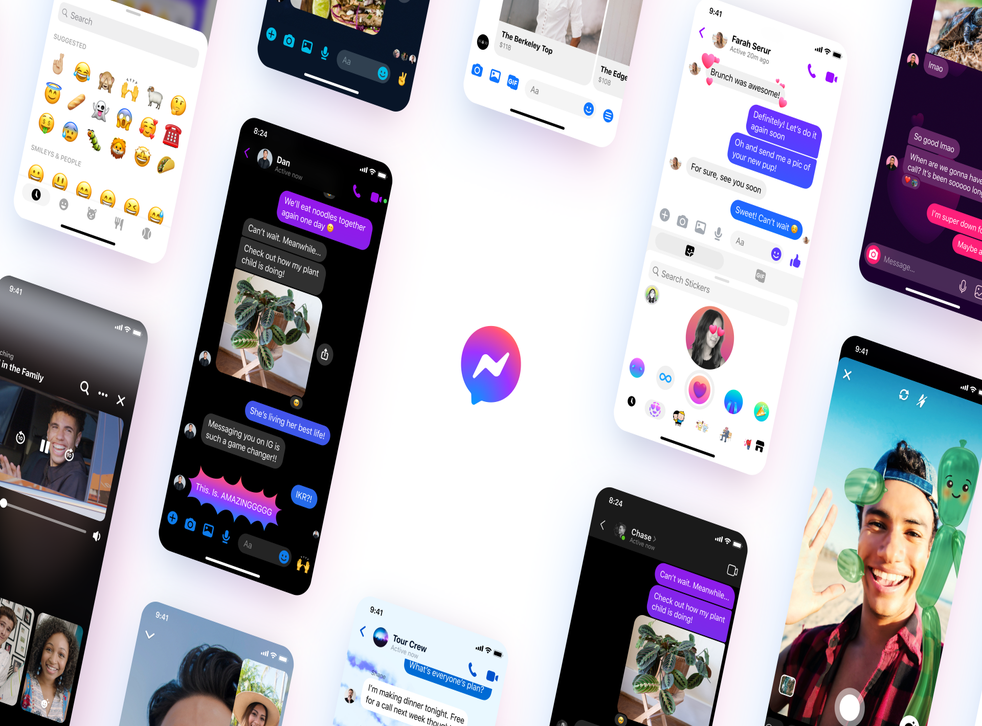 Facebook Messenger gets redesigned with new themes, custom reactions, and logo
The change comes as Facebook is integrating Messenger and Instagram
Adam Smith
Tuesday 13 October 2020 17:00 Comments
Facebook has announced an update to its Messenger app, giving it a new logo, more chat themes, and custom reactions.
The update focuses on aesthetics; the Messenger app now has a purple-red gradient logo rather than the previous blue and white one, and Facebook is also bringing 'love' and 'tie-dye' themes to the platform.
Custom reactions, including a fire emoji, pizza, a party horn, the '100' sign, and a unicorn are also being rolled out.
The social media giant's latest look "reflects a shift to the future of messaging, a more dynamic, fun, and integrated way to stay connected to the people you're close to", the company wrote in a blog post.
It also comes as Facebook is integrating its Messenger and Instagram services.
Users on one platform will now be able to message users on the other; people can control where they receive messages and calls - in their chats, through message requests, or disable the feature entirely.
Instagram messages will receive multiple features already available to Messenger users, including a 'vanish mode' where messages will disappear after sending, similar to Snapchat, personalising messages with colours, and quick-forwarding.
The integration will be rolled out to "most users in North America soon", the company says.
However, various commentators have pointed out that bringing the apps together could help improve the fortunes of Facebook amid criticism, and that it would make it harder for regulators to attempt to break the company into its various constituent apps. 
Facebook is also making its other services more tightly-linked, such as its main social media app and its Oculus virtual reality products.
Starting from October, new users will be required to sign up with their Facebook account if they are using an Oculus headset for the first time.
Existing users will be offered the option to merge their current Oculus account with their Facebook one.
Full functionality of the Oculus headset will be inherently tied to a Facebook account from 2023.
Register for free to continue reading
Registration is a free and easy way to support our truly independent journalism
By registering, you will also enjoy limited access to Premium articles, exclusive newsletters, commenting, and virtual events with our leading journalists
Already have an account? sign in
Join our new commenting forum
Join thought-provoking conversations, follow other Independent readers and see their replies