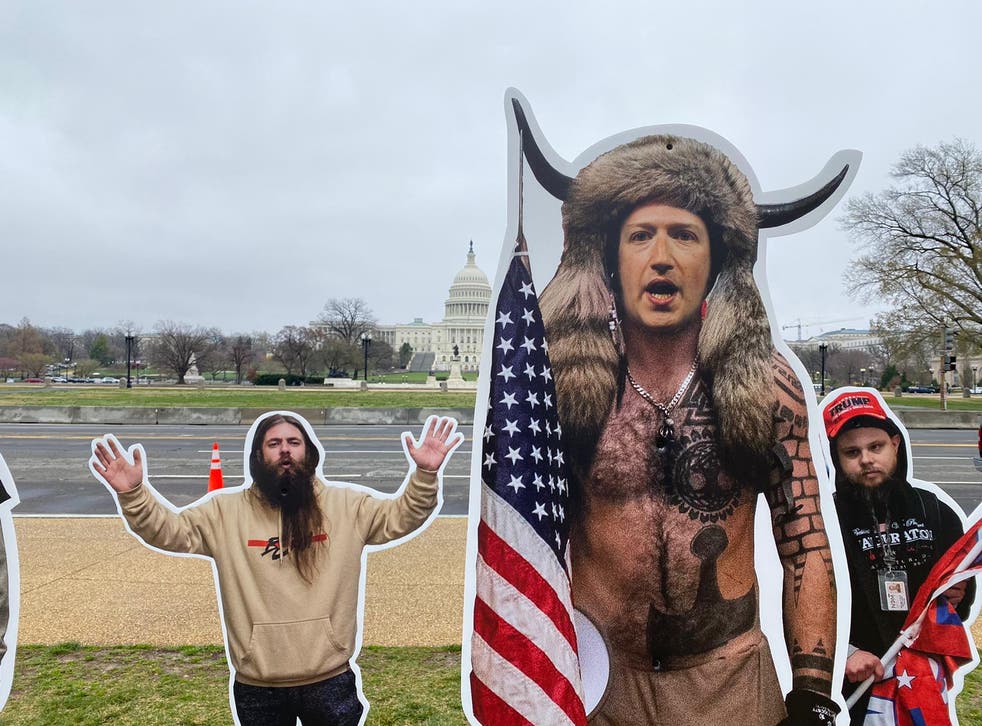 Facebook, Twitter, and Google CEOs depicted as cardboard-cutout insurrectionists in front of Capitol buildingF
Facebook's Mark Zuckerberg is shown as the 'QAnon Shaman' ahead of questioning from the US congress
As the chief executives of Facebook, Twitter, and Google face the US congress today, the global consumer group SumOfUs has erected cardboard cutouts in front of the Capitol building depicting them as insurrectionists.
"SumOfUs [is] portraying the Big Tech CEOs as key insurrectionists after they allowed their platforms to be flooded with election disinformation and conspiracy theories", the group tweeted.
"It's time for Congress to hold these companies to account."
The depictions reference reports that social media companies were accused of facilitating the violent insurrection that took place on 6 January on Capitol Hill.
Facebook CEO Mark Zuckerberg is depicted as the 'QAnon Shaman', an individual who attended numerous pro-Trump rallies and was pictured inside the Capitol Building.
Twitter CEO Jack Dorsey is shown as another of the insurrectionists who went viral carrying House Speaker Nancy Pelosi's lectern.
Read more:
Head of Google Sundar Pichai is shown wearing a QAnon hoodie; the company took action against numerous apps promoting the conspiracy theory on its Play Store, but also would not commit to removing content on YouTube, which is owned by Google. YouTube also failed to take action against numerous accounts that pushed fake election results, with some channels verified by YouTube itself.
As The Independent reported, rioters discussed and debated plans for weeks leading up to the event; a widely shared image promoting "Operation Occupy the Capitol" was posted to a pro-Trump Facebook group, which later spread across Twitter and niche image board website 8chan.
Despite this, Metropolitan Police Department chief Robert Contee claimed that there was "no intelligence that there would be a breach" at the Capitol.
The research group Advance Democracy found that posts with calls for violence on the website had more than 120,000 engagements, with statements encouraging people to "storm the Capitol" and to move "en masse."
Another report from Avaaz, a nonprofit advocacy group, said that it had identified several hundred pages and groups on Facebook that spread material that glorified violence to a total of 32 million users.
As well as Facebook, Twitter was criticised as the main platform whereby former president Donald Trump shared dangerous rhetoric and pushed conspiracy theories about the invalidity of the election.
Three days after the insurrection attempt, the social media platform finally banned the president.
The piece comes ahead of questioning from US congresspeople, who will be asking the executives about the actions they took to prevent misinformation spreading on their platforms and why their products were used to compel others to disruption and violence.
Chris Sacca, a celebrity venture capitalist who was an early investor in Twitter, said that Mark Zuckerberg and Jack Dorsey and "blood on [their] hands".
Sacca continued: "For four years you've rationalised this terror. Inciting violent treason is not a free speech exercise. If you work at those companies, it's on you too. Shut it down."
Facebook's former chief security officer, Alex Stamos also said that the companies needed to remove the account of the president, and that the incident was indicative of wider problems in the technology industry.
It had previously been claimed that Facebook had a bias to protecting right-wing content on its platform, while YouTube's recommendation algorithm has been criticised for the way that it can fuel conspiracy theorists.
Join our new commenting forum
Join thought-provoking conversations, follow other Independent readers and see their replies