The 10 Best coding websites

Show all 10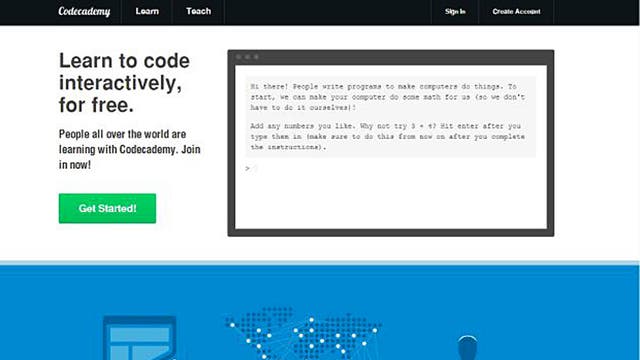 The 10 Best coding websites
These sites offer free and paid courses in everything from programming and web design to music theory and graphics
You would expect a website run by code educators to look pretty slick. Well, that's exactly the case with Codeacademy. It's so well designed that you are sucked into its free lessons the moment you reach the home page, where you are immediately invited to take part in its simple coding talk-throughs.
Free, codeacademy.com
An online learning platform that helps students to gain a range of skills from web design to programming, from beginner to advanced. Clearly taking inspiration from video games, courses are broken down into levels, with challenges that are rewarded by badges and unlocking secret videos.
$25 (£16) a month, codeschool.com
For those with a basic grounding in code already, Code Racer is a fun way to flex your programming muscles. Race against "enemies" to complete code challenges as quickly as you can and win awards in the process. It's an ingenious way to turn revision into a game.
Free, coderace.me
Get taught by expert tech practitioners by signing up to one of General Assembly's wide range of online, live-streamed classes. It also has courses at a range of locations around the world, including two in London, for in-person tuition.
Online classes £25, campus courses from £1,000 to £8,000, generalassemb.ly
Treehouse offers an extensive library of easy-to-follow and slickly produced video courses that can quickly help you to build up your programming and web-design skills. Its courses include everything from building PHP applications to starting your own WordPress blog.
$25 (£16) per month for a basic subscription, teamtreehouse.com
With an excellent selection of free video tutorials, PHP covers everything from basic set-ups to developing more advanced features. The UK-based organisation also has a popular YouTube channel filled with detailed lessons.
Free, phpacademy.org
The design may be primitive, but Coding Bat was created by Stanford University lecturer Nick Parlante as a free site of live-coding problems for programmers to practise on. The problems provide immediate feedback so they are ideal for self-study or revision.
Free, codingbat.com
Web development is just one category of skills you can learn at Tuts+, which offers online courses in everything from music theory to graphics. Expect to be taught cutting-edge topics from industry professionals, and there is a members-only forum where students can share and support.
$19 (£12) a month for a basic subscription, tutsplus.com
TheCodePlayer is the equivalent of looking over the shoulder of a pro while they work. The site features video-style walk-throughs of "cool stuff" being generated from scratch, such as digital fireworks.
Free, thecodeplayer.com
If you're looking to learn the Ruby coding language, Hackety Hack is a wonderful place to start. The brightly designed site offers a range of lessons to get you started as well as example designs to inspire your own projects.
Free, hackety.com
Doubles from $465 (£337), room only

editionhotels.com
Join our new commenting forum
Join thought-provoking conversations, follow other Independent readers and see their replies