The 10 Best family games

Show all 10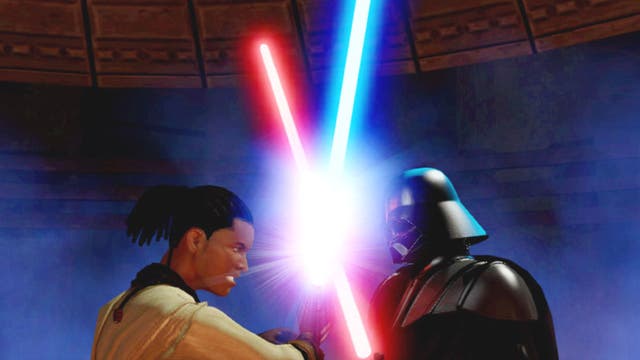 The 10 Best family games
1. Kinect Star Wars
3rd April 2012, £39.99 (Kinect)
Have lightsaber fights, explore locations from the films or take part on pod racing and X-wing battles. Best for early teens.
2. Papo & Yo
Out summer, £TBA (PSN on PS3)
An adventure game with a twist, the story reflects the creator's childhood growing up with a drug-using parent. Educational game for older family members.
3. Lego Batman 2: DC Super Heroes
Out summer, £39.99 (360, PS3, Wii, DS, 3DS, Vita)
Mix of running, jumping, puzzles and characters you collect make this a great co-op family game.
4. Mario Tennis Open
Out May, £39.99 (3DS)
Players can choose different shots using the handy lower touch screen. The real novelty – and what keeps you going back – is each character's special shots.
5. Skylanders
Out now, £49 (Wii, 360, PS3)
The real-toys which turn into digital characters have become a cult item for kids. A second chapter in the series, Giants, will be released in the autumn.
6. Lumines Electronic Symphony
Out now £32.99, (PS Vita)
Puzzle game where players match blocks in time with music. The premise is expanded with Vita's front and rear touch screens.
7. Wipeout 2048
£29.99, (PS Vita)
Futuristic spaceship racing. Although thought of as enthusiast's game, its driver assistance and tilt controls make it ideal for players as young as four.
8. Go Vacation
Out now £25.99, (Wii)
An action-adventure game where four players explore seaside, city, snow and forest holiday resorts. Simultaneous gameplay matched with 50 mini-games.
9. Journey
Out 13 March, £9.99 (PSN on PS3)
A guided journey through the desert, where players cross various environments solving puzzles at their own pace. Ideally suited to families.
10. Kinect Rush: A Disney Pixar Adventure
Out 23 March, £39.99 (Kinect)
Players use their body to control racing, puzzle solving and exploration. The Pixar film-worlds offer top family-gaming thrills.
Andy Robertson (@GeekdadGamer) is a family games expert for BBC Radio 4 and reviews new titles at gamepeople.co.uk
Join our new commenting forum
Join thought-provoking conversations, follow other Independent readers and see their replies