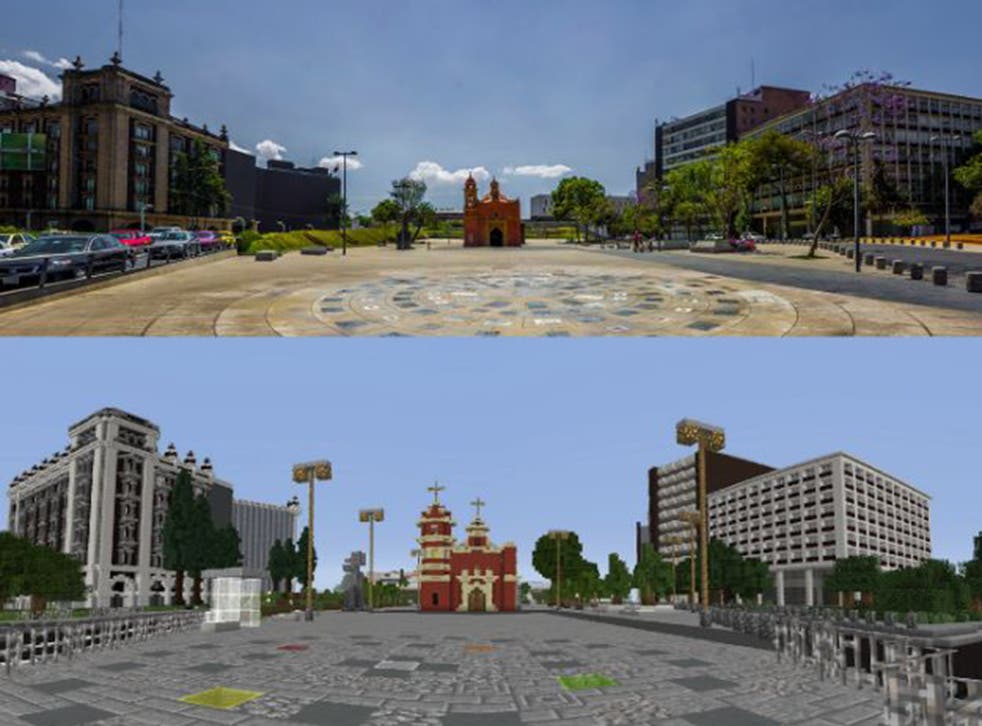 Minecraft is much more than 'Lego online' - it's a creative classroom tool
Minecraft is the best-selling independent game of all time, but its use in the real world – in urban development, mapping, history and the arts – makes it a crucial resource for building the future, says David Crookes
When Markus Persson began to code Minecraft one weekend in 2009, he imagined a game without levels, story or points set in a vast, free virtual world, the future of which would be at the behest of its users. In doing so he created a gaming monster which, to date, has been downloaded more than 60 million times and is so popular that videos just discussing the game on YouTube attract 2.4 billion views.
It's no surprise, then, that Minecraft is one of the globe's most successful gaming franchises; the best-selling independent game of all time, according to Guinness World Records. But its success is not merely confined to its digital landscape. It has transcended into real-life like no other game before, having a positive impact on key areas as diverse as urban redevelopment, mapping, history and the arts.
Minecraft's success is due to its flexibility. Anyone or any organisation can, with a bit of creativity and time spent coding, cultivate the game for a wide range of end results. Save the Children sought to build six new real-life clinics in Liberia; it set up an initiative called Clinic Craft, which created a virtual medical centre in the game, and challenged other players to better it, while gaining sponsorship for their efforts.
Tate has created Minecraft worlds inspired by its art collection, giving young people a greater appreciation of historic paintings. Producer Tony Guillan turned the train tracks in Christopher Nevinson's painting The Soul of the Soulless City into a playable roller-coaster ride around New York. "Minecraft offers a really innovative way to explore the stories, ideas or themes behind individual artworks in a way that is genuinely fun and interesting to young people," he says.
But aside from affecting social and artistic change, Minecraft's greatest real-life role arguably lies in its ability to educate and engage children. Simon Baddeley, an English teacher at Holy Trinity school in Barnsley, uses the game to improve creative writing skills and Dan Bloom aids student understanding of DNA at his school in New York. Few want to be left out: Californian parent Matthew Ta went as far as setting up a petition at change.org urging local schools to make use of the game.
Minecraft creations

Show all 5
"Minecraft is now a major educational concern," says Daniel Short, associate professor of Environmental Science at Robert Morris University in Pennsylvania. It is also a gamechanger. In July, tens of thousands of people are expected to attend MineCon at ExCeL in London, where they will come to understand more about its possibilities. "Once people are in the game world, there is no limit to the types of experiences they can have, from collaborative building to role-playing to simulations," says Joel Levin, co-founder of MinecraftEdu, which helps put the game into classrooms across the world.
All of which is not bad for a game which some describe as "Lego online" (and which, as it happens, has even inspired Lego to produce plastic brick Minecraft sets). "The way Minecraft players have used the game has taken on a life of its own," says Guillan.
Creating public spaces
Struck by the need to get more young people in developing countries involved in planning their own communities, Block by Block, UN-Habitat's partnership with Minecraft makers Mojang, seeks to create sustainable public spaces in run-down cities across the world.
By gathering information using photographs, online maps, Google Street View and physical visits, British Minecraft specialist FyreUK produces a digital map of a public space within the game. Youngsters are invited to rebuild the map with their own vision. The ideas are put forward to local architects and planners for consideration.
"In the developing world, 50 per cent of the population are under 24, so getting the views and input of younger people is really important," says Pontus Westerberg from UN-Habitat. "Minecraft gives us the means to do that."
Helping children with autism
With no limitations, no right or wrong, and a freedom to build and explore, Minecraft is great for children with autism. Unfortunately, many find other gamers kill their characters, steal from them, destroy their 'builds' or say cruel things – all of which put them off playing.
Stuart Duncan, whose son has autism, has set up a Minecraft server called Autcraft. Only allowing children with autism to join (5,000 are enrolled), it protects gamers' properties and lets players buddy-up with those who are feeling lonely.
"We've heard from many parents who say that their children are reading and writing better, they're talking and making friends for the first time and have more self confidence," he says.
Educating the world's children
Teachers have discovered that they can ignite a passion for learning by bringing Minecraft into the classroom. History teachers have recreated ancient worlds, science teachers have produced 3D models of cells and art teachers have been exploring pixel art. In-game currencies such as emeralds can be dug up and traded. "Minecraft exposes children to sophisticated financial systems," says TeacherGaming co-founder Joel Levin. And since Minecraft is easily modified using code, it is also teaching young people how to program.
"Perhaps the most effective experiences come from having teachers get out of the way and letting the students play organically, says Mr Levin. "With a bit of coaching, this type of experience can lead to amazing conversations about digital citizenship, online identity and responsibility."
Mapping Britain's geology
With 16,062 square miles of Denmark recreated in Minecraft, and Ordnance Survey using 83 billion virtual blocks to represent 85,000 square miles of the UK, the British Geological Survey was inspired to get involved, too. It has been incorporating geology into the game, making it easier to understand how the different layers of rock join, fold, overlap, fault or dissect each other.
"Minecraft is a fantastic tool because you don't need to do any mental calculations – the rocks are right there and you are able to dig through them, mine out areas and explore the geology first-hand," says Steve Richardson, geospatial applications developer at the BGS.
Making historical maps
Minecraft can also be used to gain a glimpse into the past. The New York Public Library has transformed an 1860 map of Fort Washington – a fortified position at the north end of Manhattan – into a 3D Minecraft world. In doing so, an area since buried under brick and concrete has sprung to life, showing historical buildings, bodies of water, pathways and elevations. "It's a lo-fi way to inhabit a space that no longer exists," says developer Paul Beaudoin. He worked on the conversion with colleague Leonard Richardson, who adds that the task took just two days to complete.
Join our new commenting forum
Join thought-provoking conversations, follow other Independent readers and see their replies