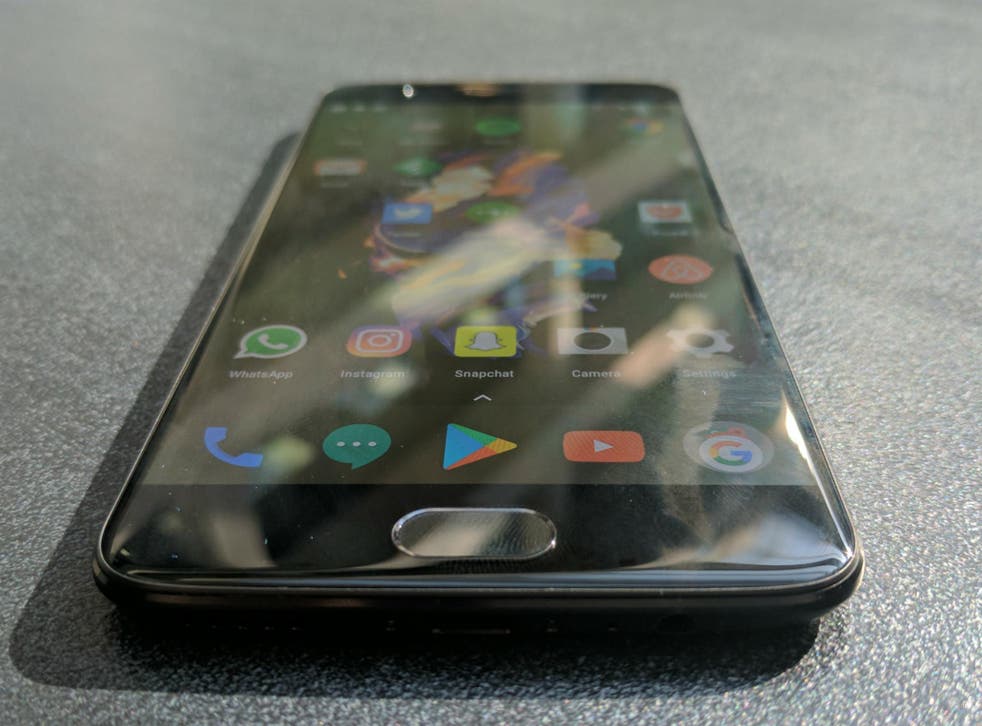 OnePlus 5 review: The Samsung Galaxy S8 rival that's a lot more value for money
For the price, it's incredibly impressive
The best smartphone you might never have heard of before has just launched.
The OnePlus 5 is a direct rival to the new Samsung Galaxy S8, as well as the iPhone 7 and Google Pixel, yet costs significantly less than each of them.
If you're in the market for a new handset, here's why you should consider the OnePlus 5 over the S8.
Gadget and tech news: In pictures

Show all 25
Design
While the OnePlus 5 isn't the most eye-catching smartphone on the market, it strikes the right balance between aesthetics and practicality.
It looks a lot like the iPhone 7, which most people consider attractive enough, and outshines the Pixel, but lacks the wow factor of the S8, which sits right at the top of the tree. However, where it has the edge over the S8 is usability.
Samsung made a shocking error with the placement and design of the S8's fingerprint scanner and, while it may sound like a small issue, it had a significant negative impact on the overall user experience.
The OnePlus might be a little less flashy, but its fingerprint scanner is large, easy to access and reliable – everything the S8's isn't. Since you unlock your smartphone tens of times a day, that's an important factor.
Build
Another advantage it has over the S8 is durability. The Samsung flagship's "all glass" design may be stunning, but it's also fragile.
After drop tests, it was described as "extremely susceptible to cracking when dropped from any angle", with the back panel particularly prone to shattering.
Though the OnePlus hasn't yet been drop-tested, its anodised aluminium body should ensure it can take more abuse than the S8. The handset feels solid, though we must point out that its protruding camera is a slight cause for concern.
Purity
The OnePlus 5 runs Android 7.1.1, and we're pleased to report that the company hasn't fiddled with the stock software too much, leaving it almost as pure and user-friendly as Google intended it to be.
OnePlus' OxygenOS adds a handful of features, but they pretty much all add something positive. The best of these is Reading Mode, which sucks the colour from the screen and filters out blue light, replicating an e-reader.
Expanded Screenshots lets you easily screenshot a full-length page, Gaming Do Not Disturb Mode lets you game without being interrupted by notifications and Secure Box lets you store private documents, pictures and videos in a password-protected folder.
The S8 on the other hand, comes pre-loaded with bloatware you're unlikely to ever use, such as Galaxy Apps, Samsung Gear and the company's own email, browser and calendar apps. Even Bixby, Samsung's much-hyped voice assistant, doesn't work to its full capabilities yet.
Camera
Camera quality has traditionally been a weak spot for OnePlus, but the company has really focused on changing this with the OnePlus 5.
It features a dual-camera setup, combining a a 16-megapixel sensor with a 20-megapixel telephoto sensor.
They work together to offer improved photography with zoom, and something called Portrait mode, which automatically blurs the background of images, to really make your subject stand out. It's not perfect, as it sometimes blurs things it shouldn't and fails to blur things that it should, but most casual smartphone photographers will have fun using it.
The spirit level feature included in Pro mode is also really handy, and the 16-megapixel selfie camera with screen flash is very impressive.
The OnePlus doesn't quite match the Pixel for camera quality, but it's right up there with the S8, which is quite a turnaround for the company.
Battery
This seems an unusual point to include, as the OnePlus 5's battery capacity (3,300mAh) is actually smaller than the 3T's (3,400mAh). Why? Because the company wanted to make the phone slimmer. Personally, I don't mind a slightly thicker frame if it means better battery life.
However, the S8's stamina – powered by a 3,000mAh battery – is definitely one of its weakest features.
Not only is the OnePlus' battery bigger than the S8's, it also has a less demanding screen to power. It will easily get you through a full day of use.
Dash Charge is also astonishingly quick, so you'll be able to recharge it in no time at all.
Price
Ultimately, the biggest thing the OnePlus 5 has going for it is its price. Though it's the company's most expensive smartphone – by some distance, too – it's still a lot cheaper than the handsets it competes with.
The black model, which comes with 128GB of storage and a whopping 8GB of RAM, costs £499, while the grey model, with 64GB of storage and 6GB of RAM, costs £449. The Samsung Galaxy S8, meanwhile, comes with 64GB of storage and 4GB of RAM, and costs £689.
The Pixel and iPhone 7, both of which came out last year and are set to be replaced by new flagships in the coming months, both currently cost £599.
The S8 looks nicer and has a sharper screen, and the Pixel has a better camera, but beyond that, the OnePlus 5 more than holds its own.
It certainly isn't perfect, but it's great to use, extremely powerful and has a pleasantly loud speaker.
The OnePlus 5 offers far more value for money than any of its rivals. It officially goes on sale on 27 June and is being stocked exclusively by O2 in the UK.
Join our new commenting forum
Join thought-provoking conversations, follow other Independent readers and see their replies