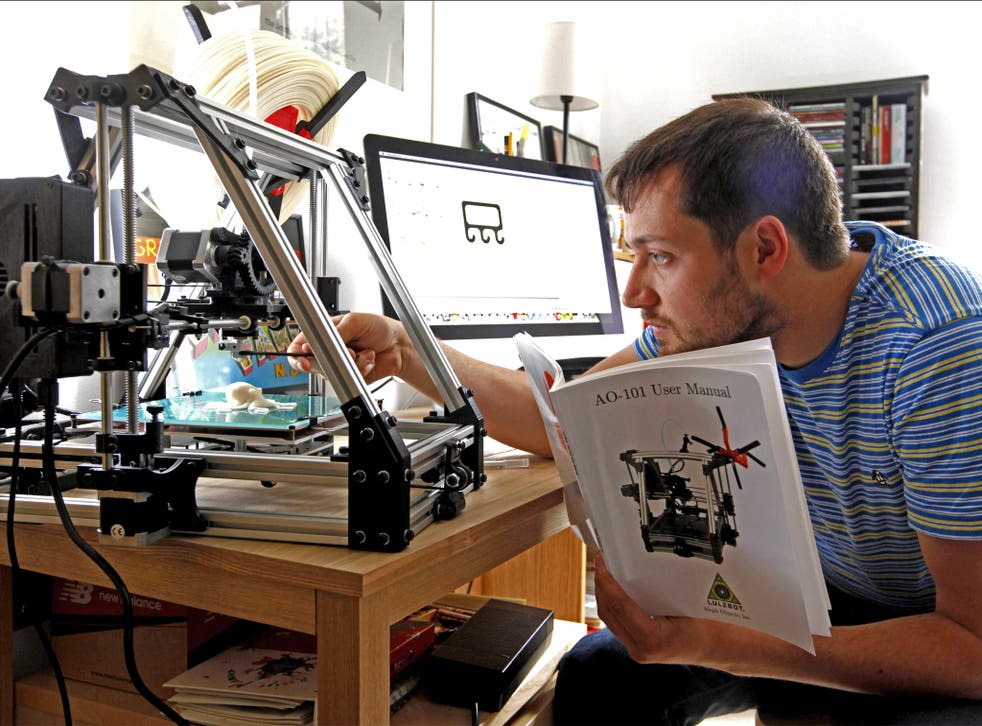 Q. How hard can 3D printing really be? A. Quite hard
A gun. Red blood cells. Human organs. If you've read any one of hundreds of reports about the potential of 3D printing it's difficult not to be excited.
In the last year or so I've written two features about 3D printing and been amazed at its capabilities and optimistic about what its rise could mean for the way we consume and make things.
But despite having interviewed the mad scientists working on printheads that can process human cells and met the people selling mass market (ish) 3D printers for the home hobbyist, I've never actually laid hands on one myself.
Three-dimensional printers are fairly simple, but difficult to comprehend unless you see one in action. They print using filaments (usually plastic) which go through a heated printhead and builds an object up layer-upon-layer until you have a fully-formed thing, built from a design on your computer. It could be as simple as a plastic cube or as complicated as the parts for a bike or grandfather clock. Or any design idea you might have and want to prototype. So having written about them, and with 3D printers become more affordable and sold in stores like Maplin, I wanted to actually try one. Mainly to answer the question: "Can someone with absolutely no experience of CAD (computer aided design programs) or any kind of engineering use one and make it work?"
So when Lulzbot, an American 3D printer maker approached me about spending a few months with their AO-101 printer – which was available for UK shipping earlier this year – I asked them to ship it over forthwith. Only to be slightly petrified when it arrived in a box almost the size of my spare room.
After a few weeks of staring cagily at the box I was finally brave enough to take the Lulzbot on. We're now in a place, mainly thanks to Apple, where 98 per cent of home electronics just work. You take them out of their box, plug them in, ignore a few lengthy legal disclaimers and whack – you're away. We're not quite there yet with 3D printers. Not only did the Lulzbot come with a lengthy instruction manual, but it even had instructions for how to unpack the bloody thing: "Holding the top two-tubes, SLOWLY pull the printer upwards out of the box." That's half of point 5. There are 12 steps just in the unpacking instructions. We're not in Jobs-ville anymore, Toto.
Part of that is borne from the 3D printer's genesis as a product created by hackers and hobbyists. This is complicated stuff, borne from the RepRap 3D printing project (which aims to make machines which can replicate their own parts) and running on open source programming.Even the software is optimised for open-source operating system Linux, but – of course – comes with the correct tools for Mac and PC.
It looks pretty rough and ready, too. The model I've been playing with has since been replaced by the fancier looking Lulzbot Taz (see box) and you can perhaps see why from the photos. It looks like the world's most difficult Lego Technic, fixed together from industrial metal bars and with a huge ugly reel attachment for the ABS plastic that caused a large, gloaming shadow across my desk. But that's not to say it doesn't look cool, in a Weird Science kind of way. (No, you can't print your own Kelly LeBrock.)
Once I'd followed the 12 steps of unpacking my 3D printer, I had to spend a couple of hours fixing some of the components together. And though it's about as "out of the box and ready" as you could hope for from such a technical bit of kit, it's still pretty fiddly attaching the spool and so on.
After that came downloading the software to run the printer from your computer. Thankfully, Lulzbot has links for this on its website which comes with preset configurations for the A0-101. These programmes include something called Slic3r which takes standard CAD files and changes them into something called gcode files which tell the three axes of the Lulzbot which way to shimmy left right and upwards to make an object. But where do you get the object from?
Pleasingly, you don't need a degree in industrial design and a working knowledge of CAD. Thanks to the legions of home 3D print makers, there's a whole cadre of websites with downloadable files. The best of these is the gloriously named Thingiverse, which is run by Makerbot. Makerbot is probably the best known maker of home 3D printers and recently even opened its first store in Manhattan to show off the capabilities of the hardware.
The Thingiverse has over 100,000 objects on it. It's like an Argos catalogue where everything is free. And – even if it's a piece of plastic junk you really don't need – the idea of being able to choose an item you need and just press "go" in your front room is really quite a stunning one.
Thingiverse's objects are created by other users who upload the designs which can they be taken (for free), modified, or improved by feedback from other users. The things range from bracelets to remote control cars, to robotic arms.
In that adventurous spirit, I chose to make a four-hooked plastic bag holder. (Welcome to the future!) Of course, the even more exciting thing here is mastering CAD programmes and being able to design your own products – but I was happy to stick to the basics.
The promise of a wider, corporate-led version of the Thingiverse is interesting too. My favourite analogy for explaining the potential of 3D printing is this: imagine a very difficult to find part broke on your washing machine. Previously, that may have involved contacting either a specialist store or the manufacturer and having to either get that part shipped from the other side of the planet (probably at a high environmental expense. In the not-too-distant future it's conceivable that those parts will be ready to grab from a download tab on, say, Electrolux's website.
Which is basically what I did from the Thingiverse. Except a bit less useful. Once I'd downloaded the file and converted it to the right file for my Lulzbot, I was ready to go. And then... nothing. Well, something. I hadn't quite got the Z-axis (the up and down one) aligned properly and the thickness of my first layer didn't look anything like the Lulzbot's extensive manual suggested. I spent the next few days fiddling but I still couldn't get it to come out as it should. The printer thought it was printing, but wasn't.
Finally, after a few more aborted attempts and fiddles with the print nozzle, I was able to print my first object from the Thingiverse – a tiny little iPhone stand. A small achievement. But, given my terror at the idea of having to make the damn thing work, something I was proud of. Now, whether my expertise would spread to making some of the more headline-grabbing objects (notably, a .22 calibre rifle) is another matter.
But, if I can get the damn thing working armed mainly with patience, there's no reason you couldn't. The only problem, for now, with home 3D printing is the price tag. You'd have to make a lot of mini iPhone stands to make this worth £1,400 quid.
Keep it simple
The next generation of 3D printers are palatable to most computer users. Here are three of the easiest to use
Lulzbot Taz, £1,422
This is the next generation machine to the AO-101 I used. The slick black Taz doesn't need any tools to get going and prints with a range of different materials, including a wood filament. As well as being much less noisy than its predecessor, it looks a lot less like a school project made out of Meccano, too.
Makerbot Replicator 2, £1,422
Bre Pettis, one of three co-founders of Makerbot Industries is the Steve Jobs of the 3D print world. Their machines, like the Lulzbot, build on the early hardware of the RepRap project and seem to be the closest to making a big crossover to ordinary punters. Their latest machine, which costs the same as the Taz, is the Replicator 2. It looks like a sci-fi microwave but its self-containedness could help make it the Apple II to Pettis's Jobs.
Velleman K8200, £699
Compared to those two US kits, this (relatively) affordable offering looks a bit feeble. But Maplin were rightly proud to boast about the fact that they were the first UK high street retailer to start selling 3D printers. Also, unlike the Lulzbot and Makerbots, you have to fully assemble this one yourself (which Maplin reckons will take around ten hours). Looks like a good starter for curious amateurs – though you'll have to buy a £45 tool-bundle to put it together.
Register for free to continue reading
Registration is a free and easy way to support our truly independent journalism
By registering, you will also enjoy limited access to Premium articles, exclusive newsletters, commenting, and virtual events with our leading journalists
Already have an account? sign in
Join our new commenting forum
Join thought-provoking conversations, follow other Independent readers and see their replies