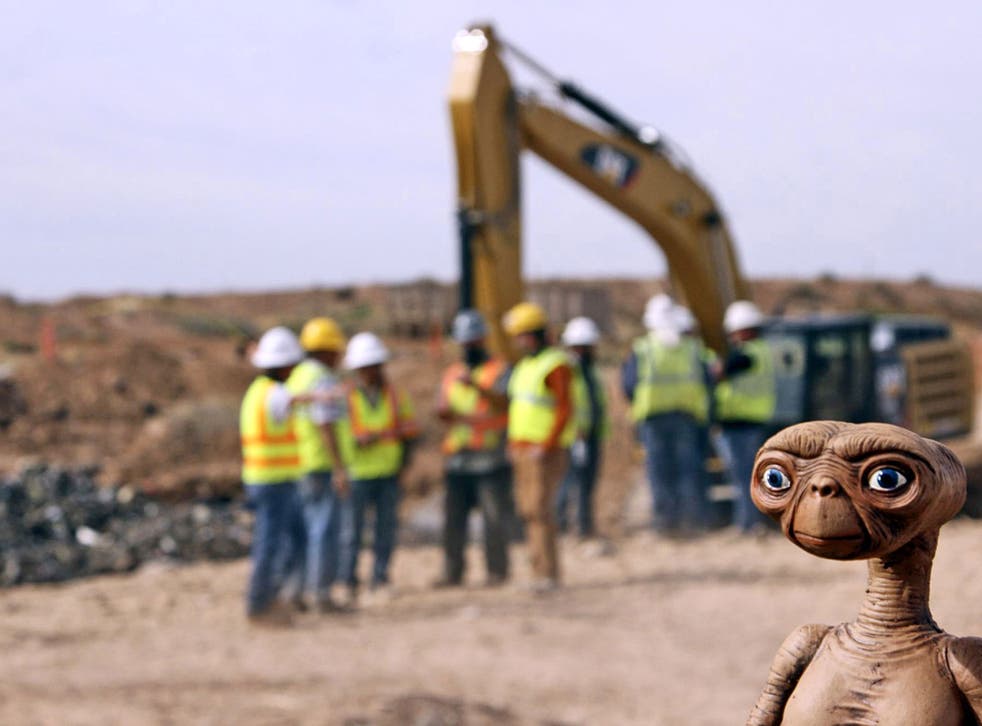 Why did Atari bury its E.T. video game?
The discovery of a hidden cache of E.T., the worst game ever made, confirms a 30-year rumour that Atari dumped them in the desert – but the mystery of why remains.
It was a bigger mystery than how to defeat Bowser in Super Mario Kart. For 30 years, rumours abounded that Atari had buried millions of copies of its ill-fated game E.T. The Extra Terrestrial, often cited as the worst video game in history.
Now a documentary film production company has found it to be true after uncovering a cache of the dumped cartridges in a landfill in Alamogordo, New Mexico, that potentially includes up to a million copies of the game.
On Saturday, the team, along with more than 200 locals and game enthusiasts, gathered to pull out more than two dozen E.T. cartridges, as well as coming across numerous other titles and products. "I feel pretty relieved and psyched that they actually got to see something," Zak Penn, the film's director told Associated Press.
After all, no one could be sure what they would find once they cracked open the concrete-covered pit. The burying of E.T. had simply been part of gaming legend (as well as countless speculative blog posts) and its contribution to Atari's decline has fascinated gaming fans for three decades.
Released in 1982 after the enormous success of Steven Spielberg's film of the same name, the objective of E.T. was to help the alien collect the various pieces of an interplanetary telephone to enable him to phone home.
Despite costing in the region of $125m (£74m) to develop, E.T. was instantly derided for being dull, repetitive and poorly designed. Although it initially sold well (they managed to shift 1.5 million units), there were reportedly between 2.5 million and 3.5 million cartridges that the makers failed to get rid of.
It also turned out that Atari had created more copies of the game than there were Atari 2600s, the console it was designed to be played on, in existence at the time.
"Atari really rushed this particular game into production," Larry Hryb, the director of programming for Xbox Live, the company behind the documentary, told BBC Radio 4's Today. "The developer, who I had a lovely chat with down at the site, had only about five weeks to make it. By any stretch of the imagination, five weeks is nowhere near enough time to make a game."
The rush was on to develop the game in time for the 1982 Christmas season. But its reception is considered to be one of the causes of the video game industry crisis of the following year, as well as the reason for Atari being split up and sold in 1984. Not that the company (which has changed hands a number of times) today seems to know what's going on.
"Nobody here has any idea what that's about," Kristen Keller, a spokeswoman at Atari, said. "We're just watching like everybody else."
Susie Galea, the Mayor of Alamogordo, has stipulated that the film-makers can take away either 250 cartridges or 10 per cent of the total haul, whichever is greater.
Had the internet existed at the time of the dumping, it is unlikely that the cartridges' resting place would have been so mythologised. Some commenters pointed out this week that local news reported that landfill employees had been seen chucking away cartridges and running a bulldozer over them in 1983.
On 28 September 1983, The New York Times included a piece about 14 truckloads of gaming material being dumped at the Alamogordo site. It seems that the clues were always there. But without the proper reports available, enthusiasts preferred to speculate about E.T.'s disposal.
Why it was dispatched in such a manner still remains a mystery, however. "I can't speak for Atari but I think there was a little bit of shame involved," suggests Hryb.
With so many changes to Atari in the interim, we'll probably never know exactly what happened. Perhaps it was simply a good day to bury bad news.
Join our new commenting forum
Join thought-provoking conversations, follow other Independent readers and see their replies