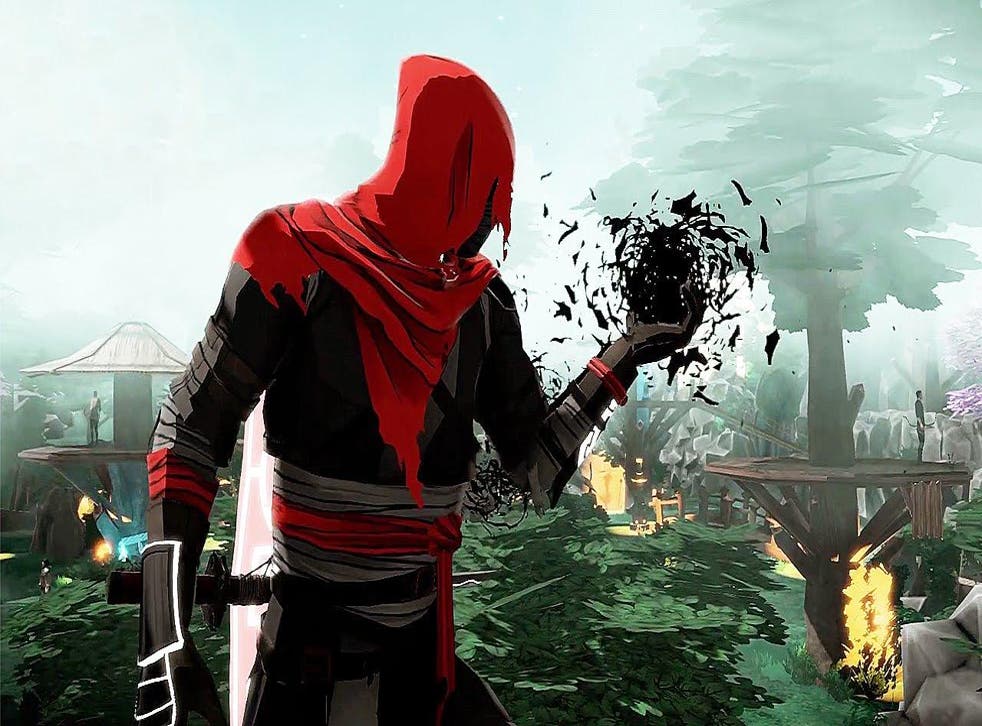 Aragami review, PS4 PC: 'Stealth fans will find much to enjoy'
£19.99 - Merge Games
Jack Turner
Wednesday 05 October 2016 14:07 Comments
Stealth games traditionally come in two flavours - action games that pretend being sneaky is important, that is until the point you get caught and are still able to successfully take out a room full of goons with the arsenal of a small country, and then there are games like Aragami.
Aragami is a pure stealth experience, where getting spotted usually means a game over, whisking you back to the start of the checkpoint to have another go. There's little room for scrapping your way to safety in this game, and while some might find that a little intimidating, there will be plenty of fans of the genre who will be rubbing their hands with glee (probably silently). Visual style aside (an appealing cell shaded look that is simple but effective), it's similar to the Tenchu series on the original PlayStation, a game that many gamers miss, so can Aragami fill the gap?
Story wise, Aragami is standard fare. It's essentially a revenge story, which, if you've ever picked up a video game before, will be something you're familiar with.
One twist is that you play a spirit, one who just so happens to be a stealthy, avenging ninja, but a spirit all the same. This means that you have a slew of abilities at your disposal to help you navigate the environment including a short teleport, which is instrumental in moving around unseen. It's similar to the one in Bethesda's Dishonored, with the caveat that it (and most of your powers) can only be used when you are tucked away in the shadows, meaning that wandering into the light is generally a bad idea.
There are plenty of other powers you can upgrade along the way, most of which can be purchased with scrolls found in the environment. These are usually tucked away behind a bush or inside a dojo, so it's more than possible to get through the game without finding any. While they're a big help, they are not essential, and purists will probably enjoy the challenge of tackling levels without using upgrades. Each mission spits out a grade for your play through style, so there's always the appeal of that perfect run.
When it comes to performance, there are some teething troubles, at least on the PS4 version which we reviewed. The frame rate get choppy at times, especially when everything kicks off. The controls can be a little clunky, which is less than ideal for a game in this style. The teleport ability can be particularly finicky, leading to moments where you miss the platform you were aiming for, and end up landing inches in front of a guard instead, which is a bit awkward when you're trying to pass yourself off as a world class ninja.
When you hit your stride and manage a smooth run through a level, unseen by anyone and quieter than a ghost in slippers, it's a great, rewarding feeling, especially given how unrelenting and unforgiving the game is. It's a shame though that the levels lack some sense of variety. While the difficulty keeps ramping up throughout the game, your objectives are always fairly similar from one level to the next.
Aragami is reminiscent of the first Assassin's Creed, in that there is a genuinely great game at its core, but one that's tarnished by some technical issues, clunky controls and mission repetitiveness. Polish these up, and it could be a fantastic title. While it's not an essential game for most, hardcore stealth fans will still find much to enjoy here, and it's nice to see a return to ninja style stealth, as opposed to that of Hitman or Deus Ex, where gun power is always a viable backup.
Register for free to continue reading
Registration is a free and easy way to support our truly independent journalism
By registering, you will also enjoy limited access to Premium articles, exclusive newsletters, commenting, and virtual events with our leading journalists
Already have an account? sign in
Join our new commenting forum
Join thought-provoking conversations, follow other Independent readers and see their replies