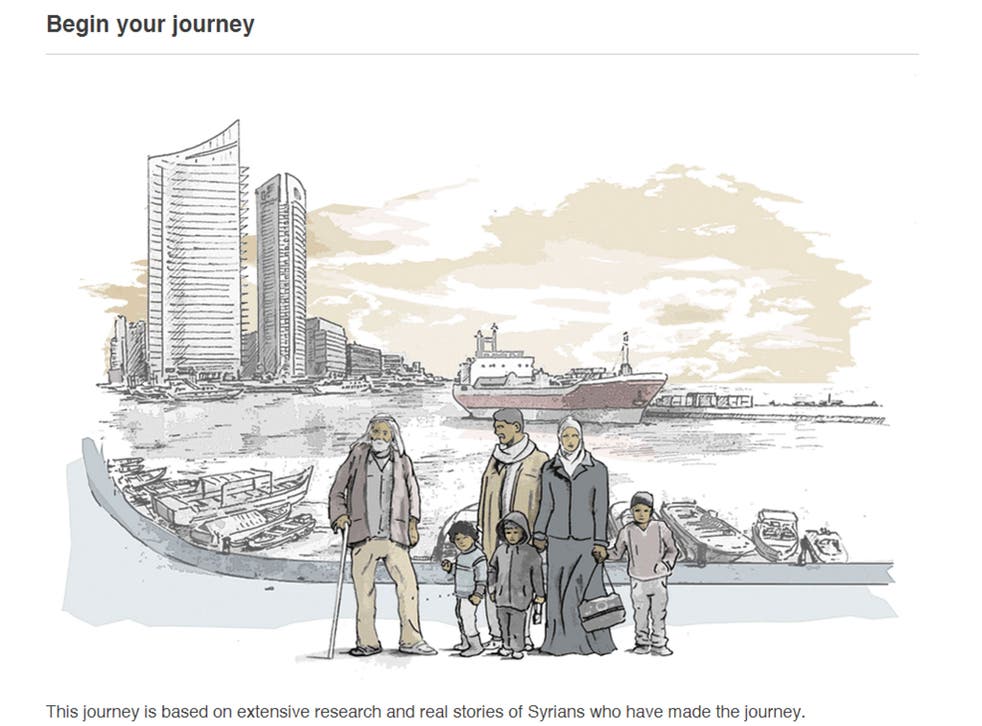 BBC defends Syrian Journey game where players confront problems refugees face
A refugee charity said the game stimulates the imagination
Kashmira Gander
Wednesday 08 April 2015 07:07 Comments
The BBC has defended a game which invites players to mimic the choices Syrian refugees are forced to make when they flee the war-torn country, after it was criticised for trivialising the ordeal.
In "Syrian Journey", players are asked to consider the choices they would make if they had to leave Syria for Europe in order "to understand the real dilemmas the refugees face", in a journey fraught with risks including "death, capture and deportation".
Troubling outcomes in the game include being separated from your family by human traffickers, being sold to militia groups, and being beaten thrown into the Mediterranean Sea.
The broadcaster was accused of reducing the plight of Syrians – many of whom have dealt with a civil war exacerbated by an onslaught by Isis fighters - to a "children's game".
In pictures: Syria's escalating refugee crisis

Show all 20
Since the conflict started in 2011, at least 3 million people have fled Syria to countries including Lebanon, Jordan, and Turkey, according to the UN.
Middle East expert Chris Walker told The Sun: "In the midst of probably the bloodiest Syrian crisis this century, the decision of the BBC to transform the human suffering of literally millions into a children's game beggars belief."
However, the BBC and refugee charities have defended the game as a method of raising awareness about the bloody conflict.
"Syrian Journey is an interactive experience, based on real-life stories told to our journalists, which shows audiences the choices faced by thousands of Syrian families every day. The project has achieved over a million online hits," the BBC said in a statement.
A BBC spokesman also refuted claims that the project cost in the region of £20,000, and said it was produced by an in-house team, and therefore incurred no extra costs.
He also hit back at claims that it was "children's games" and said it is not aimed at any particular demographic, but is rather a tool for those interested in learning more about the situations Syrian refugees face.
The Refugee Council, a UK charity which works with refugees and those seeking asylum in the UK, has backed the game's intentions.
Refugee Council Policy Manager Judith Dennis told The Independent: "Thankfully, most people in Britain have never had to flee their homes or make life and death decisions about their family's future. Stimulating people's imagination about the difficult journeys refugees are forced to take is an important way of creating understanding of and empathy for refugees.
Addressing the fact that the UK government has only resettled 143 Syrian refugees, she added: "The real scandal here is that the Government makes no effort to address the suffering our immigration policies cause which force refugees to undertake such journeys and put their lives at risk in order to reach safety."
Register for free to continue reading
Registration is a free and easy way to support our truly independent journalism
By registering, you will also enjoy limited access to Premium articles, exclusive newsletters, commenting, and virtual events with our leading journalists
Already have an account? sign in
Join our new commenting forum
Join thought-provoking conversations, follow other Independent readers and see their replies