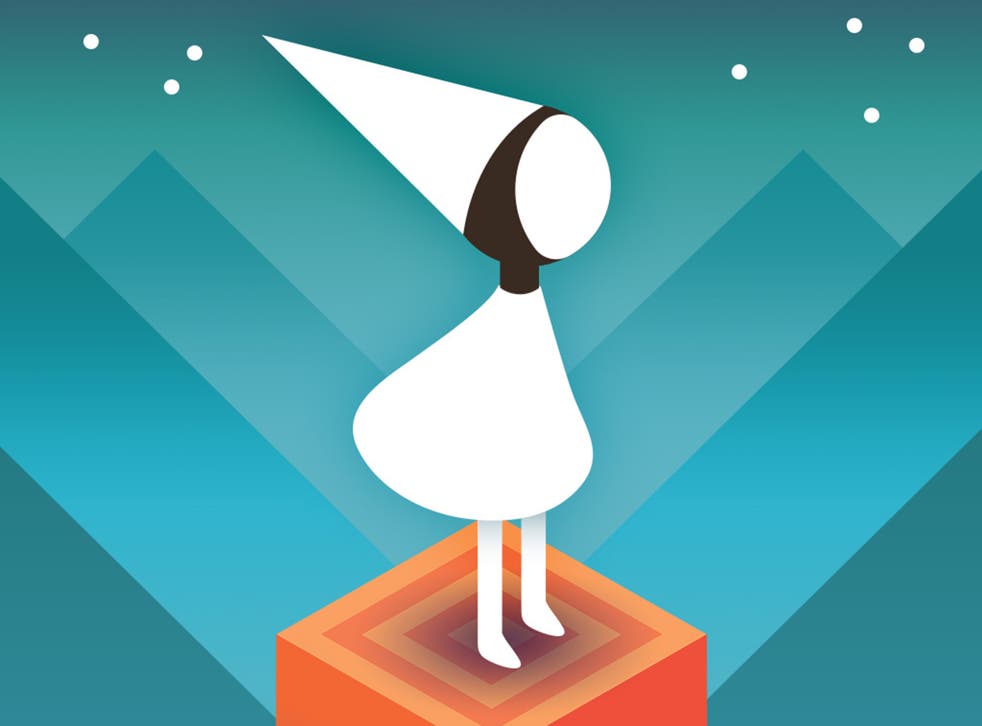 Monument Valley: The video game that takes an eternity
Game nominated for five British Academy Game Awards
Ian Johnston
Thursday 12 March 2015 23:52 Comments
With its dragons and evil aliens and Mario zooming around in a cart, there is a degree of predictability about the kind of video games that pop up at the industry's awards ceremonies. But at tonight's gaming Baftas, one entry stood out.
Based on the "impossible architecture" of M C Escher – the Dutch artist who drew ascending staircases that could be climbed for an eternity – Monument Valley is a "zen-like" game about "exploration, reflection and forgiveness", according to its designers.
Made by a small studio in Hoxton, east London, it not only found itself rubbing shoulders with such big-budget rivals as Middle-earth: Shadow of Mordor, Mario Kart 8 and Alien: Isolation, but also won Best British Game and Best Mobile and Handheld Game after being nominated for five awards. The Best Game prize went to Destiny, a first-person shooter, in which players work together to protect Earth from aliens.
The premise of Monument Valley – which has racked up about 2.5 million sales and saw a surge after Kevin Spacey as President Frank Underwood was seen playing it on House of Cards – is relatively simple. Players must guide a character, Princess Ida, through different buildings by solving geometric puzzles, swiping the screen to change the architecture and provide a route to the top. Aside from the game's much-praised aesthetics, the decision to base it on Escher's mind-bending art gives it a unique quality.
As lead designer Ken Wong put it, the task is to "explore impossibility".
"Escher figured out a way of portraying and communicating mathematical and geometric concepts through his skills as an illustrator," he said.
"What we did was simply change the code to do some things that it wasn't intended to do… as well as writing some very creative scripts to 'cheat' true space," Mr Wong added.
If it was similar to other games, then Monument Valley, also named Apple's 2014 iPad game of the year, would see Ida acquiring treasure and killing off a few baddies on the way.
But, instead of theft and murder, her role is to return precious artefacts to their rightful owners.
"Monument Valley is more about exploration, reflection and forgiveness," Mr Wong said. "We think about it as a reverse Indiana Jones."
The absence of violence is something Mr Wong believes is part of a wider gaming industry trend. "For a long time we relied on killing as the default conflict resolution," he said. "But more games are trying to explore what it means to be part of society, what it means to be human."
Register for free to continue reading
Registration is a free and easy way to support our truly independent journalism
By registering, you will also enjoy limited access to Premium articles, exclusive newsletters, commenting, and virtual events with our leading journalists
Already have an account? sign in
Join our new commenting forum
Join thought-provoking conversations, follow other Independent readers and see their replies