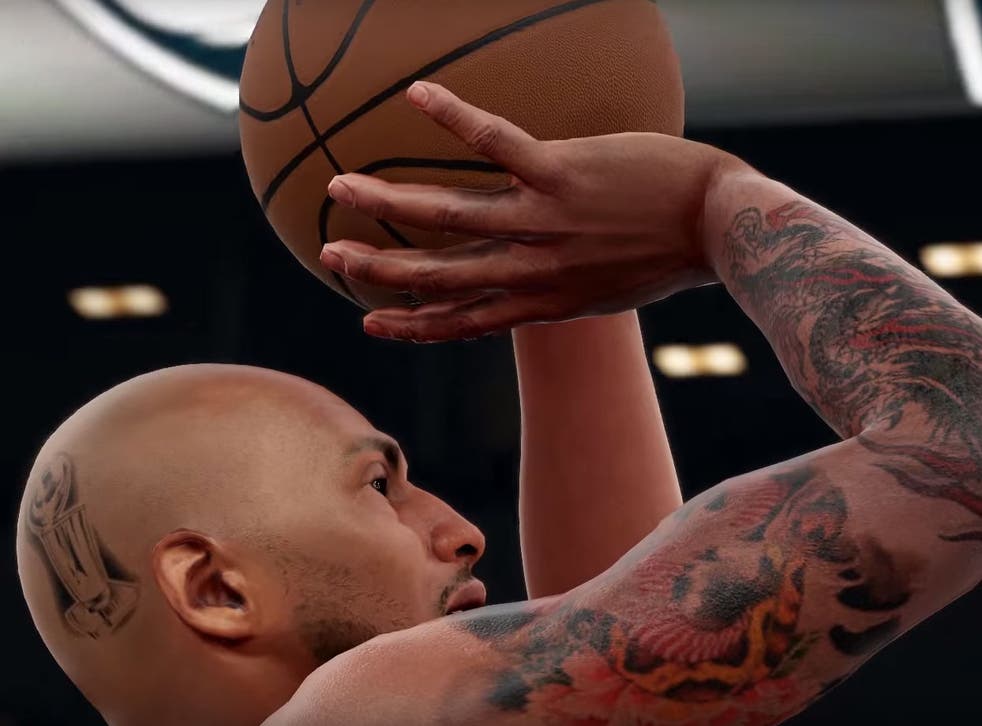 NBA 2K16 developers sued by tattoo studio for using 'copyrighted' tattoos in the game
Tattoo designer Solid Oak Sketches has claimed that 2K Games breached their copyright by depicting players' tattoos in their basketball games
A prominent videogame developer is being sued by a tattoo company over claims that they breached copyright by depicting players' tattoos in a basketball game.
Developers Visual Concepts, publishers 2K Games and distributors Take-Two Interactive, all of which are involved in the creation of the NBA 2K basketball game series, are being sued by Solid Oak Sketches, who have claimed that they own the copyright to the tattoos on a number of players who appear in the game.
In a lawsuit filed to a New York court on 2 February, Solid Oak claims that by creating detailed digital versions of the players' tattoos without their artists' permission, the developers infringed their copyrights.
As Solid Oak's lawyers state, the lawsuit applies to a total of eight tattoos on basketball players LeBron James, Kobe Bryant, Eric Bledsoe, DeAndre Jordan and Kenyon Martin.
In a legal letter sent in July 2015, Solid Oak's lawyers told the developers that they could pay $819,500 (£567,000) to settle the dispute over the use of the tattoos in the NBA 2K14 and NBA 2K15 games.
Alternatively, they said they could pay a one-time fee of $1,114,000 (£770,000) to have the rights to use the tattoos in NBA 2K16, which had not yet been released, and in all other future games in the series.
It was also claimed in a letter that by touting the impressive graphics and accurate player models in their games, the developers profited from the unauthorised tattoo recreations.
At some point, the developers are thought to have ended negotiations and continued with the development of the games, which is why the lawsuit has now been filed.
It may seem odd to think that these players do not truly 'own' the designs that have been inked into their skin, but as the lawsuit claims, "tattoos are original works of art," and thus are "entitled to full protection of the copyright laws."
The lawyers may not be strictly wrong – it is thought that there's nothing currently in US copyright law that states tattoos aren't subject to the same protections as any other works of art. Whether any copyright was breached is open to question.
But there also aren't any prior judicial rulings on these unusual cases, since they have all previously been settled out of court.
A similar case occurred in 2013, when tattoo artist Christopher Escobedo was awarded $22,500 (£15,500) for what he claimed was an unauthorised recreation of one of his tattoos on professional fighter Carlos Condit, which was depicted on Condit's character in THQ's UFC Undisputed games. Escobedo originally demanded $4.16 million (£2.9 million), but since THQ had declared bankruptcy at the end of 2012, he was unable to get this amount.
The tattooist who created Mike Tyson's famous facial tattoo also filed a lawsuit against Warner Brothers in 2011, over the depiction of the tattoo on the face of Ed Helms' character in The Hangover Part II. Again, this case was settled out of court.
It's not yet known whether Solid Oak's lawsuit will ever make it to court, or what will happen if it does. However, these kinds of strange cases are a growing problem for companies dealing with tattooed celebrities.
The spike in tattoo-related copyright claims even led the National Football League (NFL) to urge players in 2013 to get copyright waivers or licenses to protect themselves from potential future legal trouble.
Whatever the outcome, games developers will have to think more carefully about just how accurate they want their player models to be in the future.
Join our new commenting forum
Join thought-provoking conversations, follow other Independent readers and see their replies