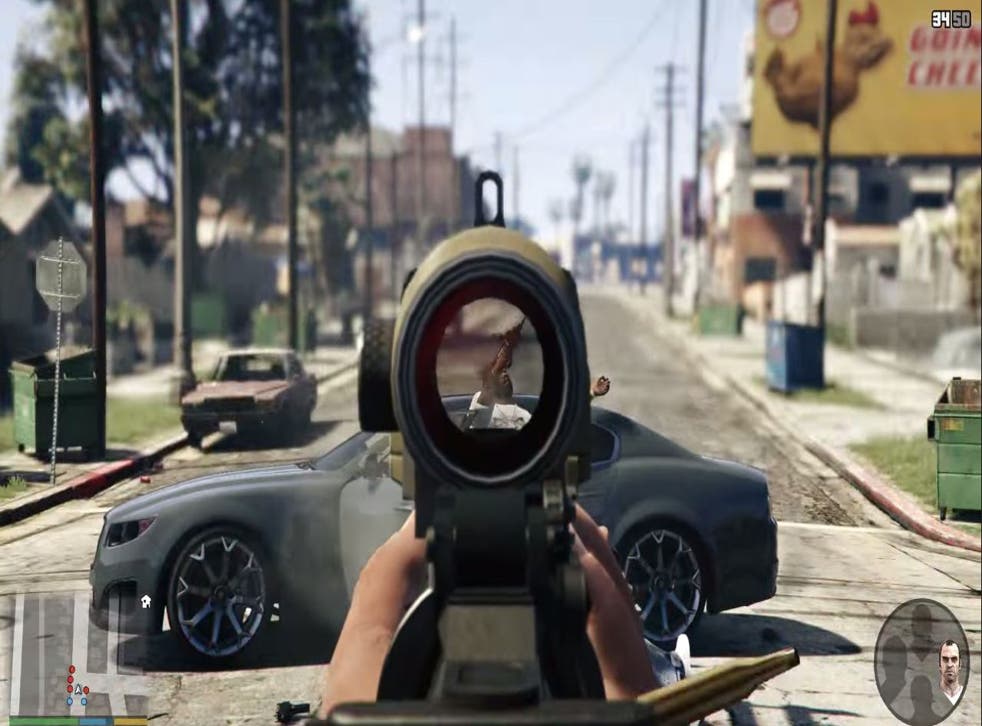 GTA 5, Xbox One review: Next gen Los Santos is beautiful chaos
First Person Mode could easily have been called Amphetamine Mode
Christopher Hooton
Wednesday 19 November 2014 12:39 Comments
Ah, it's good to be back in Los Santos.
It's been a couple of months since I played the original GTA V and returning to its world is like returning to a favourite city that looks much the same as you remember it but has had a bit of a face-lift.
In Los Santos' case this isn't down to a new mayor (the plot and characters remain largely unchanged) but the leap to next gen, which brings stunning graphical improvements.
Grass dances in the wind, fire rips through oil slicks, cars gleam under the streetlights and the horizons... I've already abandoned psychopathically stalking pedestrians about five times just to watch the sun bloom over Mount Chiliad.
As beautiful as next gen GTA V looks though, the aesthetic improvements alone were never going to be enough to make existing players fork out for the new version, but it's First Person Mode which Rockstar will be hoping seals the deal.
It's surprising just how different an experience is created through the new perspective, turning an already chaotic world into utter frenzy as you charge around the streets.
Here's an absurd GIF of a typical day in neo-Los Santos:
Actually being the characters rather than just looking over their shoulders somehow makes the world even more enormous and disorientating, while driving is a great deal more intense, gunfights more satisfying and the violence in general way more visceral.
It was a surprise inclusion for the update, Rockstar must have chosen to originally go with third-person for a reason, but has been executed more slickly than most games that rely entirely upon the perspective, not overlooking any slight gesture that might alienate you from the viewpoint if omitted.
Honk the car horn and you'll slam your fist into the steering wheel, whip out your phone and you'll actually reach into your pocket, look down during a gunfight that isn't going your way and you'll see blood oozing from bullet holes in your arms.
It's a huge improvement from the 'gun bobbing up and down' FPS's of old and does add a new dynamic to the game, though it likely won't be advantageous for online gamers as in addition to making shooting and driving a lot more authentic it is also much more challenging.
GTA V comparisons (PS4 on left, PS3 on right)

Show all 11
I'm only a few hours into the new edition and have already seen more little touches and improvements than I can possibly remember, and no doubt there are a ton more hidden Easter eggs for players to find in the coming weeks (it's already been discovered that if you take peyote in-game you can play as a dog, for instance).
Admittedly, gamers who solely play Story Mode might not find enough to return for here, but online players racking up hundreds of hours will certainly want to make the jump, and as for anyone who missed the game on Xbox 360/PS3, I can only imagine how breath-taking it must be to play through for the first time in this souped-up, adrenaline-boosted version.
Register for free to continue reading
Registration is a free and easy way to support our truly independent journalism
By registering, you will also enjoy limited access to Premium articles, exclusive newsletters, commenting, and virtual events with our leading journalists
Already have an account? sign in
Join our new commenting forum
Join thought-provoking conversations, follow other Independent readers and see their replies