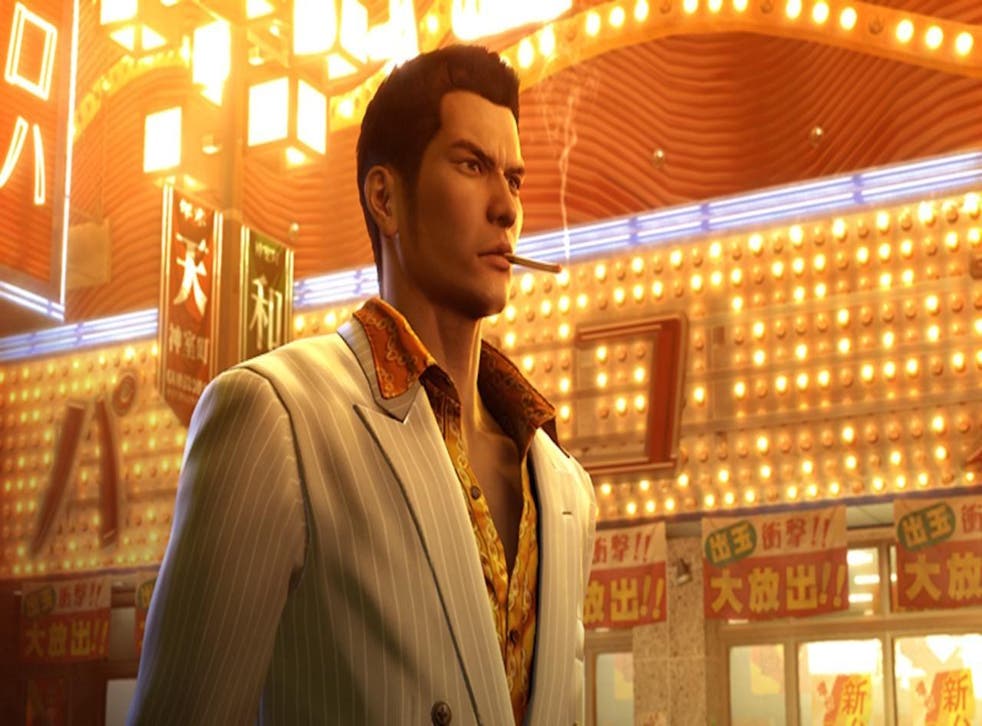 Yakuza 0 review: A worthy addition to the series
The Yakuza series might be immensely popular in its native Japan, but outside a cult fanbase, it's never really found its feet in the west. Yakuza 0 could well be the game that changes that, thanks to an intriguing story line and a totally bonkers world that surprises you at every turn.
The game sees you play as Yakuza regular, Kiryu (initially at least, you'll play as another character later on), and follows his expulsion from the world of organised crime in a fictional Tokyo district in 1988. What happens next is a tale of bribery, murder, assassination and power struggles. There's plenty of hooks in the story that will see you want to launch straight into the next chapter the moment you finish the last.
The series is notable for its diverse and eclectic side content, and 0 is no different. Follow the story rigidly and you can expect a playtime of around 25 to 30 hours, but you'll have barely scratched the surface in terms of what the game has to offer. Explore the cities and talk to its residents, and you'll soon find yourself immersed in the real rich and varied world of Yakuza, offering players plenty to see and do. This could be anything from moonlighting as a TV producer on a shoot, schooling weedy pop bands on how to appear tough for their fans, or even dishing out advice to a dominatrix who is failing to get her clients hot under the collar.
It's obvious that real care has been taken to make each side mission genuinely fun, surprising, and unique. It breaks the cookie cutter model of games like Assassin's Creed or Far Cry, which stuff games with hours of repetitious content. Yakuza 0 values the players time and makes every effort to ensure that each minute spent in the world is an enjoyable one. Fire it up for a quick session, and the hours will fly by, even if you're just hanging out in the faithful recreation of a Sega arcade, trying to beat the classic games like Out Run, Space Harrier or Hang On.
While Yakuza 0 is an open world game, it's markedly different from the likes of Grand Theft Auto or Watch Dogs. The two cities the game takes place in are compact, but dense, which is just as well, because there are no cars to drive. Instead, you'll have to rely on walking to the next destination marker. While this would be frustrating in sprawling open world games, Yakuza is small enough that it doesn't take long to get from one side of the map to the other (not accounting for the aforementioned side quests and interesting looking characters that you're likely to get distracted by on the way).
The other big difference between Yakuza 0 and its open world counterparts is the distinct lack of guns. It's biceps, not bullets, that do the talking in this game, and the fighting mechanic is surprisingly deep, offering several styles, as well as new moves that can be unlocked as you progress. Your approach can be changed on the fly, adapting your style to best fit the enemies you're fighting and your environment. It's deeply satisfying to take on a mob of bad guys and pummel them into the ground, the sheer variation of fighting forms keeping things fresh. That's good news because you'll be putting a lot of people in the hospital.
Despite its name, Yakuza 0 is actually the sixth mainline Yakuza game, although in the series timeline it takes place before any of the previous titles, so it's a perfect starting point for the uninitiated. At the same time, longtime fans haven't been forgotten, with plenty of nods to previous titles.
If there's one area where Yakuza 0 falls down, it's the game's portrayal of women. It could be attributed to the setting of a red light district in Eighties Japan, but there are very few strong female characters to be found here, most serving as one-dimensional women in need or sex objects. While western games have become much more progressive and inclusive in recent years, the Japanese market has been slow to catch up. The amount of titillation in Yakuza 0 may put off some gamers.
Another gripe is the regular attacks that you'll encounter as you go from street to street. You're constantly reminded that you're playing a fighting game by the endless stream of thugs, drunks, and Yakuza that want to fight. This can be frustrating when you're simply exploring the city or enjoying a side quest and have to punch your way through waves of goons.
In spite of this, Yakuza 0 is a worthy addition to the series and one that will appeal to newcomers and converts in equal measure. The sheer amount of content stuffed into the game is to be applauded and is a refreshing change from the the lazy way other developers pad out their games with busy work. The series shows no sign of slowing down and - with Yakuza 6 penciled for a western release in 2018 - it feels like it's finally time the franchise is prised from its small cult following and shared with everyone who relishes flat out fun and escapism.
Join our new commenting forum
Join thought-provoking conversations, follow other Independent readers and see their replies