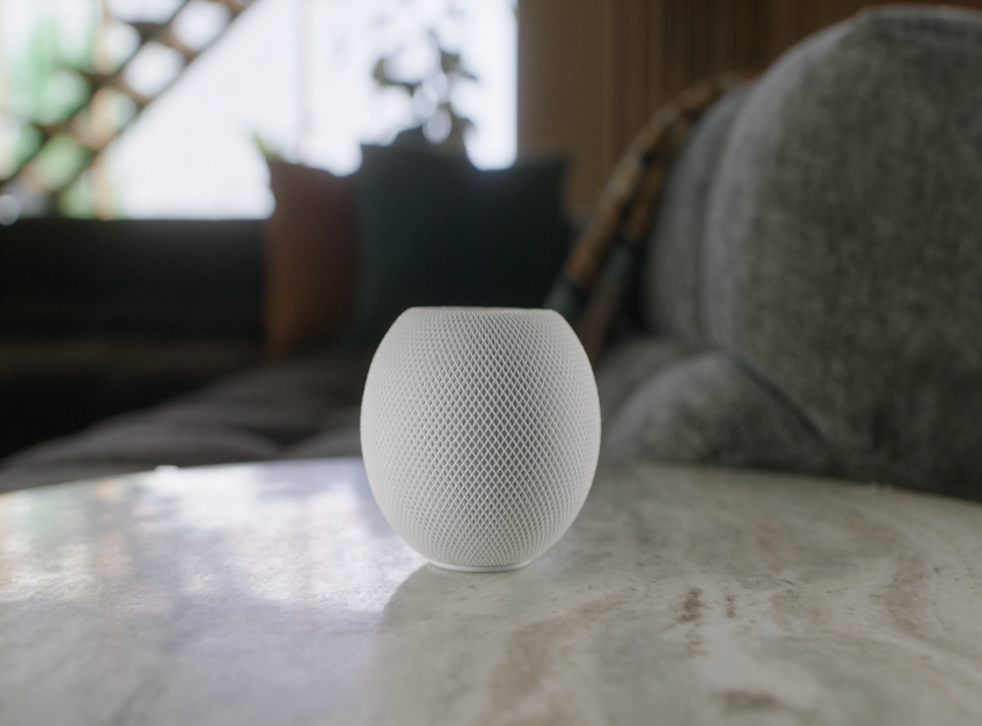 HomePod Mini: Apple launches smaller, cheaper version of its Siri-powered smart speaker
Apple has launched the HomePod Mini, a smaller and cheaper version of its Siri-powered speaker.
It follows the HomePod, which was first announced in 2017. When that speaker was introduced, it focused on sound and was more expensive than competitors like the Amazon Echo or Google Home – but as a result did not seem to sell as well.
Now HomePod Mini puts some of that same technology into a more compact and rounded design, which Apple insisted still has the same high-quality audio hardware.
The HomePod Mini costs just $99 – compared with $299 for the full-sized one. It will open for pre-orders on November 6, and will ship on 17 November.
Apple noted that the release of the speaker and its associated smart home features came as people were spending more time in their house than ever before. It also stressed its privacy features, such as the fact that Siri recordings are not associated with an individual user.
The speaker also comes alongside the release of new iPhone features, which allow people to it near their HomePod and receive a notification that will allow them to quickly handoff anything they are listening to.
The built-in Siri capabilities also mean that the HomePod Mini can pull information from the phone, too, allowing it to read out messages, for instance.
Multiple HomePod Minis can be placed around the house, and will work together continuously, Apple said.
Numerous users can also use the HomePod Mini, which will recognise its users' various voices and read out the relevant information, Apple said.
Register for free to continue reading
Registration is a free and easy way to support our truly independent journalism
By registering, you will also enjoy limited access to Premium articles, exclusive newsletters, commenting, and virtual events with our leading journalists
Already have an account? sign in
Join our new commenting forum
Join thought-provoking conversations, follow other Independent readers and see their replies