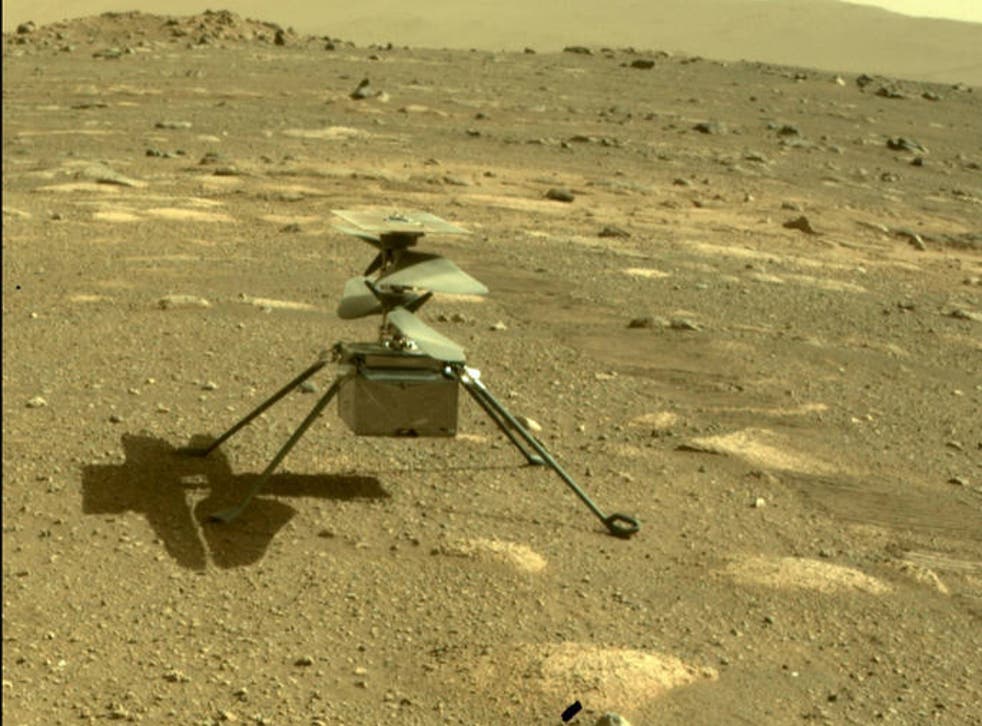 Ingenuity: Nasa's Mars helicopter survives freezing first night alone before unprecedented flight
The helicopter will attempt the first flight on an alien world on 11 April
Adam Smith
Tuesday 06 April 2021 12:19 Comments
Nasa's Ingenuity Marshelicopter has survived its first night alone on the surface of Mars.
The helicopter, which will launch the first ever controlled flight on another planet, was dropped on 5 April from the Perseverance rover – falling four inches from the belly of the vehicle onto the alien world.
It had to endure the challenging Martian environment, including temperatures that dropped as low as minus 90 degrees Celsius that would threaten the vital electrical components and onboard batteries the helicopter needs to operate.
"This is the first time that Ingenuity has been on its own on the surface of Mars," said MiMi Aung, Ingenuity project manager at Nasa's Jet Propulsion Laboratory in Southern California, in a statement.
"But we now have confirmation that we have the right insulation, the right heaters, and enough energy in its battery to survive the cold night, which is a big win for the team. We're excited to continue to prepare Ingenuity for its first flight test."
The test flight is far from an easy task to accomplish. The design of Ingenuity meant making it light enough to fly in the thin Martian atmosphere, but sturdy enough to survive the blistering cold. A solar array was also built into the top of the helicopter's rotors so that it could begin getting sunlight as soon as possible.
Within the next 30 days – the passage of time on Mars is almost identical to that on Earth – Ingenuity will complete its test. Pictures of the helicopter have already been captured by Perseverance, showing the blades stacked in alignment on top of each other and its four thin legs planted firmly on the soil.
Over the next two days, Ingenuity will be gathering data about how well the thermal-control and power systems will have survived Mars; that information can then be used to fine tune its systems, helping it survive harsher nights to come.
"Our 30-sol test schedule is frontloaded with exciting milestones," said Teddy Tzanetos, deputy operations lead for the Ingenuity Mars Helicopter at JPL. "Whatever the future holds, we will acquire all the flight data we can within that timeframe."
On 7 April, the restraints holding the rotor blades together will be released. The Nasa mission team will then spend several days testing them and the helicopter's motors, measurement unit, and onboard computers.
Should all prove functional, Ingenuity will take to the Martian air from a 10-by-10 meter airfield on 11 April, with subsequent flights taking place later in the month after that historic first success.
Register for free to continue reading
Registration is a free and easy way to support our truly independent journalism
By registering, you will also enjoy limited access to Premium articles, exclusive newsletters, commenting, and virtual events with our leading journalists
Already have an account? sign in
Join our new commenting forum
Join thought-provoking conversations, follow other Independent readers and see their replies