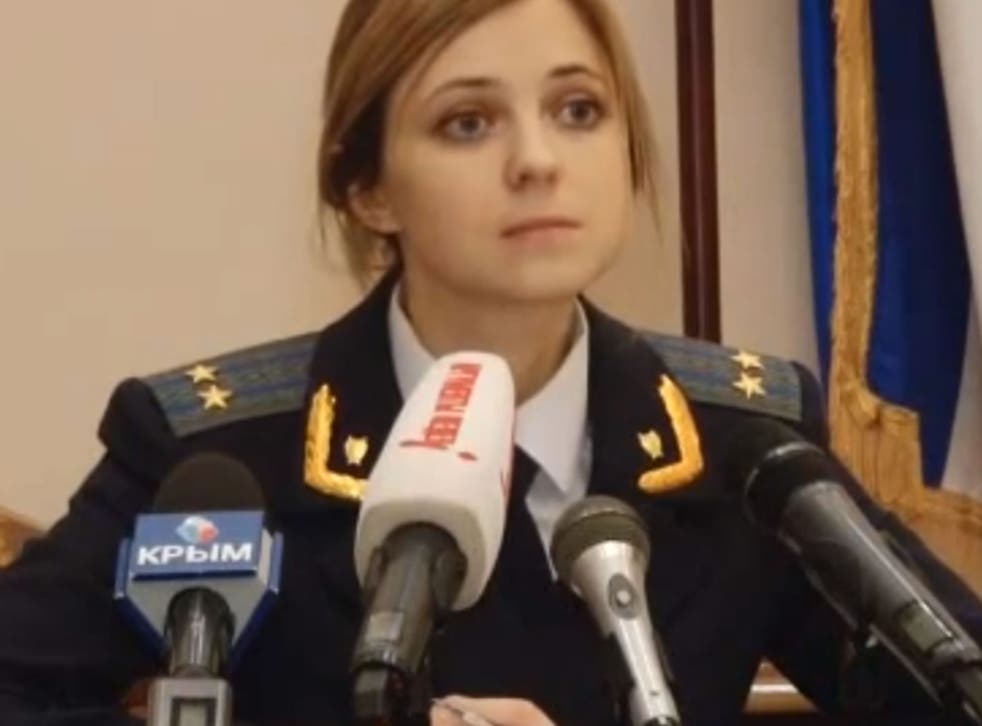 Natalia Poklonskaya: Web swoons over 'battle-ready heroine' Crimean attorney general
Observers of the conflict, primarily in Japan, have become pre-occupied with the region's newly-appointed attorney general
Rob Williams
Monday 24 March 2014 13:41 Comments
The Crimean crisis may well be the "biggest threat to European security" since the Cold War, sparking outrage, panic and prompting feverish talk of global war.
The internet, however, is still making jokes and being weird.
Observers of the conflict, primarily in Japan, have become preoccupied, not with the potential implications of Russia's annexing of Crimea and massing of troops on the Ukrainian border, but rather with the region's newly-appointed attorney general Natalia Poklonskaya.
As the world shudders at the thought of a potential showdown between Russia and the rest of the world, the Japanese are swooning over a clip of Ms Poklonskaya giving a press conference.
The video of 33-year-old Poklonskaya has been viewed nearly 300,000 times after being widely posted across Japanese social media platforms.
In pictures: Natalia Poklonskaya

Show all 6
Ms Poklonskaya, who previously served as a prosecutor for the Ukrainian Prosecutor General's office, was appointed to the job of attorney general on 11 March.
Directly after her appointment she gave the no-nonsense press conference in which she described the EuroMaidan revolt as an "anti-constitutional coup" and said she did not "propagate Nazism, unlike certain regime functionaries in Kiev".
Before being appointed as attorney general Poklonskaya had worked as a senior lawyer in the prosecutor general's office.
She voiced criticism of the opposition and uprising and in February announced her resignation saying she was ashamed to live in the country where "bandits were allowed to walk the street freely".
Instead of being allowed to resign she was given a leave of absence before being appointed to her new post.
The video footage of her first press conference has since gone viral around the world making her an internet sensation and drawing widespread media coverage.
According to the BBC reports, many internet commenters have depicted the feisty legal eagle as a "battle-ready heroine".
Website RocketNews24 has helpfully collated some of the comments Japanese netizens were making about Poklonskaya. And they're a bit weird.
"She's just my type!", says one correspondent.
"Ukraine has such a high percentage of devastatingly beautiful women. This is a battle I cannot avoid. Be right back; going to Crimea," offers another.
"I want her to grab me by the lapels and slap me twice. And when I fall down, I want her to bury her foot into my gut," offers yet another character.
Since the surge in her popularity a series of anime-style moe fanart of Poklonskaya has also been created and uploaded to the internet, most notably on the Japanese artwork-sharing website Pixiv.
For Poklonskaya, however, things are little more serious.
In response to her branding of the change of government in Kiev an "anti-constitutional coup" the Ukrainian government has since launched a criminal case against her and stripped her of the civil service rank of "counsellor of justice".
Register for free to continue reading
Registration is a free and easy way to support our truly independent journalism
By registering, you will also enjoy limited access to Premium articles, exclusive newsletters, commenting, and virtual events with our leading journalists
Already have an account? sign in
Join our new commenting forum
Join thought-provoking conversations, follow other Independent readers and see their replies