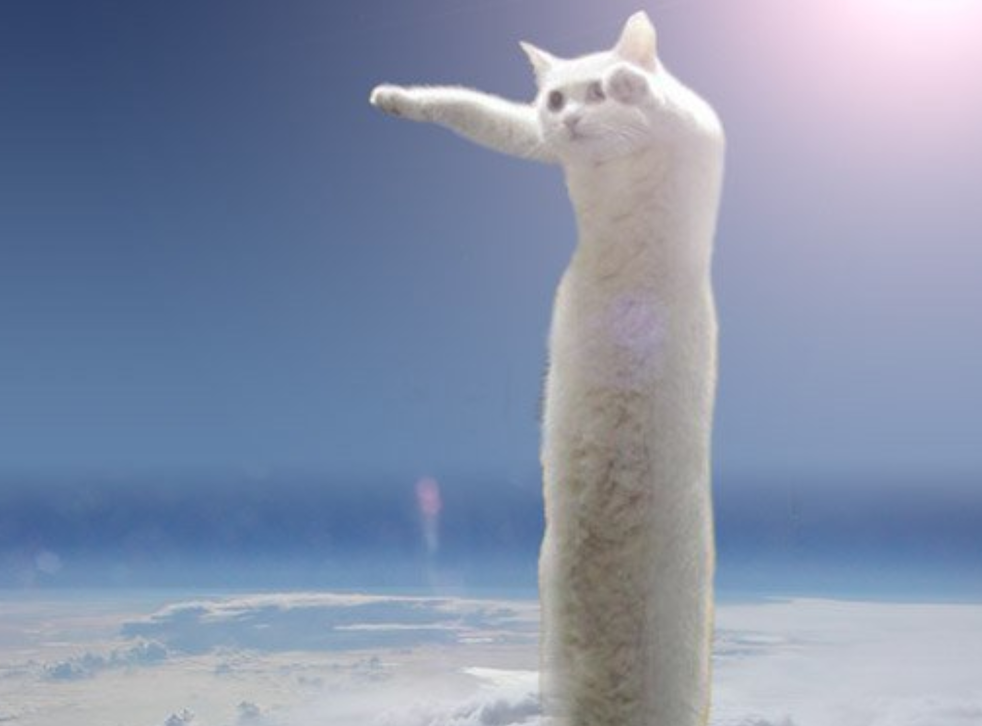 Longcat, the stretchy feline internet meme, has died aged 18
The internet sensation was first posted over 15 years ago, and has been photoshopped into historical images, movie scenes, and more
Adam Smith
Tuesday 22 September 2020 09:50 Comments
Leer en Español
The internet sensation Longcat, a long cat whose real name is Nobiko, has died.
The cat, which lived with her owner in Japan, passed away on Sunday due to natural causes in a pet hospital.
Longcat's owner, Miko, announced her pet's death on Twitter.
"It seems that Nobiko crossed the Rainbow Bridge earlier than Ms. Miko, the owner of the newsletter. I pray for your soul", the translated text, originally written in Japanese, says.
"Thank you for being born on Earth and living a long time, Nobirutan"
In a subsequent tweet, Miko posted numerous memes of her lengthy feline, spliced into movie scenes, famous historical images, weather events, and more.
"If you search the old cat image folder, you will find a lot of Nobirutan. Nobiko is the only cat in the world that looks like this," she said.
"To Nobiko's achievements and departure ... Cheers".
According to the website Know Your Meme, which documents internet memes, Longcat originally appeared on the messaging board 2chan between 2004 and 2005.
The cat reportedly stood at 65cm (approximately 25.5 inches).
Internet users developed a mythology around the animal and a dark doppleganger called Tacgnol, and a battle between the two characters called Catnarok.
Longcat was originally rescued after being discovered on the street in 2002, according to an interview Miko gave in 2019.
She had spotted him sleeping while she was riding a motorcycle, and brought the cat home, she said. It was initially "thin and had grey hair", but over time became a "pure white fluffy cat", Miko said.
Nobiko was deaf, so Miko believed the animal could have been sleeping in the middle of the road.
Register for free to continue reading
Registration is a free and easy way to support our truly independent journalism
By registering, you will also enjoy limited access to Premium articles, exclusive newsletters, commenting, and virtual events with our leading journalists
Already have an account? sign in
Join our new commenting forum
Join thought-provoking conversations, follow other Independent readers and see their replies