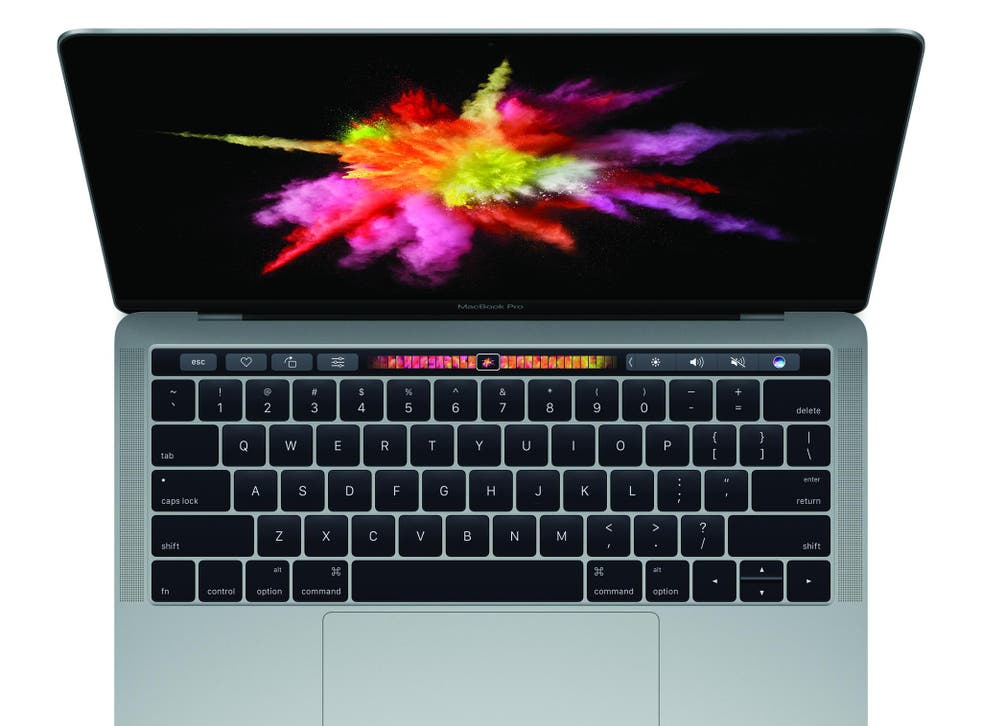 MacBook Pro review: Touch Bar and sheer power make it hard to resist
The biggest visual change to the MacBook Pro gets our thumbs up
Apple's latest laptops are Pro models, the company's more powerful and more expensive notebooks.
Since the day Apple launched the laptops in Cupertino (27 October), I've been trying out the various models: first, the entry-level 13-inch version with conventional function keys and more recently the two other siblings in the family, a 13-inch and a 15-inch laptop, both with the radical new Touch Bar instead of function keys. It's the Touch Bar models I'll be focusing on here.
Design
Although it's still unmistakably a MacBook, the new Pro has design changes. This is the first Pro available in the Space Grey finish common to more recent MacBooks. There's no rose gold or gold versions for the Pro, mind. Not business-like enough, Apple?
The Space Grey looks especially good. These MacBook Pros lose the backlit Apple logo on the lid, as seen on recent MacBooks. This was a design element that made an Apple laptop identifiable at 30 paces in a dimly lit room, so you may mourn its passing, but it looks pretty good without it, too.
The hinge on these machines is now metal, no longer the black plastic strip that ran down earlier laptops. This is classier.
These are thin laptops, too. Significantly more svelte and lightweight than last year's versions. Once, thinness was the provenance of the MacBook Air, chosen by those who wanted something super-slim and light, even if it meant sacrificing power.
The new 13-inch MacBook Pro is thin, 1.49cm at its thickest point compared to the Air's 1.7cm and only 20g heavier (1.37kg against the Air's 1.35kg). The Pro has lots of other benefits, too, but it does come at a significantly higher price – from £1,749 for the TouchBar model compared to the Air which starts at £949.
To be fair, a better comparison would be for a MacBook Air with increased specs: 8GB of RAM and 512GB of storage costs £1409. And an entry-level MacBook Pro (the Pro model without the Touch Bar but with the same 8GB RAM and 512GB storage) costs £1609.
In that case, the £200 price difference seems more doable for the benefits the Pro delivers, such as the Retina display, smaller footprint and so on.
Display
The Retina display has 2560 x 1600 pixels. The Air doesn't have Retina. It's not that it looks bad, it's just that once you're used to the needle-sharp images and text on a Retina display, it's hard to go back.
The new display is also brighter than before, with better contrast levels so you can use it outdoors more easily. There's also a wide-colour instead of a standard-colour gamut. These are the stats, but in reality you can see a difference. It's very bright and vivid. Colours shine so that photos look gorgeous.
Trackpad
It's huge, preposterously big. This is a good thing as it means you can use it more easily. Some have said they found that the cursor jumped around because the heel of their hand brushed against the trackpad, but that wasn't my experience.
As with some earlier models, this is a Force Touch trackpad, meaning that it is pressure-sensitive. What's more, it lets you know it's recognised your touch by means of a vibrating response, called haptic feedback, generated from what Apple calls its Taptic Engine.
The trackpad itself doesn't move, unlike regular trackpads. But the haptic feedback is so convincing, you'll truly believe it does. Press harder and a second vibration happens, letting you know that you've invoked a further response - force press on a word and a dictionary or thesaurus definition appears, for instance. It's not a feature I used that much, but it's convenient.
The new trackpad is big on the 13-inch model, but enormous on the larger, 15-inch screener.
Clicking it makes a different noise now, again down to that haptic response, which takes a little getting used to.
Keyboard
The keys here are similar to the recent MacBook, that is, they look great thanks to being individually backlit with not a trace of light spill around the keys. They are very clicky. If you are used to the sumptuous comfort of Apple keyboards on previous MacBooks, you really notice the difference - not least, they're noisier.
But after a week with the earlier MacBook, I preferred the increased responsiveness of the new keys and that's the case with these Pro models, too. They glide under the fingers and seem to make typing faster, though that may be an illusion. Whatever, this keyboard is extremely good. And it comes with the Touch Bar at the top…
Touch Bar
So this is the big one, the most visible innovation on the new MacBook Pro. The top row of function keys, you know, those thin keys you almost never use except to change the screen brightness or laptop's volume, well, that row has been replaced by a narrow, long touchscreen.
Apple is not quite the first to do this, but this is a much more successful execution of the idea than has been done before. Previous touchscreen strips replacing function keys have been very limited in design and function.
The principle is that when you're using different applications, wouldn't it be useful if you had keys that were relevant to that program? So the Touch Bar by default shows the controls that the keys previously performed (the brightness and volume, plus others including the satisfying Esc key used to escape some computing issues).
However, when you open a word processing program like Pages you'll instead have a series of configurable items. You can see word predictions, rather like texting on a smartphone. Or it can show icons that make it a cinch to add bold, italic or underline effects.
It's a touchscreen, so it can change to show anything, right? It's certainly much more versatile than anything that preceded it and is a novel and effective alternative to having a touchscreen, as many Windows PCs do.
This solution, Apple says, is more successful ergonomically than raising your arm to poke at a touch-sensitive display. Personally, I prefer it just because you don't get a smudgy screen all the time.
In other apps, such as Messages, new capabilities appear. One button starts composing a new message and you can see those word suggestions again. Best of all, if you use emoji, tap on a smiley face and the Touch Bar springs into colourful life, offering a seemingly endless, row of faces, animals, hands and more that you can swipe through at speed. You can always choose to return to the default touchscreen icons.
As app developers add Touch Bar capabilities for their programs, more capabilities will be available. Support is already promised for PhotoShop, Microsoft Office and more.
It's not perfect: in Pages, which is where I'm typing this review, I use cut, copy and paste all the time and a one-touch access to this would be very useful. But it's not there - Apple has guided developers against some common shortcuts such as select all or undo and cut, copy and paste fall into this group. I'd like to have the option to add those.
You can change the default arrangement of the control strip in System Preferences and it's very cool. As you mouse over an item to add it, it drops down the screen and onto the Touch Bar as if by magic.
As app developers get to grips with the Touch Bar, its functionality will grow. And it's the most innovative addition to computer usability in years.
Touch ID
Along at the right end of the Touch Bar is the power button which is also a fingerprint sensor. This is a new way to unlock your laptop. Previously you did this by tapping in a password. More recently, Apple Watch owners have been able to unlock their screens just by wearing the Watch near the computer. Now, you can tap the Touch ID button as well. It feels intimate and it responds quickly.
The Touch ID button is also used to turn the MacBook Pro on when it's completely off, though you may rarely do this as the amount of energy consumed when the MacBook Pro is sleeping is very low.
When you rest your finger on the Touch ID button you know it's been recognised because the Touch Bar leaps into life.
Because it's Touch ID you can also use it for Apple Pay. This is a simple process and makes it easy to buy stuff online. Perhaps too easy…
Connectivity
This is a slightly controversial topic. Previous MacBook Pro notebooks were festooned with USB connectors, a slot for an SD memory card (used mostly in cameras) and more. This time there are a total of five perforations in the sides of the MacBook Pro: one headphone socket and four USB-C sockets which are all Thunderbolt 3 capable, which means not least that they can deal with power and data at great speed.
It means that for all other cables you'd like to plug in to your MacBook Pro, from HDMI to USB and so on, you'll need an adaptor.
Apple has historically been very forward when it comes to updating its connectivity. When the first iMac removed the floppy disk drive, it was well ahead of the curve. It took the CD and DVD drives out of its computers before its rivals. And it took the headphone socket off its iPhones a few weeks ago.
Each of these changes has been met by reluctance from some customers. It can mean inconvenience in the short term, but the advances that come with these changes are often hugely beneficial and almost always adopted by other parts of the industry pretty quickly afterwards.
The new thinner design isn't especially suited to bigger sockets and as Phil Schiller told The Independent, the SD card slot was a cumbersome one and as many cameras are now wireless-enabled the slot is not as essential as it once was.
Performance
The 13-inch MacBook Pro is a powerful machine in its basic specifications though you can upgrade to a faster processor, for instance, for even more oomph. The larger model with its 15-inch display is even more proficient and both machines mean that your most complicated tasks are accomplished at speed.
It's the most memory-hungry programs such as music and video editing and creation that will show the power of the MacBook Pro. If you are using programs on your current machines that make them appear sluggish, a more mighty laptop like one of these will be the answer.
Battery
The latest MacBook has all-day battery life. So does this, though obviously a performance machine like the MacBook Pro may mean you're accomplishing more in the same time. Certainly the bottom line is that I felt completely relaxed leaving the power cable behind and the laptop lasted right through the day without any problem.
Verdict
The MacBook Pro is Apple's most powerful laptop, and this time it's the thinnest and lightest Pro yet. The upgrades are impressive, from the improved screen and enlarged trackpad to the real standouts: the Touch Bar and Touch ID power button. These are among the most striking innovations, most elegantly achieved, seen on a notebook computer. The Touch Bar, especially, is already great and has the potential to radically change the way a laptop is used.
The shift to USB-C sockets will certainly cause a few hiccups as people adjust to the new connectors but it is a temporary one and the benefits are considerable in the long term.
Then there's the price. The cost of the MacBook Pro has gone up considerably with these new models, and the exchange rate hasn't exactly helped. Early adopters at least can take advantage of Apple cutting the price of USB-C adaptors until the end of the year.
If you don't need an advanced machine like these ones, the MacBook is the most graceful balance of portability and value. And the more-affordable MacBook Air is still a highly appealing notebook, even if it lacks a Retina display. But the power is what you're paying for here and there's plenty of that.
The new MacBook Pro is definitely not a cheap laptop. But its combination of innovation and sheer computing grunt makes it hard to resist.
Join our new commenting forum
Join thought-provoking conversations, follow other Independent readers and see their replies