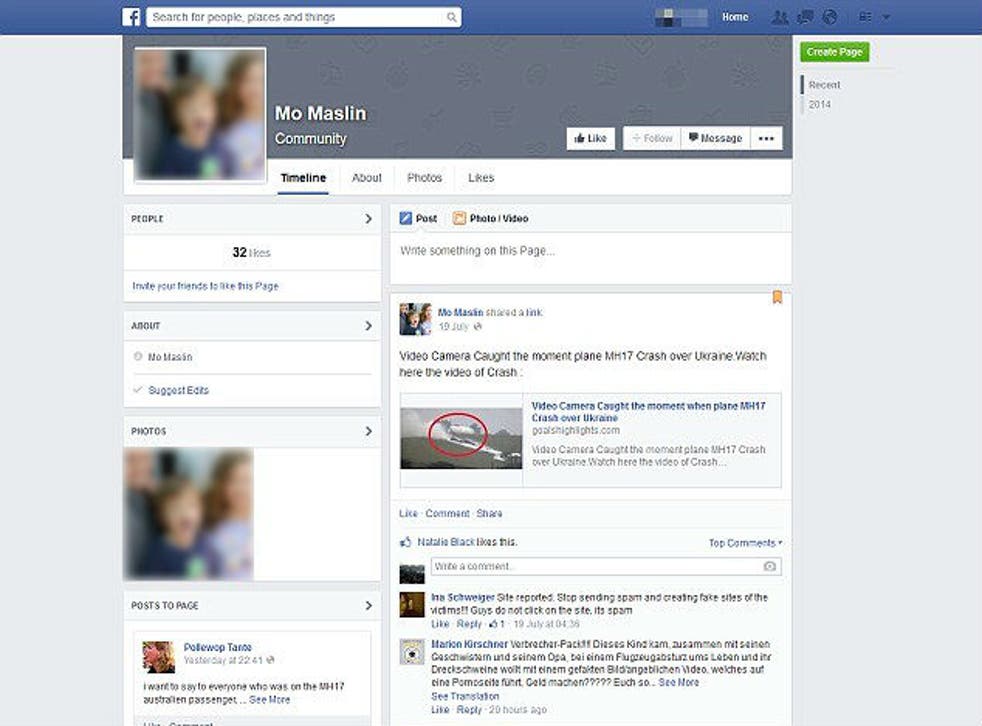 MH17 crash: Fake Facebook pages for young victims created by scammers to exploit relatives' grief and global interest
Fake 'tribute' pages using victims' names promised footage of the crash but instead bombarded users with pop-ups and malware
James Vincent
Tuesday 22 July 2014 07:00 Comments
Fake Facebook pages set up for the victims of the MH17 plane crash have been used by scammers and hackers to target grieving relatives and members of the public looking for information about the tragedy.
Australian media has reported that at least six pages have been set up using the names of known victims from flight MH17, with the pages filled with posts promising video footage of the moment the flight crashed in Ukraine.
Unsuspecting users who clicked the links would then be bombarded by pop-ups for a number of dubious services including as get-rich-quick schemes, with the hackers' sites also thought to contain malware and other dangerous programs.
Three of the fake pages that were created even used the names of a trio of young siblings from Perth - Otis, Evie and Mo Maslin – who died in the crash with their grandfather. Similar pages for victims from the US and UK were also created, reports the Daily Mail.
In pictures: Malaysia Airlines flight MH17 crash

Show all 109
Facebook has removed the pages, with a spokesperson telling The Independent: "We are disabling these profiles as soon as we are made aware of them. We encourage people to block those responsible and report suspicious behaviour to our team of experts via our reporting buttons so that we can quickly take the appropriate action."
Video: The Independent's Oliver Wright discusses European response to MH17 tragedy
However, cybersecurity experts have warned that this sort of exploitative 'click fraud' has become more prevalent as internet users take to Google and social media to find out more about these global stories.
The scammers can make money from these links in a number of ways, from being paid for directing traffic to a specific website, to soliciting donations from internet users for fake charities and relief funds.
Similar click bait scams were seen following the disappearance of Malaysia Airlines flight MH370, with one cyber security expert commenting at the time: "There's big money in it for anybody willing to plumb the depths of human misery."
News of the fake pages comes as one Ukranian MP, Anton Gerashchenko, reported that "death hunters" were collecting "not only cash money and jewelry" but also "the credit cards of the victims".
Register for free to continue reading
Registration is a free and easy way to support our truly independent journalism
By registering, you will also enjoy limited access to Premium articles, exclusive newsletters, commenting, and virtual events with our leading journalists
Already have an account? sign in
Join our new commenting forum
Join thought-provoking conversations, follow other Independent readers and see their replies