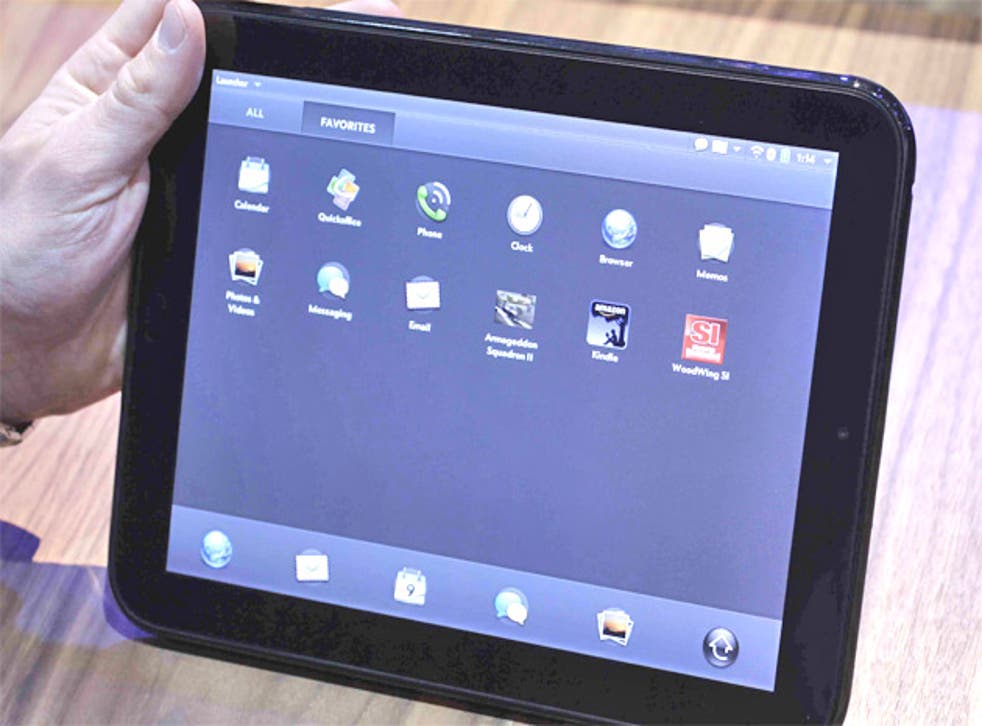 $300 to make, on sale for $99: why is HP in the tablet business?
It was the product which wasn't meant to be. Designed to rival Apple's phenomenally successful iPad, Hewlett Packard's TouchPad was launched exactly two months ago, and met with the sort of reception of which retail nightmares are made.
A mere 12,000 were sold in the first month of European release, a figure which fell even further in the weeks that followed. After seven weeks, it was announced that the TouchPad would be discontinued – a humiliating retreat by an already ailing company.
But when retailers were told they could sell the remaining tablets at a quarter of the original price – $99, instead of the iPad price-matching $399 and $499 – the TouchPad's fortunes began to magically turn around. The sum was not enough to cover manufacturing costs, but was sufficient to prompt a buying bonanza. Cut-price TouchPads flew off the shelves, with lengthy queues forming outside stockists and websites experiencing frenzied demand.
So it was that Hewlett Packard yesterday found itself performing yet another U-turn. In an entry posted on the company's blog, it announced that after being "pleasantly surprised" by sales of the cut-price tablet, it would be returning the TouchPad to the market on a temporary basis.
"The speed at which it disappeared from inventory has been stunning," the statement explained. "We have decided to produce one last run of TouchPads to meet unfulfilled demand." The run will be limited to North American retailers only, and will last for only a few weeks.
There is, however, one fatal flaw in the plan. As technology bloggers have been quick to point out, the $99 TouchPads may be popular, but they're still not going to be profitable. Given the lofty cost of production, Hewlett Packard is thought to be losing some $200 on every device sold.
Why, then, they have decided to embrace the loss-making product is the subject of some speculation. Reports from Taiwan indicate that it may have to do with surplus parts held by manufacturers, while others have suggested the move is an attempt to garner a few positive headlines after months of negative press.
Whatever the reason, HP's reversal isn't quite proving the PR coup the company may have hoped. Critics have described it as "a triumph of madness over common sense", arguing that it adds to their reputation for indecision.
Meanwhile enterprising punters were merrily re-selling their bargain-bin TouchPads at double the price yesterday.
Next up – Amazon?
Amazon could soon be launching a7in tablet computer to rival the iPad, according to reports. Citing anonymous sources in "upstream component suppliers," DigiTimes magazine said the tablet would start shipping next month, and would be followed by a 10in version early next year.
The report in the Taiwanese magazine, known for its close links to suppliers of hi-tech components, adds weight to rumours that Amazon is soon to enter the market currently dominated by Apple's iPad.
While the company has not yet confirmed anything, CEO Jeff Bezos said customers should "stay tuned" when asked in May about the possibility of a product launch.
Register for free to continue reading
Registration is a free and easy way to support our truly independent journalism
By registering, you will also enjoy limited access to Premium articles, exclusive newsletters, commenting, and virtual events with our leading journalists
Already have an account? sign in
Join our new commenting forum
Join thought-provoking conversations, follow other Independent readers and see their replies