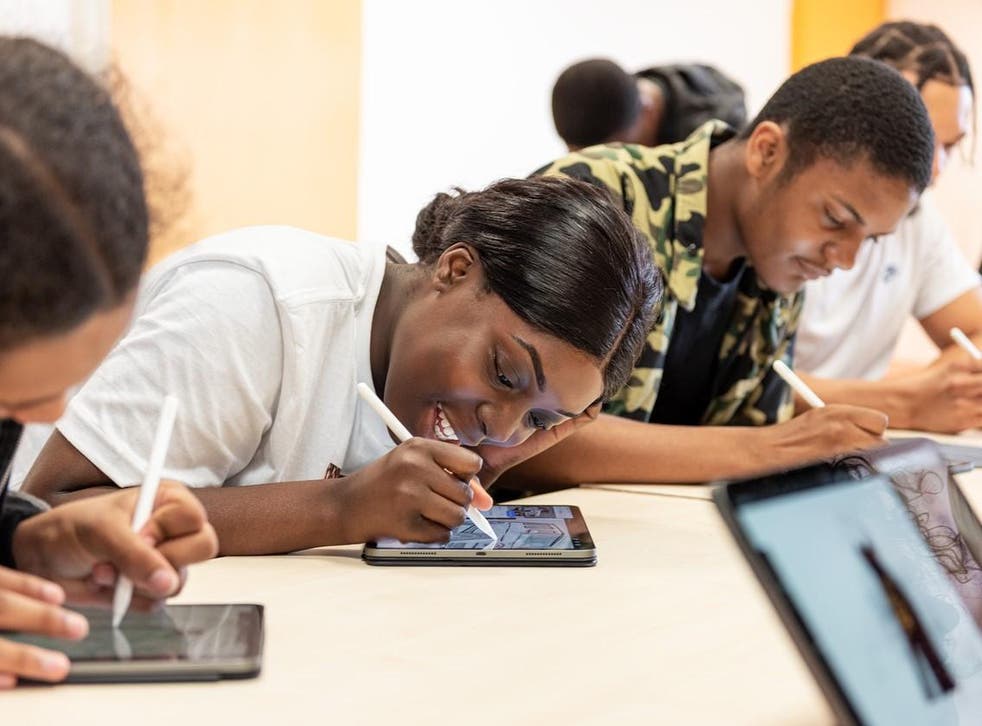 Apple teams up with Mayor of London to teach kids 'most important second language'
'Nobody in gang culture dreams as far as working with Apple or being trained by Apple,' one participant says
David Phelan
Wednesday 07 August 2019 18:13 Comments
Apple's CEO Tim Cook has said that coding is the "most important second language you can learn. Whether your passion is in science or the arts, it's a way to express yourself."
So, the company's latest initiative, in conjunction with the Mayor of London, may not be surprising. Apple's daily collection of free events in its stores, called Today at Apple, is going on the road to community organisations with a series called Made in LDN.
The Mayor's involvement makes clear the need for bigger investment in youth services and activities for young Londoners to get involved in across the capital, which will provide the key skills they need to reach their full potential.
"I am determined to do everything I can to provide positive opportunities for young people this summer and that's why I am pleased to be working with Apple on a series of programmes to help young people develop the skills they need to get the jobs of tomorrow, while also ensuring they have something constructive and safe to do during the summer holidays," London Mayor Sadiq Khan said.
"Massive Government cuts have decimated youth services in our city over the last nine years, but through my Young Londoners Fund I'm committed to providing young people with the activities and skills they need to make the most of their potential."
Gadget and tech news: In pictures

Show all 25
One of the first events was at Shapeways.io, a technology hub for young people to learn digital skills such as coding, Adobe Photoshop and more. But, as Obed Yeboah from the organisation explains, the idea is to harness these technological elements (Apple brings its hardware and software to the events for participants to use) and match them to other skills. Yeboah divides these into soft skills such as expressing yourself confidently and hard skills like being able to code a website.
"A lot of organisations talk to young people about how to communicate, which doesn't work for this generation. You have to embed it into something that they would actually do, which, in most cases is around tech, because they use it every single day," Yeboah said.
"We attach the soft skill, the interpersonal skills development, to a hard skill because it's very difficult to actually measure soft skills. I mean, the young person can tell you, yeah, I'm confident, but for us to know that they're confident, we put them in a scenario where you're talking about a project with a client, or you're teaching young people the skills that you've learned."
But do some skills lend themselves better than others? After all, coding can be quite a solitary pursuit that may not seem suitable for team building.
"With coding, well, if you get a project then you're not working by yourself. Because you need a group of designers, you need a group of coders and, if the client needs a video, you're working with videographers as well. It gives you that teamwork element."
Yeboah is frank about how they are able to address issues young people are facing.
"A lot of kids come in because they want communication skills. Communication is one of the biggest reasons why a lot of young people don't speak to anyone about how they are feeling and don't end up making decisions based on how they feel," Yeboah said.
"They end up doing things that you wouldn't want a young person to be associating themselves with. If they're involved in gang culture, or something like that, you realise that is purely based on the fact that they feel misunderstood... The challenge is, how do we build a team of young people to harness what they already love, what they already engage with, such as tech, even if they might be doing something that goes against the rules in other parts of their lives. Once you put them in the same room together, then they're tackling real issues through learning a skill. So now, when you leave Shapeways.io, you don't only know how to express your feelings but you also have a hard skill that you can use if, say, you want to go into further education."
Molly Aldridge, 18, went to Shapeways.io after a work experience placement. She had no experience of coding but after taking the HTML and CSS courses at Shapeways.io, is now proficient enough that she teaches coding to primary school children. "I felt that it was easy to learn how to teach coding because it allowed me to further my skills by talking aloud to other people. We talked to each other about how to teach. So, we were able to tell each other if we had something wrong. Which then gave us more confidence for when we would actually teach children."
She was at the first Apple Made in LDN session. "It was a workshop where we learned how make an app, designing what it looked like and adding functionality," she said. "It was completely new to me. I'll need some more classes to really get to grips with it. I do more web-based design. So, it opened up another area of coding that I haven't really looked at or considered before. I had believed that app development was something really complicated, and you needed different software to make it possible. But the workshop showed me that all it really took was this one app that I could use to not only handle the design aspects of it but also use to test out the functionality and how the app would actually work on a device such as an iPhone."
Rohan Coleman, 19, used Procreate, a magnificent creative drawing and painting app, at his Made in LDN session. He said: "I've never had an outlet to express the ideas I get in my head like that. I feel like I've gained the opportunity to explore designing myself – instead of having to rely on someone else to realise my ideas."
"With Apple Made In LDN, we bring in 40 young people to learn coding and design using Apple's technology. Apple is going into different London boroughs to engage young people with this technology and give them another way into society, which I think is amazing. If we go into a community centre, to run a workshop, it can be difficult to pull in a lot of young people. Our brand isn't on the same level as Apple. And for the young people in south London, or east London, them doing anything with Apple is almost a dream. Nobody in the streets or, you know, nobody in gang culture dreams as far as working with Apple or being trained by Apple. It's almost like it made them feel, 'Wow, I'm actually being trained by Apple, I'm in that same environment as them. There's an opportunity for me to change my life.' "
Finally, the sessions themselves aren't the last part of the jigsaw, as Yeboah explains: "A lot of young people are out on the streets or doing bad things purely because there isn't a choice, there isn't an alternative: education is not working for them. And for them to survive in the workplace, they don't know how to. Now, if I'm in an Apple Store, or if I'm working with Apple, then it should give them that kind of realisation that anything is possible."
Register for free to continue reading
Registration is a free and easy way to support our truly independent journalism
By registering, you will also enjoy limited access to Premium articles, exclusive newsletters, commenting, and virtual events with our leading journalists
Already have an account? sign in
Join our new commenting forum
Join thought-provoking conversations, follow other Independent readers and see their replies