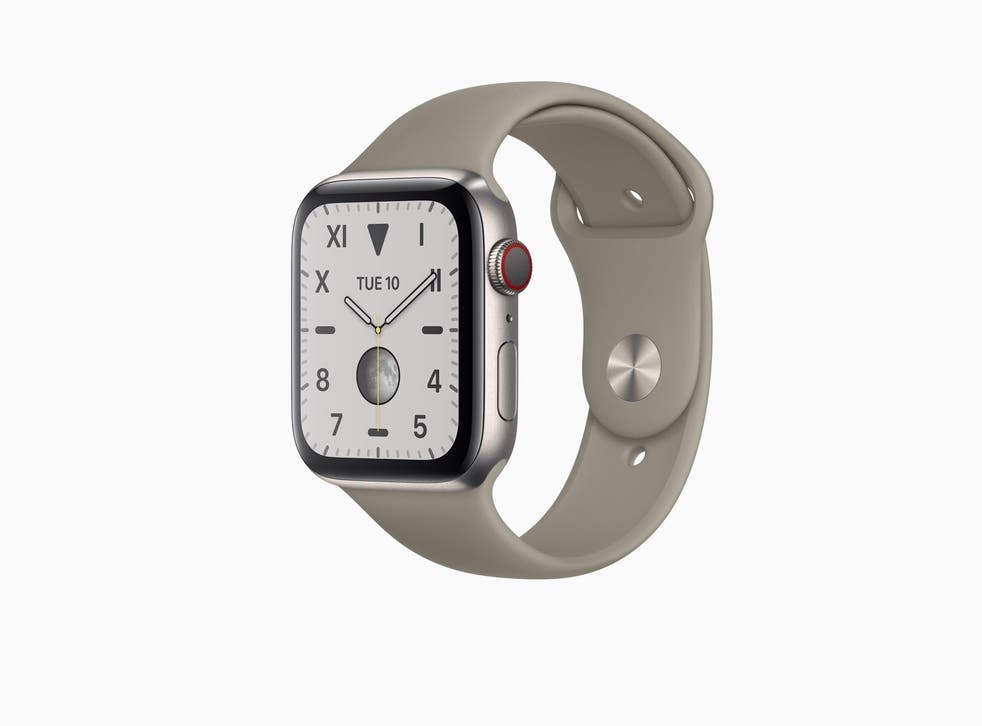 Apple Watch Series 5 review: Strikingly similar to its predecessor but with a 'game-changing' feature
Apple's new smart timepiece looks exactly the same as its predecessor, yet somehow entirely different
David Phelan
Wednesday 18 September 2019 15:39 Comments
At first glance, the new Apple Watch seems to be the gentlest of upgrades. In reality, it offers one new feature that's radically different and others that reveal how useful they are the more you get to know them.
Apple announced its new smart timepiece, called Apple Watch Series 5, alongside the new iPhone 11 in Cupertino, California. It looks exactly the same as before, yet somehow entirely different.
The design itself hasn't changed from last year. That's no surprise because 2018's Apple Watch Series 4 was a radical departure from all the Watches that had gone before, with its bigger display in a nearly identical case, for instance.
The Series 5, then, is a dead ringer for Series 4. Except for the couple of things that make it appear very different different.
First, there's the case. Last year, you could choose between aluminium and stainless-steel finishes cladding the watch. The aluminium came in several colours, including rose gold, while the stainless steel came in the natural silvery colour you'd expect, plus Space Black and Gold.
Gadget and tech news: In pictures

Show all 25
All those shades are still available but now there are two new deluxe versions, called Apple Watch Edition. These include a new metal finish: titanium. It is lighter than – and a little more expensive – than the stainless-steel options and is very attractive. Especially in the Space Black option.
Then there's a return to the ceramic finish not seen since Apple Watch Series 3. It looks sensational: gleaming white and almost glowing, it's so shiny.
But the case is not the real reason this Apple Watch looks so different. That's down to the new display which gives rise to a new feature: an always-on screen.
Unlike regular watches, smart watches tend to conserve battery by turning off the display when you're not actually looking at it. It makes sense, right? So to wake the display, you must raise your arm. The Apple Watch has always done this raise-to-wake action perfectly, better than rivals, but it still leaves you with that occasional moment when flicking your wrist leaves the display dormant.
Now, with the low-temperature poly-silicon and oxide display (abbreviated, thankfully, to LTPO), Apple has devised a way to keep the screen on all the time.
So, you can sneak a glance at the time in a dull meeting without having to twist your wrist revealingly, for instance. Or look at the Watch when it's facing downwards, where it previously would have switched off.
This sounds like such a small thing, but in practice I've found it to be a real game-changer.
It takes a little getting used to because Apple has organised it so the display dims when you're not looking at it, though is still entirely visible. It's very cleverly crafted so it's not just a matter of turning down the brightness: each Watch face has been optimised so certain elements fade out altogether in the less bright state, or change to a darker colour. Without moving your wrist, you can see the dimmed state; raise your arm and it's back to full brightness and full-on design.
It's the key feature on the new Watch and it works brilliantly.
There are new Watch faces to go with the new hardware, including some exclusive to the new Series 5.
The other major new hardware in the Watch is a compass. I can hear you snorting in derision, but it's actually plenty useful. That's because it can be integrated into apps. For instance, when you're looking for a restaurant on Yelp and you don't know which way you should head on the street, take a look at the arrow on the Yelp Watch app. As you turn, the arrow turns with you, so the right direction to head in is unmistakable.
It's also useful in outdoors situations, or if you just fancy knowing your current elevation, longitude, latitude and incline. A bit geeky but quite cool.
Much of the rest of the Watch is the same as Series 4. Why didn't Apple upgrade the processor? Probably because the speed increase it got last time around was enough to last for a while or perhaps the power use optimisation needed for an always-on display may have made this the best configuration.
There are new apps in the latest watchOS 6 software, such as a handy Noise app which warns you when the environment you're in could be too loud for your ears to endure.
The Watch has always been about health and fitness and other additions include menstrual cycle tracking for women and the ability to track trends in your activity over a longer period of time. Of course, the heart rate monitor and ECG capabilities of Series 4 are on board here, too.
A word about Series 3. Although Series 4 has been retired, the excellent Series 3 first launched in 2017 has had a huge price cut and now starts at £199. This is phenomenal value for such a capable smartwatch. You don't get the sumptuously big screen or ECG features of Series 5, for instance, but it's a great first Apple Watch.
The Series 5 Watch starts at £399 for the smaller, 40mm case in aluminium or £429 for the larger, 44mm case. Add £100 if you want cellular connectivity so you can make phone calls even when your iPhone is at home.
One other thing worth mentioning: Apple is all about personalisation this year. Not only are there more case options than ever before – I didn't even mention the special editions with Nike and Hermès – but it's now possible to mix and match the Watch and band you prefer with much greater choice.
The always-on feature is the marquee upgrade on this Watch and it's tremendous. It doesn't affect battery life, that's still well over a day. Until last week, Series 4 was the best smartwatch on the market by a country mile. Series 5 puts Apple further ahead of its rivals.
Register for free to continue reading
Registration is a free and easy way to support our truly independent journalism
By registering, you will also enjoy limited access to Premium articles, exclusive newsletters, commenting, and virtual events with our leading journalists
Already have an account? sign in
Join our new commenting forum
Join thought-provoking conversations, follow other Independent readers and see their replies