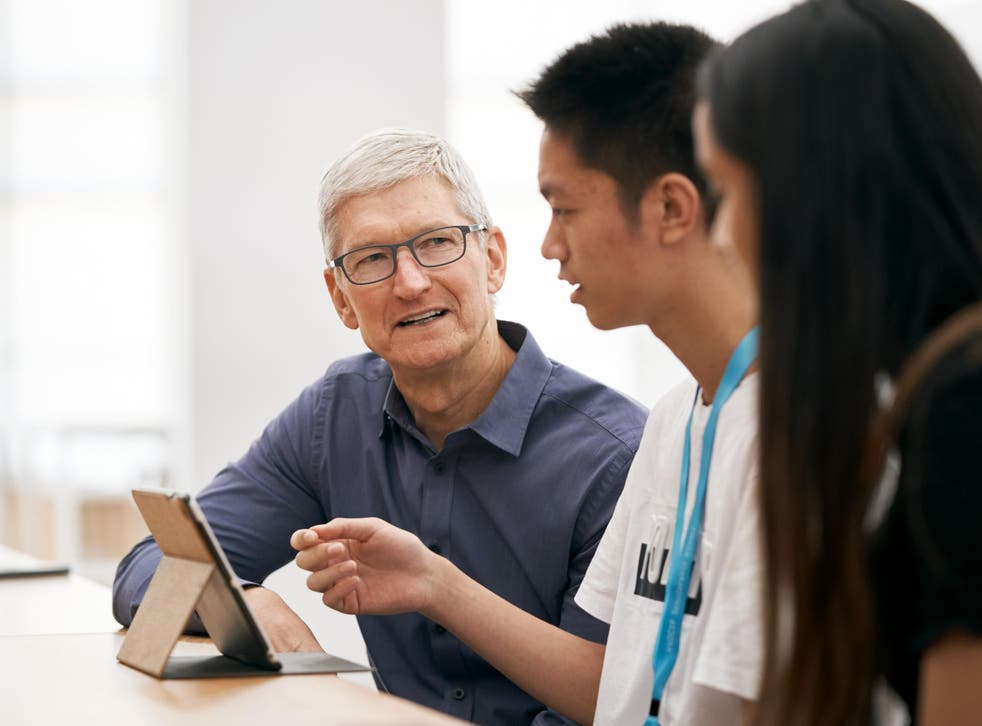 Apple WWDC 2019: Tim Cook meets app scholarship students ahead of annual conference
The Apple CEO personally tested winning apps, including one that lets you paint with your eyes
Later today Apple CEO Tim Cook will take to the stage at the McEnery Convention Centre in San Jose for a keynote speech which will launch this year's developers' event, the World Wide Developers Conference, or WWDC.
But if you thought that today is when WWDC begins, you'd be surprised. The convention centre has been decked out in Apple banners for days, there have been full-scale rehearsals going on (and the final rehearsal was a stormer, I'm quietly told) and 350 recipients of Apple WWDC scholarships have arrived in town.
These scholarship winners are developers, most of them young, who have been given a ticket to the week of events.
Yesterday, 14 of them experienced what some would later describe to me as a once-in-a-lifetime event. Adjacent to the main hall in the conference centre is a vast room with a quintessentially Apple vibe. The area is divided by long wooden tables with white wooden stools that are so meticulously placed underneath you imagine someone used a ruler. There are huge, shiny, as-yet-virgin whiteboards with neatly stacked multicoloured pens and discreet grey sofas in the corners.
The 14 scholarship winners shown into the space are preposterously young, teenagers and upwards, all with a MacBook or iPad or iPhone holding their valuable, home-grown IP. These are the apps that have won them scholarships. They arrive looking confident and calm.
Gadget and tech news: In pictures

Show all 25
They are to present their apps to two senior Apple execs, Cheryl Thomas, Software Engineering Operations Vice President, and Greg Joswiak, Apple's Vice President of Product Marketing, known to everyone as Joz.
I'm shadowing Joz, as he chats to the scholarship winners, learning about their apps. As the developers talk, a little nervously at first, but quickly put at ease by Joz's relaxed, avuncular charm, there's an atmosphere of collegial excitement, with each developer willing their friends to succeed.
I talk to Spruce Campbell, 14, born in Lewisham, whose previous prototype game won a BAFTA in 2017 (when he was 12!). He has a game, Cyber Jump, on the App Store, and his scholarship application was inspired by seeing migrations of starlings. "I saw them flying around and I thought that would be a good approach – it's not easily translatable into code, there are so many individual things, there's no over-arching structure, there's no chief starling telling them all what to do." He created a simulation where each bird is individually created and knows where every other bird is. By touching the display, the birds react, flying in different directions. It is deftly done, and gently hypnotic to watch.
Joz moves on to the next developer. And then, suddenly, everything changes.
"We've got one more exec who wants to see your work," we're told, and the developers turn to see Tim Cook has slipped unobtrusively into the room. The effect is electric, with jaws dropping, impromptu bursts of applause and wide grins appearing on face after face. Cook shakes hands and gets involved. But where many CEOs would plant themselves on a throne and accept audiences from grateful supplicants, Cook is moving around the room to each developer, grabbing a stool if there is one, or kneeling on the floor next to them, the better to get a look at their apps.
If the kids are tongue-tied in his presence, they quickly get past it because of his evident interest, asking the precisely appropriate question, giving subtle hints of how Apple is involved in the same topics, and even what to look out for in the upcoming keynote. He's interested in an app that uses augmented reality. It's something he has talked about in the past, saying, "It's a big idea."
Cook is a man with a busy schedule, of course, but you'd never guess it from his insistence on spending as much time as he can with each developer, including with Matt Moss. Moss has created several eye-tracking apps, Hawkeye and Hawkeye Access, which help marketers and user experience experts learn about how you're looking at something onscreen. Today, he's demonstrating an app where you can paint using your eyes. If they had been feeling awestruck, the developers have recovered themselves: Moss boldly asks Cook to have a go, and Cook obliges.
Moss explains that to make the app start or stop painting a line, you must pucker your lips. Cook gamely pouts as needed. I've seen the result of Cook's endeavours and, while it may not win any prizes, it's a neat abstract with several Apple attributes: an understated simplicity and a discriminating sense of colour.
Finally, Cook is told he really does have to go now, and after a quick group photo, he makes to leave. But then one of the developers asks for a selfie. "Oh, of course," Cook beams. One after another, they line up to take their picture with him: however much of a hurry he may be in, this is something not to be rushed. Nobody asks for him to sign anything any more it seems: the selfie is the new autograph.
Join our new commenting forum
Join thought-provoking conversations, follow other Independent readers and see their replies