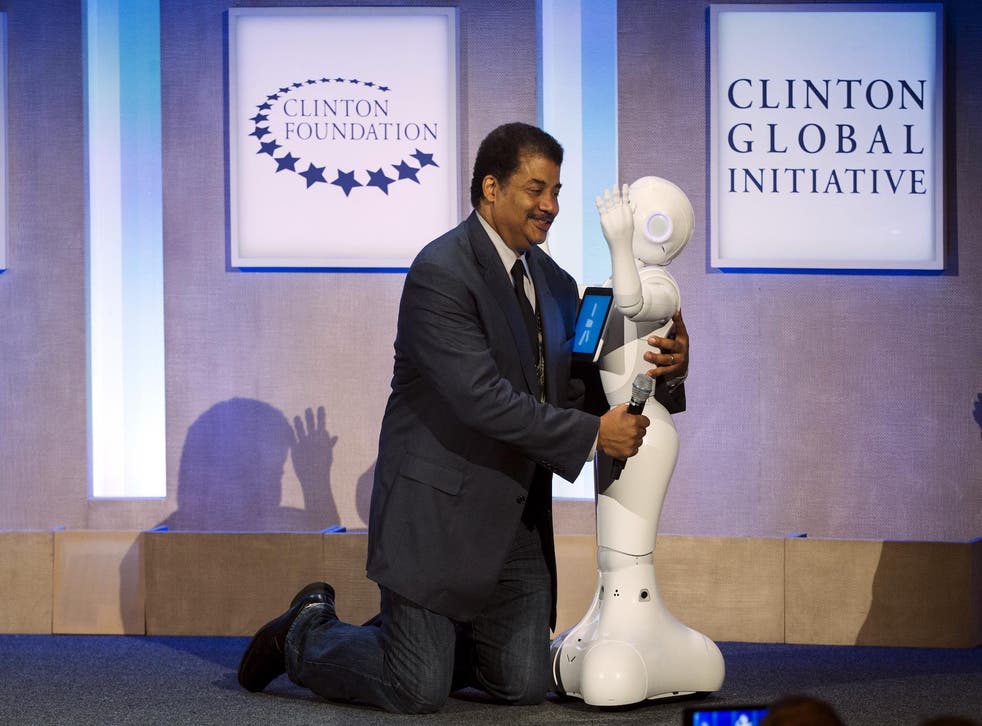 Government is completely unprepared for the coming robot takeover, MPs warn
Tech companies are taking the lead on thinking about the future of robotics and artificial intelligence, and not enough is being done by authorities, warns the Science and Technology Committee
Andrew Griffin
Wednesday 12 October 2016 10:21 Comments
The government is unprepared for the fundamental changes to our lives that robots will bring, according to MPs.
There is no strategy for developing the new kinds of skills that workers will need after automation and artificial intelligence takes over their lives, according to a new report from the Science and Technology Committee.
Technological advances like driverless cars and supercomputers are turning science fiction into real life, the report warns. But the government is doing very little for prepare for that future, MPs have said.
Gadget and tech news: In pictures

Show all 25
The report urges the government to set up a commission that would stop artificial intelligence from destroying our lives rather than enriching it.
The senior MPs did point to the various good that is coming from AI – through self-driving cars and computers that can help diagnose diseases. But it pointed to the huge dangers, too – including the potential bias of computer systems, like when the Google Photo app labelled black people as gorillas.
Tania Mathias, acting chairwoman of the committee, warned: "Science fiction is slowly becoming science fact, and robotics and AI look destined to play an increasing role in our lives over the coming decades.
"It is too soon to set down sector-wide regulations for this nascent field but it is vital that careful scrutiny of the ethical, legal and societal ramifications of artificially intelligent systems begins now."
The report said that the tech industry had been taking the lead in thinking about how AI might shape – and endanger – our lives. It praised the work done by various companies in setting up ways of exploring the future of robotics and how it might be harnessed.
But it said that the government hasn't done enough to prepare for those same problems.
Dr Mathias said: "Government leadership in the fields of robotics and AI has been lacking. Some major technology companies - including Google and Amazon - have recently come together to form the partnership on AI.
"While it is encouraging that the sector is thinking about the risks and benefits of AI, this does not absolve the Government of its responsibilities. It should establish a commission on artificial intelligence to identify principles for governing the development and application of AI, and to foster public debate.
"Concerns about machines taking jobs and eliminating the need for human labour have persisted for centuries. Nevertheless, it is conceivable that we will see AI technology creating new jobs over the coming decades while at the same time displacing others.
Westworld Extended Trailer
"Since we cannot yet foresee exactly how these changes will play out, we must respond with a readiness to reskill and upskill.
"This requires a commitment by the Government to ensure that our education and training systems are flexible, so that they can adapt as opportunities and demands on the workforce change.
"It is disappointing that the Government has still not published its digital strategy and set out its plans for equipping the future workforce with the digital skills we will need."
Register for free to continue reading
Registration is a free and easy way to support our truly independent journalism
By registering, you will also enjoy limited access to Premium articles, exclusive newsletters, commenting, and virtual events with our leading journalists
Already have an account? sign in
Join our new commenting forum
Join thought-provoking conversations, follow other Independent readers and see their replies