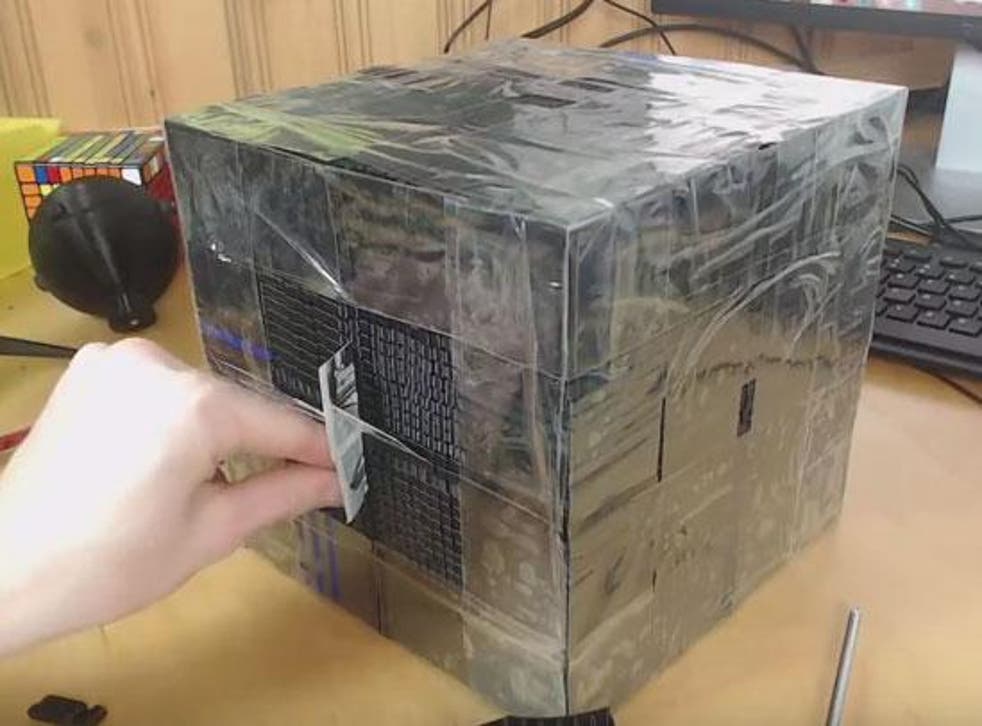 Attempt to build world's biggest Rubik's cube ends in disaster
The 22x22 cube took seven months to build
Alexandra Sims
Thursday 26 November 2015 17:17 Comments
An attempt to build the world's biggest Rubik's cube ended in disaster when the puzzle exploded as it was turned for the first time.
One of the masterminds behind Coren Puzzle, a YouTube channel dedicated to custom puzzles, live-streamed the final assembly of the 22x22 cube.
The video was the culmination of seven months of construction, which included a month of deliberation on how to build the mechanism at the centre of the device.
The device consists of over 1000 pieces, all of which were 3D printed and cost around £130 to make.
The cube's maker, who appears to be anonymous, says that he would sell the device for around £3,300.
The puzzle builder, who claims to have created the cube "on impulse", uses tape and playing cards to hold the structure together as he commences with the final stages of its design.
The whole thing ultimately ends in disaster, however, as when turned for the first time the entire structure breaks up into tiny pieces.
The unnamed creator said he was inspired to make the cube by fellow puzzle builder Matt Bahner, who made the highest order twisty puzzle ever created last year, dubbed the Yottaminx.
A 14-year-old American boy had more success with a Rubik's cube on Tuesday, when he set a new world record by solving the puzzle in 4.90 seconds.
Lucas Etter unmixed the 3x3 cube 0.35 seconds faster than the previous record holder.
Register for free to continue reading
Registration is a free and easy way to support our truly independent journalism
By registering, you will also enjoy limited access to Premium articles, exclusive newsletters, commenting, and virtual events with our leading journalists
Already have an account? sign in
Join our new commenting forum
Join thought-provoking conversations, follow other Independent readers and see their replies