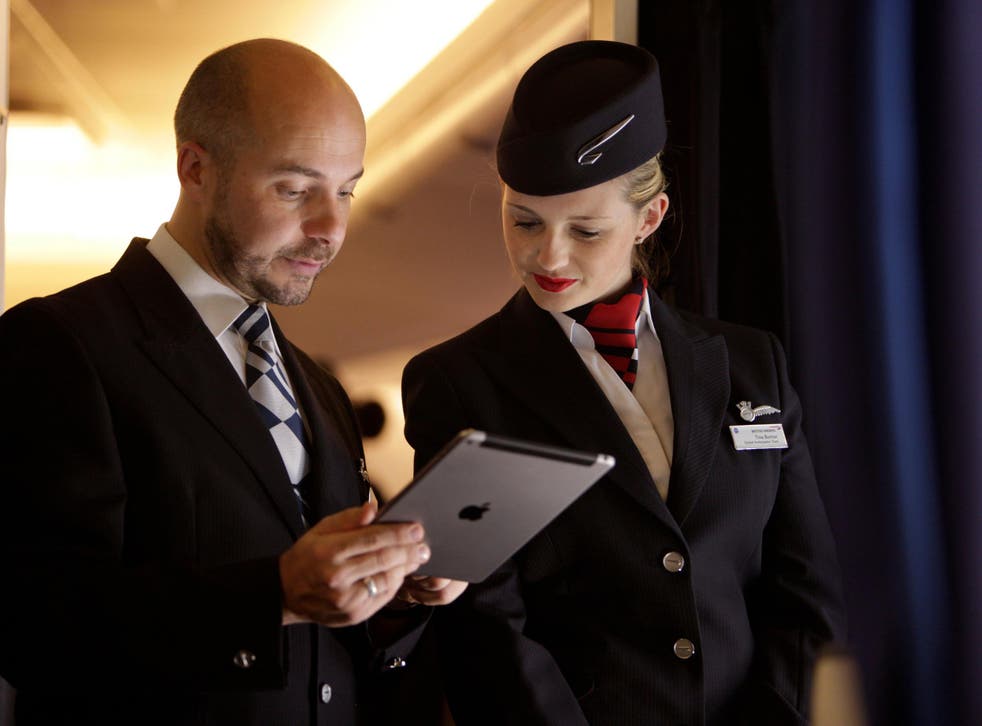 How British Airways is using iPads to change the way it works
iPads are rapidly replacing the reams of paper that pilots used to have to carry
David Phelan
Thursday 26 May 2016 13:48 Comments
Until this week the only thought I had connecting the iPad to air travel was that it was annoying having to take it out of my hand luggage at security.
But it turns out that airlines like British Airways make use of the iPad, with purpose-built apps, in ways that are saving time and money. The Independent was escorted airside at Heathrow Terminal 5 to see how it works.
After exhaustive security checks and being equipped with steel toe-capped boots (health and safety) I was given a glimpse of the briefing that takes place before every BA flight, where pilots and cabin crew meet to discuss details such as weather, passenger capacity and more.
There are plenty of iPads on board. As the pilot, Captain Spencer Norton, revealed, "I used to have to carry two huge bags of manuals and charts, now I have every chart in the world on my iPad. We're taking this a step further – the iPad will be connected to the aeroplane and be able to talk directly to the plane so we'll get live data."
Much of this is done to prevent or minimise delays, which are taken so seriously at BA that when the turnaround at stand slips by more than three minutes, it's reported to a senior manager. Planes used to have print-outs of certain figures brought to the cockpit manually, literally by a staffer running up flights of stairs. Now this is done electronically. The combination of removing the bags of manuals and charts, paper passenger lists, time reduced through electronic data transmission and so on has led to a staggering fuel saving of one tonne of fuel per long-haul flight. The manuals alone weighed 25kg per set.
And don't worry, if an iPad were to break, the co-pilot has another, and there's a spare. Plus, they're clipped into a case that's mounted on the plane and plugged into the mains, so the battery won't die.
The cabin crew have an exceptionally detailed app called the Passenger Information List which includes remarkable levels of information about passengers and flights. So the Cabin Service Director knows how many people have connecting flights, the weather at destination, the possibility of turbulence and even when it might happen.
A seat map (which can be neatly reconfigured so it shows the seating from the point of view of the front of the plane or the rear, according to user preference) indicates any empty seats. Cabin Service Director Sally Kennedy explained, "I can use the seat map to see that if there are empty seats, that I can utilise those better, maybe for customers with reduced mobility. With the iPad I can be pro-active instead of reactive."
Gadget and tech news: In pictures

Show all 25
There's also extensive information about passengers. Special meals are detailed and there's room for staff to add messages. This means that crew can note if a passenger is a nervous flyer, so that the staff on the return flight know to take extra care of them. It also means that if someone's off on holiday, a message can be left for the return crew to ask how the vacation went. These can be small details that make the customer experience hugely better.
Staff can even be proactive when it comes to delays. Captain Norton said: "If a flight has been delayed and a customer is not going to make their connection, we can rebook them on to another flight so it's all done by the time we land."
There are more iPads in use than just on board. The ground crew, overseeing the fast-paced turnaround for a plane use them to share information. Timings are recorded for the start time of loading, when the chocks are applied, how soon the jetty arrives, how long it takes for passengers to leave and more.
As passengers disembark from the front of the aircraft, cleaners are boarding at the back, whizzing through the plane in a number of minutes.
The aircraft sits facing a display which shows a digital clock counting down the minutes until it has to be ready again, placed on the wall of the terminal so everyone can see it.
The ground crew still go on board to make some checks, so running around is not completely gone. This is a pressurised, intense period that regular customers never see (well, we've got enough to do shopping at duty-free).
Throughout the airport, British Airways is using iPads with apps custom-built for specific purposes. BA's reputation for innovation meant it had its customer app available on day one of the App Store on the iPhone. The initial impetus was to replace paper, beginning with the passenger information list. Each app's purpose has slowly grown with extra features added. Now, data is kept up to date on tablets across the airport from air crew to ground staff through to customer service staff.
A check-in app means if a plane is cancelled, staff can be quickly deployed to use the Flight React app: instead of passengers queuing for one desk, staffers with iPads can work their way down the line simultaneously, since the data is live and identical on each, saving time in ways impossible before.
Every app I saw looked familiar because it uses the same interface common to most iPad apps: tap a button to turn it off or on, swipe to move up or down a list, tap the button in the top left to return to a previous menu and so on. This is something that helps regular iOS users to become adept at using new apps quickly.
"We can use the Check-in app so customers don't have to go to a kiosk, we can rebook and re-ticket them, and check them in. We can even use the iPad camera to snap the bag tag to ensure it travels with the customer," a BA crew member told me.
As Sally Kennedy, the Cabin Service Director, added, "I don't know how we'd manage without the iPad now, it does so much."
Register for free to continue reading
Registration is a free and easy way to support our truly independent journalism
By registering, you will also enjoy limited access to Premium articles, exclusive newsletters, commenting, and virtual events with our leading journalists
Already have an account? sign in
Join our new commenting forum
Join thought-provoking conversations, follow other Independent readers and see their replies