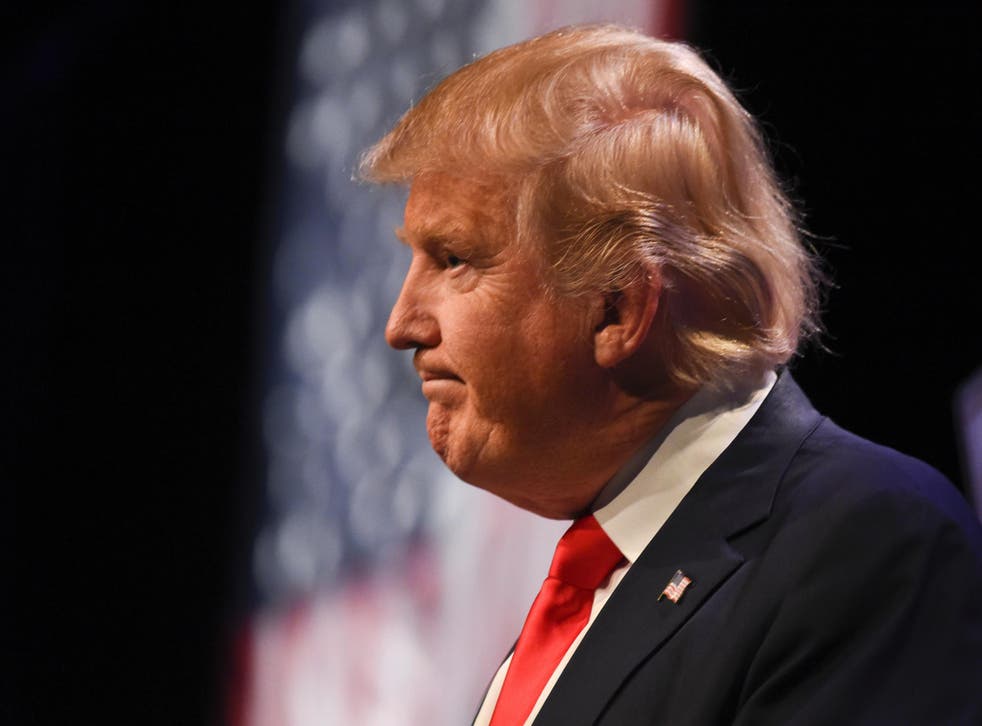 This is why Facebook isn't removing Donald Trump's 'hate speech' from the site
Donald Trump can post 'hate speech' to Facebook, but you can't
Doug Bolton
Tuesday 15 December 2015 19:39 Comments
Many Facebook users, including filmmaker Michael Moore, have called on Facebook to remove 'hateful' posts by US presidential hopeful Donald Trump, particularly after he called for a ban on Muslims entering the United States.
While normal users echoing Trump's comments have had their posts removed by Facebook's moderators, the social network has explicitly stated since Trump's comments are a major part of current US political discourse, they will not be taking any steps to remove any of his comments from the site.
Facebook's community standards say the moderators remove "hate speech", which includes content that "directly attacks people based on their race, ethnicity, national origin, religious affiliation, sexual orientation, sex, gender or gender identity, or serious disabilities or diseases."
It also says "organisations and people dedicated to promoting hatred against these protected groups are not allowed a presence on Facebook."
Facebook says they rely on users to report this kind of content to them.
Facebook's non-public moderation guidelines, which were obtained by Fast Company, echo these sentiments - saying posts which call for "violence, exclusion or segregation or a protected category" should be banned.
Due to these rules, many individual users have had posts removed that reflect some of Trump's recent statements, like the call for a ban on Muslims entering the US, or the assertion that Mexico is sending "rapists" to America.
Thank you to the great crowd at the #USSYorktown in Mt. Pleasant, South Carolina. Listen to the the response from the crowd to my latest proposal - and let me know if you agree with these PATRIOTS?

Posted by Donald J. Trump on Monday, 7 December 2015

Fast Company tested this out with two posts from two separate Facebook accounts, both of which expressed agreement with Trump's views on Muslim immigration.
Just a few hours after they were flagged up to Facebook as potentially hateful, they were removed, in line with Facebook's policies.
However, the video of Trump making the very same statement, which was posted to his official Facebook page on 8 December, remains on his page despite a co-ordinated effort to report it to Facebook.
In a statement to Fast Company, Facebook explained the reason for the discrepancy in their policy towards the posts.
A spokesperson said: "When we review reports of content that may violate our policies, we take context into consideration."
"That context can include the value of political discourse. Many people are voicing opinions about this particular content and it has become an important part of the conversation around who the next US President will be."
"For those reasons, we are carefully reviewing each report and surrounding context relating to the content on a case by case basis."
The day after Trump made his controversial announcement, Facebook CEO and co-founder Mark Zuckerberg made a post on his page in support of the site's Muslim users, and appeared to reference Trump's remarks directly.
"After the Paris attacks and hate this week, I can only imagine the fear Muslims feel that they will be persecuted for the actions of others," he wrote.
"As a Jew, my parents taught me that we must stand up against attacks on all communities."
"If you're a Muslim in this community, as the leader of Facebook I want you to know that you are always welcome here and that we will fight to protect your rights and create a peaceful and safe environment for you."
Register for free to continue reading
Registration is a free and easy way to support our truly independent journalism
By registering, you will also enjoy limited access to Premium articles, exclusive newsletters, commenting, and virtual events with our leading journalists
Already have an account? sign in
Join our new commenting forum
Join thought-provoking conversations, follow other Independent readers and see their replies