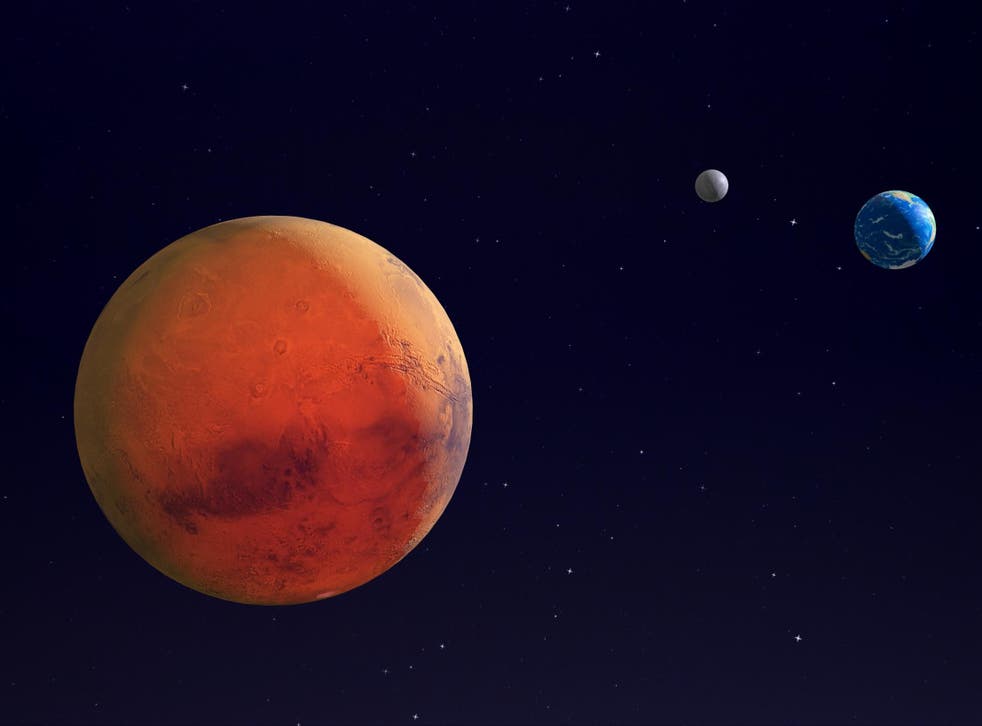 Elon Musk fears he will die before SpaceX makes it to Mars
'Unless we improve our rate of innovation dramatically, there is no chance of a base on the moon or a city on Mars,' SpaceX boss says
Anthony Cuthbertson
Tuesday 10 March 2020 12:31 Comments
Elon Musk's long-held ambition to journey to Mars may not be possible in his lifetime, the SpaceX boss has warned.
Speaking at the Satellite 2020 conference in Washington on Monday, Mr Musk told the audience that rapid progress was needed for Mars to be reached within the next few decades.
"The thing that concerns me most right now is that unless we improve our rate of innovation dramatically, there is no chance of a base on the moon or a city on Mars. This is my biggest concern," he said.
"If we don't improve our pace of progress, I'm definitely going to be dead before we go to Mars... If it's taken us 18 years just to get ready to do the first people to orbit, we've got to improve our rate of innovation or, based on past trends, I am definitely going to be dead before Mars."
The 48-year-old tech billionaire has previously spoken of his hope to visit the Red Planet. "I want to die on Mars," he said in a 2013 interview, "just not on impact."
In 2018, he estimated that there was a 70 per cent chance of him making it to Mars in a SpaceX craft, claiming that it could be possible as early as 2025.
Nasa centennial challenge: Finalists design 3D Mars habitats

Show all 5
SpaceX has been at the forefront of the innovation required to send humans to Mars, having developed the first reusable rockets capable of landing autonomously after launching a payload into space.
It is also in the process of building and testing the Mars-bound Starship space craft, which Musk hopes will be "rapidly reusable" and able to relaunch just one hour after landing.
Setting up a human colony on Mars, which is 34 million miles from Earth at its closest point, is part of SpaceX's overall objective. Musk has consistently stated that making humans a multi-planetary species is vital for our survival.
Mars represents the first step towards making this happen, however its harsh climate make it inhospitable for any potential human settlers. One way to overcome this, according to Musk, is to terraform the planet by blasting it with nuclear weapons in order to warm it up.
"It's a fixer upper of a planet," he told US TV host Stephen Colbert in 2014. "Eventually you can transform Mars into an Earth-like planet. You'd warm it up. There's a fast way and a slow way. The fast way is drop thermonuclear weapons over the poles."
The idea is that the nuclear bombs free up carbon dioxide into the atmosphere to make the air breathable, while also melting ice on the surface.
Experts are divided over whether this would work or not, with a 2019 study in Nature Astronomy suggesting that the explosions could throw up huge clouds that cause Mars to cool down even further.
Musk appears to be undeterred by such warnings. Official SpaceX merchandise includes a t-shirt with the slogan "Nuke Mars", and his Twitter banner image is a timelapse imagining what a terraformed Mars might look like.
Register for free to continue reading
Registration is a free and easy way to support our truly independent journalism
By registering, you will also enjoy limited access to Premium articles, exclusive newsletters, commenting, and virtual events with our leading journalists
Already have an account? sign in
Join our new commenting forum
Join thought-provoking conversations, follow other Independent readers and see their replies