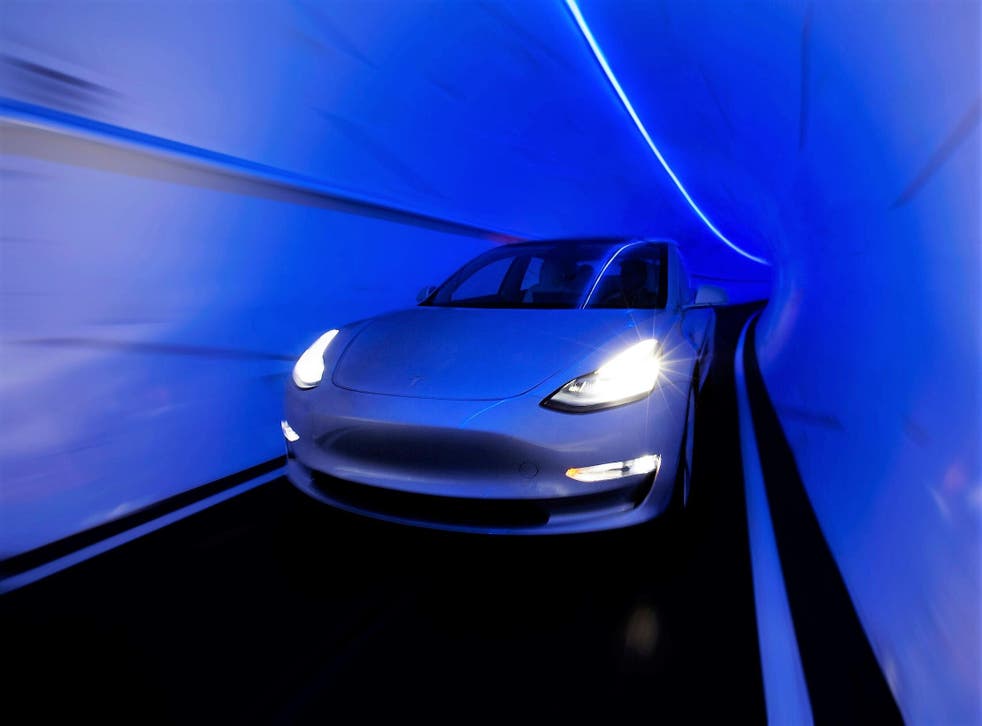 Elon Musk's tunnel-digging venture just got approval for expansion
The Boring Company says Loop system will make journeys in Las Vegas 10-times quicker
Anthony Cuthbertson
Friday 07 August 2020 13:50 Comments
Elon Musk's tunnelling startup, The Boring Company, has received approval to expand its transportation network beneath Las Vegas.
The Loop network will now include a station at the new Resorts World nearby the Las Vegas Convention Center (LVCC), where the system is set to open later this year.
Mr Musk shared renders of the first commercial Loop station last month, revealing parking bays for the Tesla Model 3 electric cars that will be used to carry passengers on the mile-long journey from one side of the convention centre to the other.
It is the first commercial venture for The Boring Company, which Mr Musk founded in 2016 out of frustration with traffic in his hometown of Los Angeles.
The startup claims to be able to offer this radical new option for urban transportation by reducing the time and cost of current tunnel-digging technologies by a factor of 10.
The underground networks will also not interfere with existing transportation infrastructure, according to Mr Musk, who also heads Tesla and SpaceX.
"To solve the problem of soul-destroying traffic, roads must go 3D," The Boring Company's website states.
"A large network of tunnels many levels deep would help alleviate congestion in any city. No matter how large a city grows, more levels can always be added."
Approval for the latest extension to the Las Vegas project was announced by Clark County commissioners on Thursday, with construction expected to begin at the end of the year.
"We are thrilled to receive approval from the County Commission to move forward with our proposed passenger station and tunnel and are eager to take the next steps in creating an innovative transportation solution for our convention guests and visitors," said Scott Sibella, president of Resorts World Las Vegas.
Following the announcement, Mr Musk tweeted: "This is gonna be great."
The LVCC Loop could eventually extend all the way out to the McCarran International Airport, transporting passengers under the Las Vegas Strip at speeds of up to 155mph.
Travelling at peak hours journey times from one end of the Strip to the other could be cut from 30 minutes to just 3 minutes, according to The Boring Company.
The company is currently in discussions with other cities throughout the US to improve transport infrastructure, including Chicago and Los Angeles.
A prototype tunnel has already been dug and tested at the company's LA headquarters. A demonstration in 2018 transported a Tesla along skates through a mile-long tunnel, which was constructed at a cost of $10m.
Many current projects cost anywhere between $100m and $1 billion per mile, according to The Boring Company's website.
The Loop beneath the LVCC is being built at a cost of $52.5m, the Las Vegas Convention and Visitors Authority revealed earlier this year.
It is being completed at a rate of 100ft per day and once completed will have the capacity to transport up to 4,400 passengers per hour.
Register for free to continue reading
Registration is a free and easy way to support our truly independent journalism
By registering, you will also enjoy limited access to Premium articles, exclusive newsletters, commenting, and virtual events with our leading journalists
Already have an account? sign in
Join our new commenting forum
Join thought-provoking conversations, follow other Independent readers and see their replies