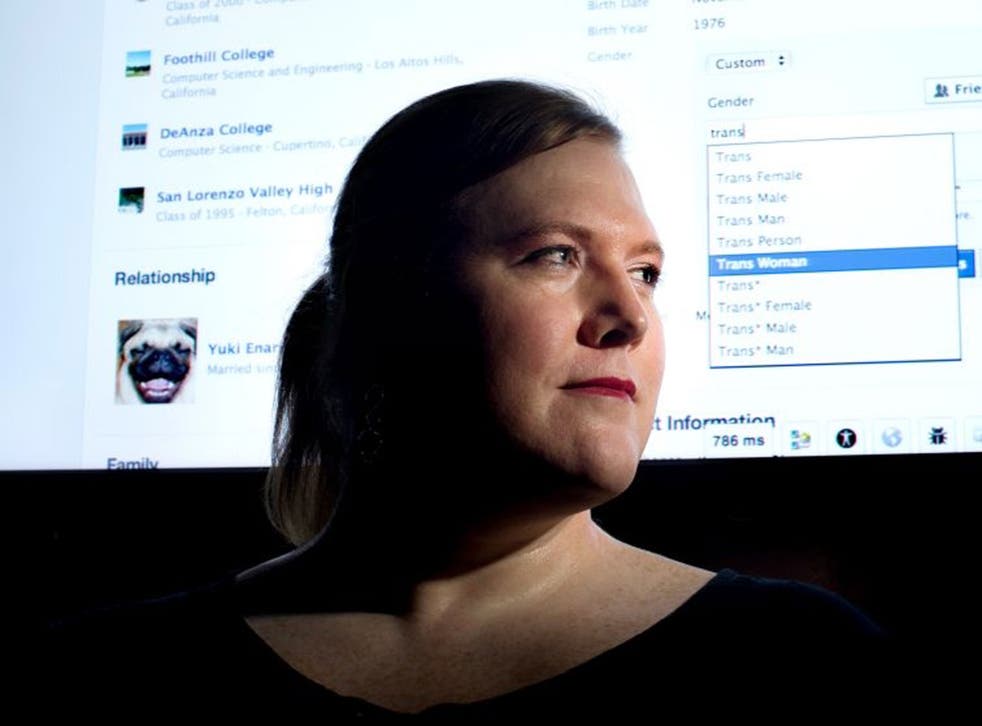 Facebook's new gender options: 50 new categories include trans and intersex
One transgender woman said the opportunity to choose will "mean the world" to people who use the website
Facebook users will soon be able to choose from a selection of genders to display on their profile, rather than just the traditional male or female options.
Available to US users from Thursday, the change accommodates those who do not identify with gender binaries, while the function which allows people to conceal their gender will still be available.
Previously, users were restricted to choosing from male, female or not listing a gender at all, which LGBTI campaigners regarded as restrictive.
But now, Facebook will list over 50 different gender options, including transsexual , bigender, androgynous, intersex, and genderfluid.
It will also enable users to select whether they would like to be referred to as he, she or they, in instances when pronouns are used on the website.
"There's going to be a lot of people for whom this is going to mean nothing, but for the few it does impact, it means the world," said Facebook software engineer Brielle Harrison, who worked on the project and is herself undergoing gender transformation, from male to female.
On Thursday she said she was also changing her Facebook identity from Female to TransWoman.
"All too often transgender people like myself and other gender nonconforming people are given this binary option, do you want to be male or female? What is your gender? And it's kind of disheartening because none of those let us tell others who we really are," she said.
"This really changes that, and for the first time I get to go to the site and specify to all the people I know what my gender is."
The Williams Institute, a think tank based at the University of California, Los Angeles, estimates there are at least 700,000 individuals in the US who do not live as the gender that was assigned to them at birth.
Human Rights Campaign President Chad Griffin praised the move, and said: "Over the past few years, a person's Facebook profile truly has become their online identity, and now Facebook has taken a milestone step to allow countless people to more honestly and accurately represent themselves.
"Facebook's action is one that I hope others heed in supporting individuals' multifaceted identities," he added.
The move by Facebook came after years of lobbying from users, some who started Facebook pages to petition for the change.
Google+ offers male, female and "other" as choices, but transgender advocates said Facebook's many specific options puts the platform well ahead of any other mainstream online community.
The idea of expanding gender choices was considered by Facebook for about a year, and came to fruition during an in-house brainstorming session last year, project manager Lexi Ross said.
Dozens of people posted appreciative messages on the company's diversity website, although there were some calling for relationships beyond son and daughter to be introduced to complete the change, as well as the introduction of more sexual preferences.
Additional reporting by AP
Join our new commenting forum
Join thought-provoking conversations, follow other Independent readers and see their replies