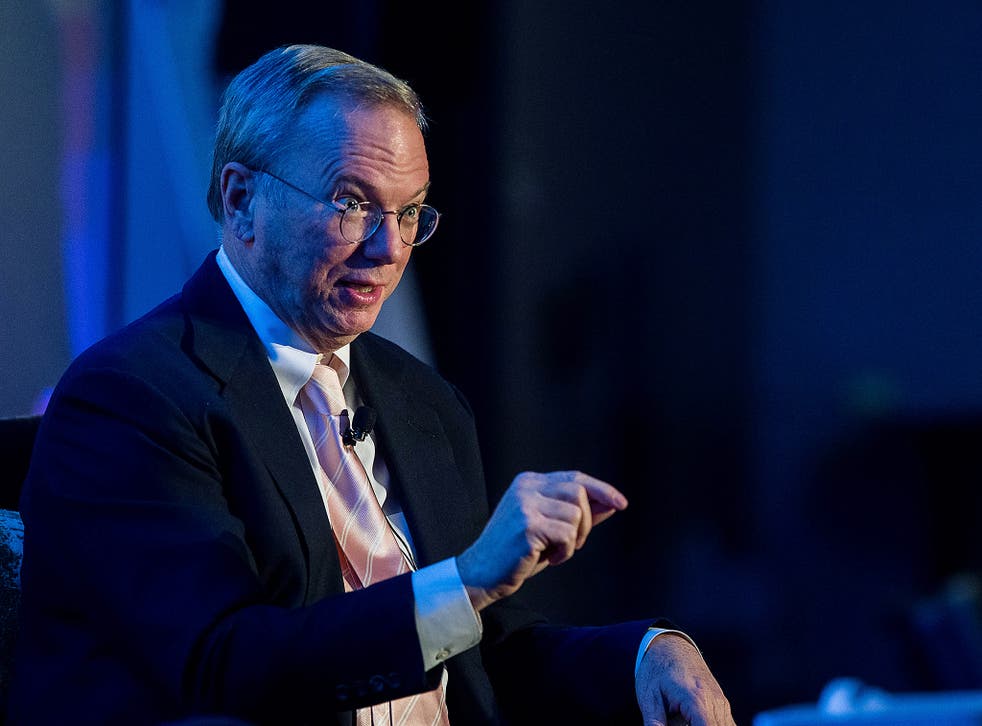 Former Google CEO says 'no question' that Huawei gave data to Chinese government
Huawei denied the allegations, saying that 'it is simply not true'
Adam Smith
Thursday 18 June 2020 12:44 Comments
Former Google CEO Eric Schmidt has said that there is "no question that Huawei has engaged in some practices that are not acceptable in national security."
Schmidt now chairs the Pentagon's Defence Innovation Board. He joined Google as CEO in 2001, when the company had back several hundred employees, and became its executive chairman in 2011 when co-founder Larry Page became CEO. Schmidt stepped down from his chairman role in 2017.
"There's no question that information from Huawei routers has ultimately ended up in hands that would appear to be the state," Mr Schmidt added in a BBC Radio 4 documentary.
Schmidt continued to say that Huawei represents a challenge to the United States because of the quality of products it is manufacturing.
"It's extremely important that we have choices," he said. "The answer to Huawei... is to compete by having a product and product line that is as good."
In response, Huawei denied these allegations. "It is simply not true," Victor Zhang, Huawei's UK chief told the BBC.
"Huawei is a private company, 100% owned by its employees. Huawei is independent from any government, including the Chinese government."
The US government has yet to reveal evidence that Huawei is compromising its technology at the behest of the Chinese state.
In some cases, it has argued that lack of evidence points to China's motives, with US officials comparing it to a Trojan Horse that must be inside the gates before revealing its true intentions.
Schmidt also said that he underestimated China's potential as innovators, but denied that state-directed investment is inherently better than the free market.
"That they're very good at copying things, that they're very good at organising things, that they throw large numbers of people at it. But they're not going to do anything new. They're very, very good at stealing, if you will, our stuff. Those prejudices need to be thrown out."
Inside Huawei's new campus for workers in China

Show all 20
"The Chinese are just as good, and maybe better, in key areas of research and innovation as the West."
"They're putting more money into it. They are putting it in a different way, it is state-directed in a way that is different from the West. We need to get our act together to compete."
Instead, Western companies need to invest more into research funding, have greater collaboration between the private sector, the state, and academia, and open its doors to talent from around the world, he said.
Mr Schmidt also warned against the rise of nationalism and protectionism around the world. "Once you diverge these global platforms, you don't get them back," he said.
The comment comes after Donald Trump renewed an executive order against Huawei and other Chinese companies, stopping US firms including Google from working with them.
"We benefit from having a common platform of interchange... and I worry that by building these platforms separate, the countries will understand each other less," Mr Schmidt said.
"China's going to dominate whether we couple or decouple. They have the resources, they have the money, they have the technology. The question is do they operate on global platforms or do they operate on their own platforms? The more segregated the platforms are, the more dangerous it is."
"It is in the West's interest that every technology platform has Western values in them."
Schmidt previously advocated for Google to work with the Chinese government to create a censored search engine. "In 2010, I was in favour of remaining in China because I believed they would be better to stay in China and help change China to be more open," he told the BBC.
Google since ended its work in China, codenamed Project Dragonfly, last year.
Register for free to continue reading
Registration is a free and easy way to support our truly independent journalism
By registering, you will also enjoy limited access to Premium articles, exclusive newsletters, commenting, and virtual events with our leading journalists
Already have an account? sign in
Join our new commenting forum
Join thought-provoking conversations, follow other Independent readers and see their replies