Google Doodle celebrates Oscar award winning Hollywood costume designer Edith Head

Show all 45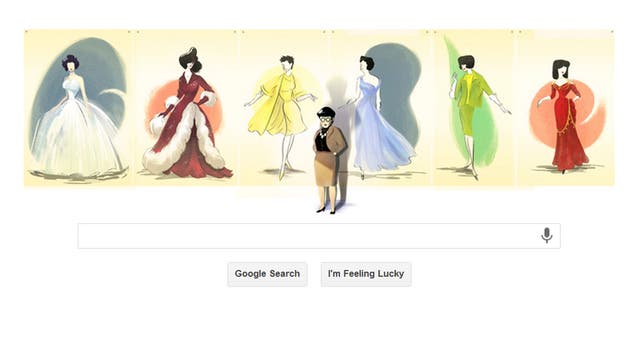 Google Doodle celebrates Oscar award winning Hollywood costume designer Edith Head
Throughout her sparkling career she won eight Academy Awards, more than any other woman
Google has marked the anniversary of the birth of American costume designer Edith Head with a doodle.
Born on October 28, 1897 in San Bernardino, California, Edith Head went on to become probably the most famous costume designer in Hollywood history.
Throughout her sparkling career she won eight Academy Awards, more than any other woman.
It was while working as a language teacher at the Hollywood School for Girls in 1932, after gaining a BA from Berkeley and an MA from Stanford, that Head bluffed her way into the costume department at Paramount.
Despite having taken night classes to learn drawing her artistic skills were still at this point rudimentary.
Head later admitted that she bluffed her way into Paramount by borrowing another student's sketches for her job interview.
She was later trained by the studio after being taken on as a sketch artist.
In 1938 she became Head Designer at Paramount and from that point onwards was involved with most of the major productions in the study over the next thirty years.
She became well-known to the public through her "sarong" dress designed for Dorothy Lamour in The Hurricane and the top mink-lined gown she created for Ginger Rogers in Lady in the Dark.
She also, famously, designed the Bette Davis' evening gown for 'All About Eve' and Audrey Hepburn's shoulder-tied boatneck in 'Sabrina'.
During her career Head was nominated a total of 40 times for an Oscar.
She won eight times for films including 'All About Eve' (1949), 'Samson and Delilah' (1949), 'Roman Holiday' (1953), 'Sabrina' (1954) and 'The Sting' (1973).
In 1967 she left Paramount, after 35 years to work for Universal, where she finished her career. She is also famous for writing two books - 'The Dress Doctor' and 'How to Dress for Success'.
She also made cameo appearances in the films 'Lucy Gallant' and 'The Oscar'.
Her final film was 'Dead Men Don't Wear Plaid', in 1980, she died from myelofibrosis, an incurable bone marrow disease, before the film was completed.
Join our new commenting forum
Join thought-provoking conversations, follow other Independent readers and see their replies