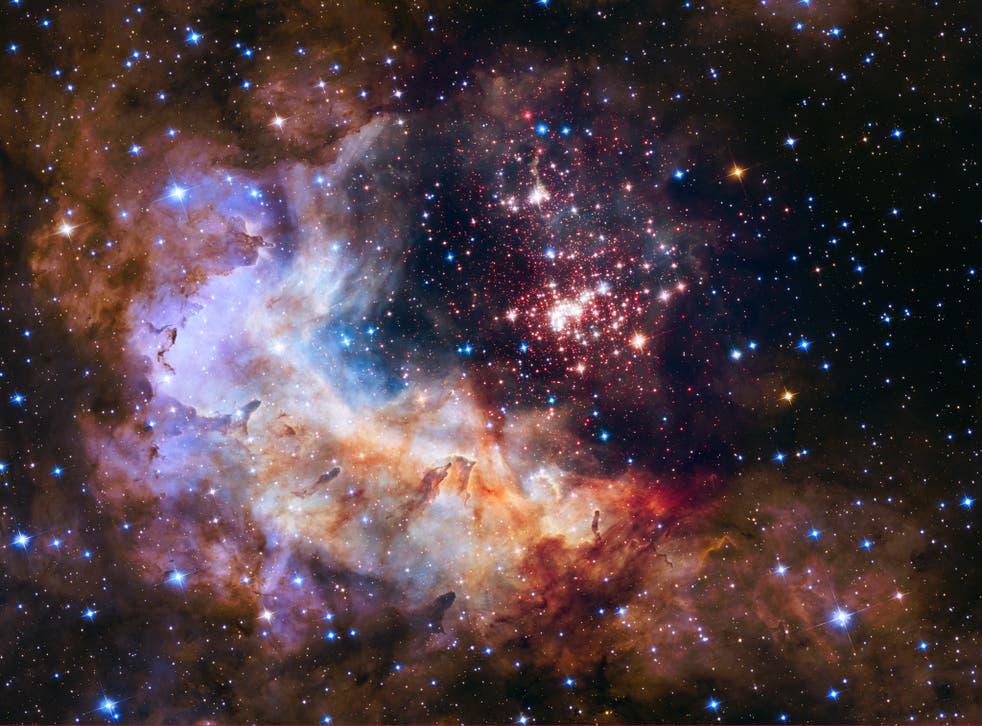 Hubble at 25: anniversary of space telescope celebrated with stellar new images
The European Space Agency says that the fireworks depicted in the picture celebrate the telescope's silver anniversary
Andrew Griffin
Friday 24 April 2015 14:51 Comments
Spectacular new pictures from the Hubble Space Telescope have been released, marking 25 years since it was launched into orbit by the Space Shuttle.
On April 24, 1990, the shuttle carried Hubble up into space, making it the first telescope of its kind. And today the European Space Agency released a new image marking 25 years since it was launched.
The picture shows what the agency refers to as "silver anniversary fireworks", which are spewing out of a star cluster known as Westerlund 2 and made up of about 3,000 stars.
Astronomers took the picture by combining Hubble's Advanced Camera for Surveys, which looks at visible light, and the Wide Field Camera 3 which can see near-infrared. The image would not normally have been able to see because it is surrounded by dust, but the technology on the telescope allows astronomers to look through it.
25 years of the Hubble Telescope

Show all 26
In 2018, the James Webb Space Telescope will be launched into orbit. But it won't immediately take over from Hubble, which will continue to be used alongside the new kit until it is retired.
Register for free to continue reading
Registration is a free and easy way to support our truly independent journalism
By registering, you will also enjoy limited access to Premium articles, exclusive newsletters, commenting, and virtual events with our leading journalists
Already have an account? sign in
Join our new commenting forum
Join thought-provoking conversations, follow other Independent readers and see their replies