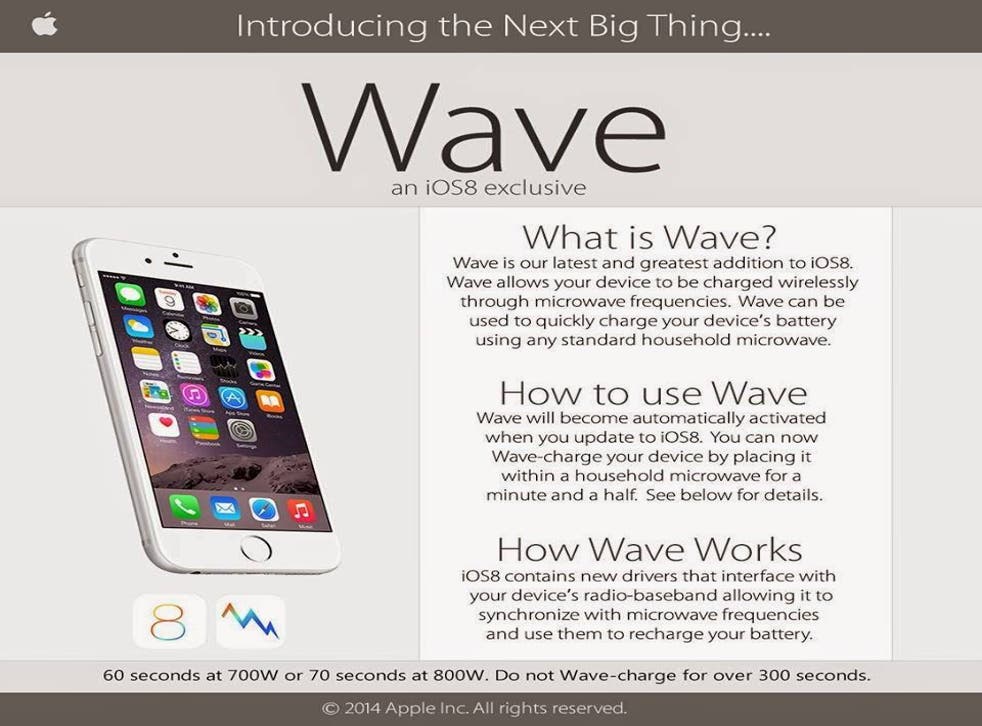 iPhone 'Wave': iOS 8 hoax claims you can charge your iPhone in the microwave - you can't
Twitter users show the 'hilarious' results of using the fake technology
A fake advert has circulating on Twitter claiming that users of iOS 8 can charge their iPhones by putting them in the microwave, has been spotted as an obvious hoax.
The so-called "Wave" technology is touted as Apple's "latest and greatest addition to iOS8" and supposedly allows devices to be charged wirelessly though microwave frequencies.
"Wave can be used to quickly charge your device's battery using any standard household microwave," the advert claims.
Crudely imitating the look of other Apple informative ads the hoax purports that the Wave will "become automatically activated with your update to iOS" and says the devices will become fully charged in a minute and half using "new drivers that interface with your device's radio-baesband".
It jokingly warns "60 seconds at 700w or 70 seconds at 800w. Do not Wave-charge for over 300 seconds."
It is not the first time the Wave hoax has surfaced at the launch of a new operating system or phone. Previous pranks on past releases have included claims that the iPhone was waterproof.
Pictures have followed the advert that (also fake) showing the outcome of attempting to charge your phone in the microwave:
Launched earlier this week ahead of today's first sales of the iPhone 6, iOS 8 looks similar to its forerunner but comes with a number of improvements. These include smart editing tools for photos, changes to the camera and new predictive typing.
Join our new commenting forum
Join thought-provoking conversations, follow other Independent readers and see their replies