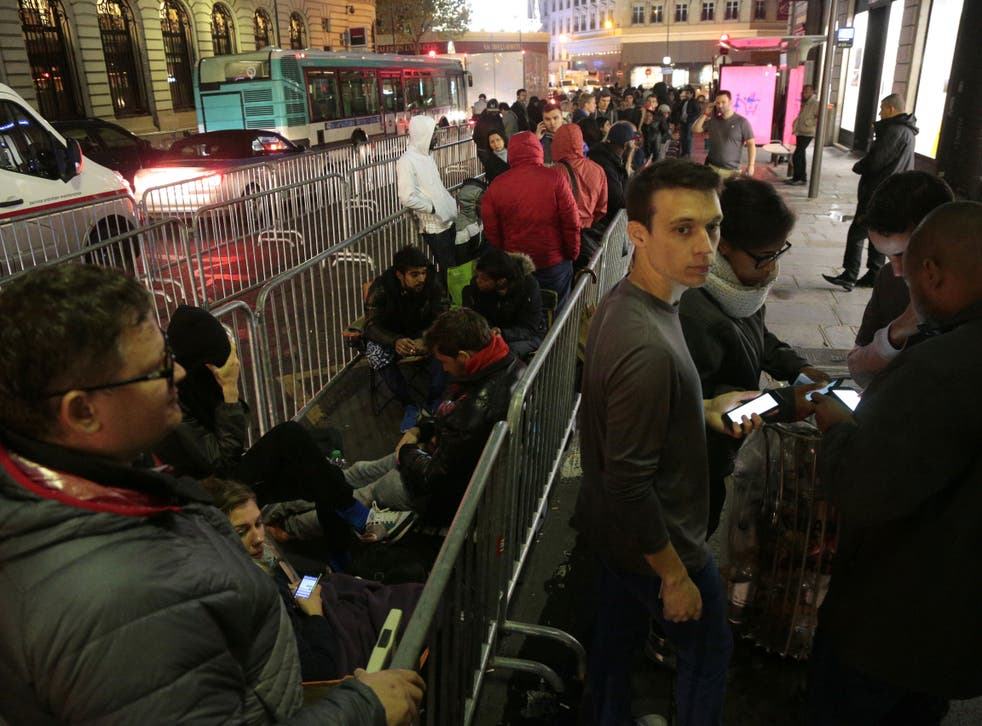 iPhone 6s released: Apple fans queue outside shops as new handset goes on sale
Some had been waiting the entire week to be first in the queue, and get clapped into the shop by staff
Andrew Griffin
Friday 25 September 2015 14:02 Comments
Customers that camped out all week have become the first to get hold of the iPhone 6s.
The phone was launched this morning, and the first to get it in the UK were those that had waited outside shops to get hold of the Apple Store's allocation. Though many models of the phone have sold out, Apple made some available in real shops to those that were first in the queue.
Apple iPhone 6S goes on sale in the UK
Some had worried that Apple's blockbuster launches had come to an end with the Apple Watch, which was launched in a less high-profile ceremony and was initially only available to buy online. But the event featured the same long queues and excitement of previous years, with Apple Store employees applauding and high-fiving people as they entered.
Inside waited the new iPhones, which feature the same external look but pack in new features like a vastly improved camera and a pressure-sensitive "3D Touch" display. The inside of the Covent Garden store had already been updated for the new phones, with pictures on the wall and handsets waiting to try on tables around the store.
Around the world, Apple Stores opened at 8am local time. That meant that the Sydney and Beijing stores were among the first to open.
In pictures: iPhone 6s goes on sale

Show all 10
Many of those waiting in line at the Covent Garden store in London had come from afar, including at least one person who had travelled especially from India. The phones haven't yet gone on sale in many countries, and so queuing and then buying from the Apple Store was the only way for many people to get hold of them.
Others who had pre-ordered online had the chance to skip the queue. Many expressed surprise that they had been able to walk past the longer queues of those who were waiting for a chance to get their hands on the Apple Store's allocation.
Sam Shaikh, from Stratford, was the first to get his hands on the iPhone 6s. He had been queuing since Monday night, he said, and had been the first in the queue for last year's iPhone 6, too.
In all, several hundred people were camped out at the Covent Garden shop, with many more at other Apple Stores across the UK and elsewhere.
Register for free to continue reading
Registration is a free and easy way to support our truly independent journalism
By registering, you will also enjoy limited access to Premium articles, exclusive newsletters, commenting, and virtual events with our leading journalists
Already have an account? sign in
Join our new commenting forum
Join thought-provoking conversations, follow other Independent readers and see their replies