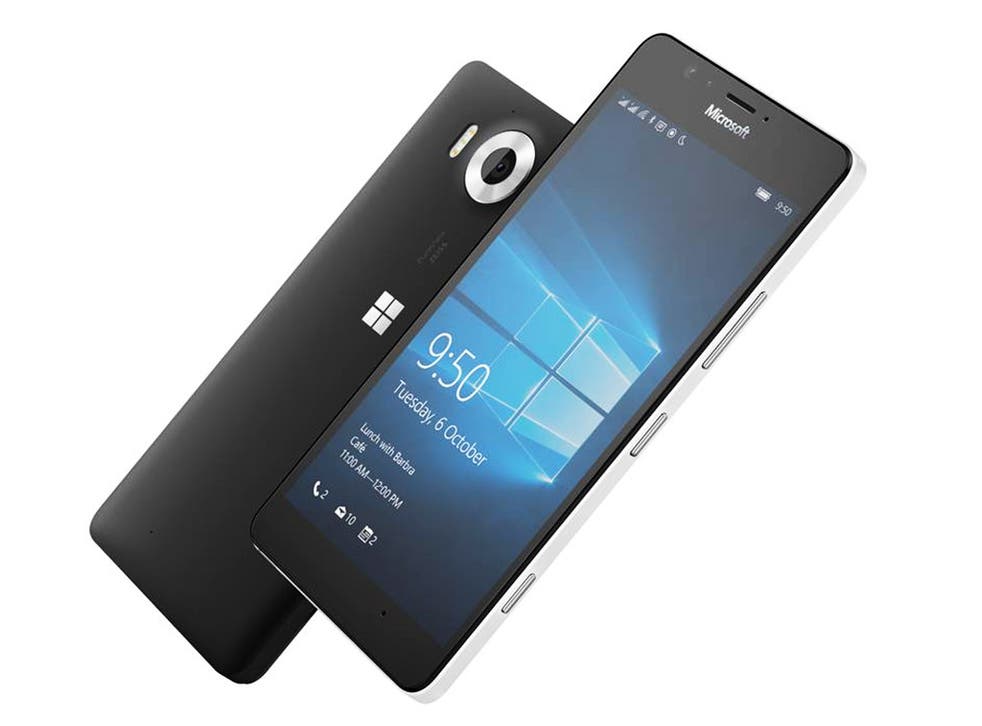 Microsoft Lumia 950, review: First phone to boast new Windows 10 software has arrived
This phone feels like a real break away from the Nokia-centric past for Microsoft
It's here at last, the first top-of-the-range Lumia since the Lumia 930 and the first phone to boast the new Microsoft Windows 10 software. The Microsoft Lumia 950 (together with its bigger-screened sibling, the 950 XL) has arrived.
When Microsoft bought Nokia, it acquired a company with the strongest industrial design team in Europe, arguably as effective as that in Apple with visionaries such as Marko Ahtisaari.
It also bought a company with a staggering reputation for innovation. So this new phone should look amazing – as recent Lumias have – and work like a dream, right?
Well, up to a point. Microsoft has ditched the day-glo colours of the 930 and others for a quieter design (any colour so long as it's black or white). The metal edging and coloured back of the 830 and 930 are replaced by a monochrome plastic back and edge. The only noticeable features are the silver Windows logo and the matching ring that surrounds the camera lens. This is modernity tailored by a bland, businesslike sobriety.
There's nothing wrong with it but it lacks the head-turning beauty of previous Lumia phones. The plastic back is removable and third-party manufacturers are coming up with more colourful and striking colours – it's like Microsoft has farmed out its design skills to case makers.
So maybe things are a little brighter in the world of innovation? Much brighter, actually, as you notice when you wake the phone from sleep. There's an iris recognition system to unlock the screen. Stare at it and it opens automatically. This feels personal and intimate, not least because the message onscreen says "Hello". Even so, it's much slower than the fingerprint sensors on the iPhone 6s and Sony Xperia Z5. It worked most of the time without problems.
However, there's no double-tap-to-wake system on the phone. This is a system pioneered by Nokia on its heavily underrated affordable Asha phone series. It was then moved onto some Lumia phones and has now been taken up by many Android phone manufacturers. But it's not on this latest phone.
Another brilliant Nokia innovation was the way some Lumia handsets responded to your touch even if you were wearing gloves. Especially useful in colder climates like London or Helsinki. But that's not here, either.
Once you start using the phone, things are much more familiar, assuming you've used the Windows Phone system, now called Windows 10. The same ribbon of apps covers the screen, with more revealed in an alphabetical list when you swipe to the left. The real Achilles' heel with Windows Phone, the one that stopped widespread adoption in its tracks, is the lack of apps. This time, Windows universal apps offer a wide range of apps designed so they look the same on the phone as on a Windows 10 PC. This is one of the key features that Microsoft is banking on to generate more uptake this time.
I'm not convinced it will, although certainly the visual similarities of the PC and mobile versions will eradicate at a stroke the problem Windows Phone had for being unrecognisable.
But apps are the currency and though there are more high-profile apps than ever, including an Instagram app which is still in beta after well over a year, the absence of Google, Google Maps and the like is still noticeable.
This despite the fact that Cortana is there to answer your questions in the way Google Now or Apple's Siri do. Or the fact that Maps, still powered by Here Maps though without that being mentioned in the title, offers seamless, intuitive offline usage because you can download country maps in advance.
Gadget and tech news: In pictures

Show all 25
You can blur the distinction between phone and computer by adding a Display Dock (an optional £79 purchase). When the phone is connected to the Dock and the Dock to a computer display, you effectively have a fully functioning portable PC. It's a powerful and unique feature, and it certainly means you can consider not toting a laptop if you're heading somewhere with a computer monitor that you can work on. Hot deskers suddenly have a whole new way to work.
You can do a fair amount on the phone as well, not least thanks to the high-resolution screen. The 5.2-inch AMOLED display is vivid and contrasty. The 1440 x 2560 resolution means it has 564 pixels per inch, way higher than the iPhone 6s with its 326ppi.
The edge of the phone has a dedicated camera button. As with the first Windows Phone handsets, a long press on this wakes the phone and launches the camera, all pretty quickly.
And the camera itself is splendid. It continues the PureView heritage of Nokia camera phones with a Zeiss lens and decent-sized 20-megapixel sensor. This proved itself to be efficient in all light situations, with detail in shadows and realistic colours throughout. Flash is never the ideal way to take a photo but at least there is a three-colour flash here to sort colour balance.
Photography is an increasingly critical element in mobile phones as we ditch dedicated cameras and depend more on the camera in the pocket to do the job better than a compact. This camera is extremely usable and delivers strong results.
Battery life on the Lumia 950 is good, enough to get you through a full day but not more. Intensive use of the phone as a laptop substitute will reduce this, but maybe you'll have a charger to hand. Note that the 950 is among the first phones to feature a USB-C connector, so none of your old chargers will work.
There's also wireless charging if you have a compatible charging pad. Unlike Samsung's latest phones which will work with two charging standards, this one is restricted to Qi.
This phone feels like a real break away from the Nokia-centric past for Microsoft. The arrival of Windows 10 across multiple platforms and the ability to use this phone as a decent computer will please many. But that apps Achilles' heel has not gone away, at least not yet.
The camera is great, with its good sensor, dedicated shutter button and fast launch. The display is attractive and the phone feels good in the hand.
For me, the design is not a patch on the work of Marko Ahtisaari and co. This may prove trying for Microsoft at a time when industrial design is strong, with striking-looking models like the Samsung Galaxy S6 edge turning heads.
Join our new commenting forum
Join thought-provoking conversations, follow other Independent readers and see their replies