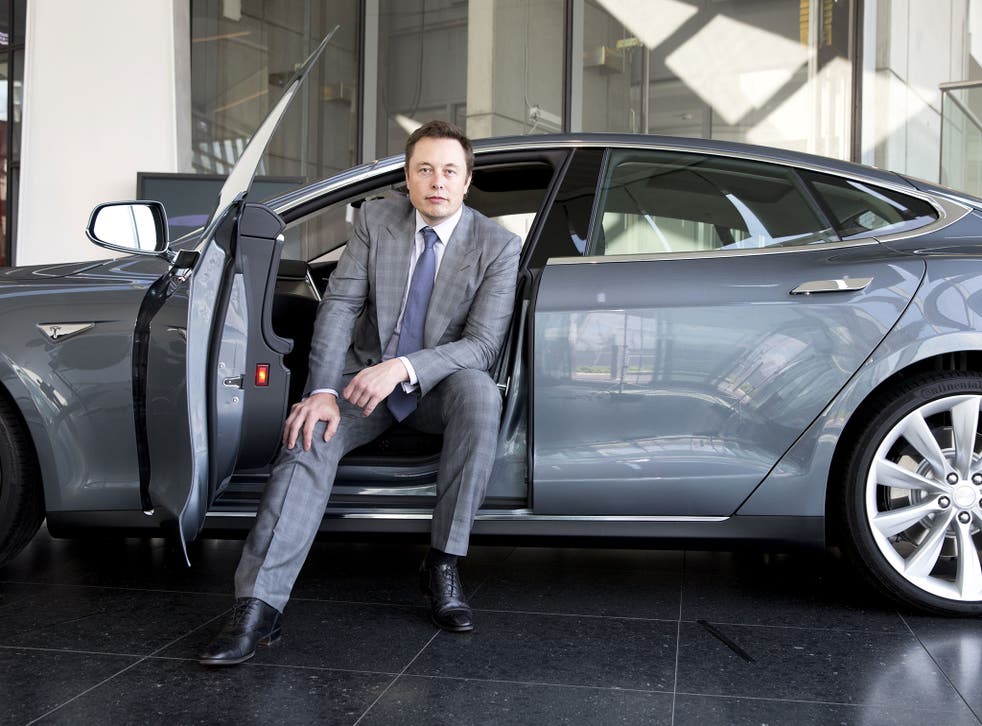 Misdirected email sparks electric car war between Tesla and Ecotricity
An angry High Court dispute between two eco-tycoons which is delaying the rollout of Britain's largest electric car charging network was allegedly sparked by a single misdirected email, one of the companies involved has told The Independent.
Ecotricity, the UK's leading provider of green energy owned by former New Age traveller Dale Vince, is currently involved in a furious spat with Tesla, the US electric car manufacturer founded by PayPal billionaire Elon Musk, accusing it of trying to hijack its existing network of charging points.
Mr Musk's firm, which launched its luxury electric saloon car the Model S in Britain last week, is in the process of creating its own network of Tesla-branded "superchargers" which will allow its customers to replenish their car batteries in a little over half an hour.
Until recently, it was in discussions with Ecotricity about installing new chargers at the same sites as the UK firm's "electric highway" network. Relations were cordial until Tesla allegedly suddenly sent Ecotricity a bombshell email on 18 May allegedly describing how it intended to encourage service stations to break off their existing contracts with the British firm.
A furious Mr Vince described the email as a "declaration of war", accused Tesla of attempting a "smash and grab raid" and took out an injunction at the High Court preventing the US company from proceeding with its plans.
Mr Vince has now told The Independent that the crucial email was sent in error by Greg Callman, head of supercharger deployment and stationary storage at Tesla, to Simon Crowfoot, Ecotricity's director of new ventures.
"The email basically said that two senior people were flying out the following Wednesday, they were going to blacken our name with the Government, work with our motorway partners to help them break contract with us, and use the media to show us up as the bad guys," Mr Vince told The Independent.
He was particularly angered by what appeared to be the suggestion of covert approaches to motorway service stations, saying that this would be in breach of a non-disclosure agreement that Ecotricity had signed with Tesla under which the US firm was given confidential information.
He added that he had initially believed that Tesla "were just telling us quite coldly what they were going to do", but that he was now "pretty certain" that the email had only been intended to be circulated internally.
An injunction hearing about the case was due to take place this week, but has now been delayed, which may allow the firms to take part in mediation in the interim. Mr Vince would not be drawn on how much the dispute was costing in legal fees, but admitted that High Court actions were "never cheap".
While he was in Britain to launch the Model S at the weekend, Mr Musk said of Mr Vince: "I've never even met the guy. Initially when we tried working with him he started making all sorts of outrageous demands, so we thought, 'Well, OK, we'll just not work with you' – and then he sued us."
But Mr Vince said the billionaire's comments were "shocking", adding: "To say that from the outset we made outrageous demands is baseless and absolutely untrue, and we're staggered really that Elon should come to Britain for his launch event and peddle this nonsense."
Before the misdirected email led to a spectacular fallout, the two firms had been cooperating very successfully, agreeing a deal whereby Tesla would get a 15-year lease for its chargers at Ecotricity's existing sites. The British firm had even agreed to purchase a Model S car from Tesla to help promote its new chargers.
Tesla declined to comment.